Early Renal
ROYAL CANIN® Early Renal dry is a complete dietetic feed for cats formulated to support renal function in the case of chronic renal insufficiency. If you are a veterinarian or veterinary nurse and wish to see the full product information in more detail, please visit our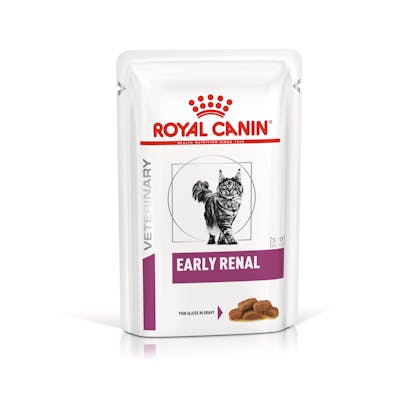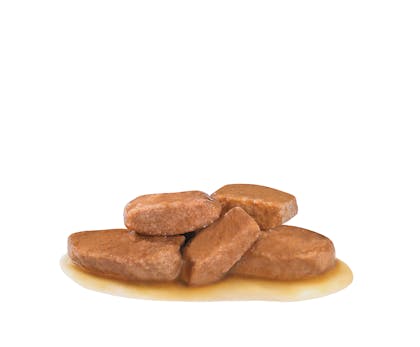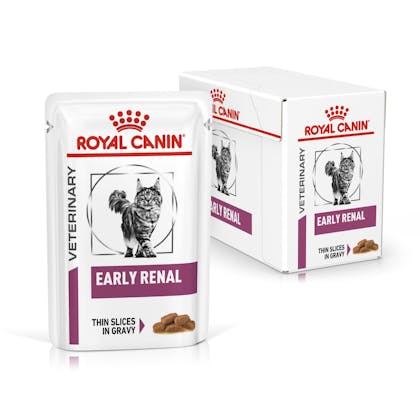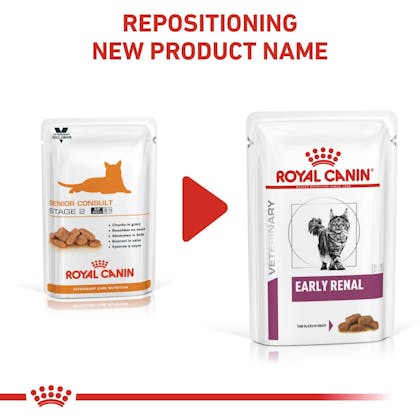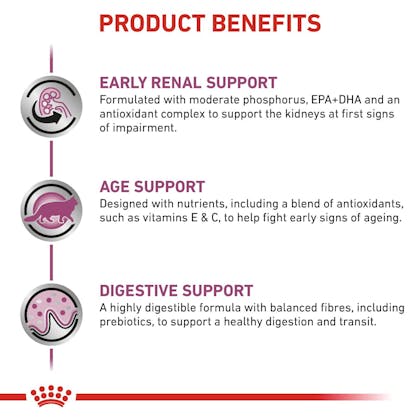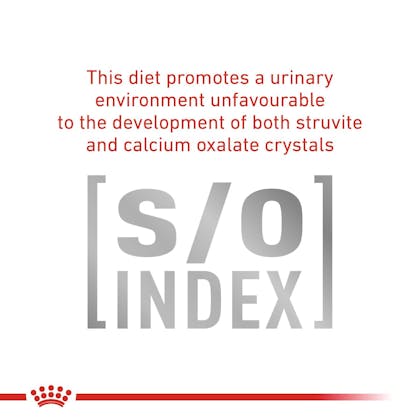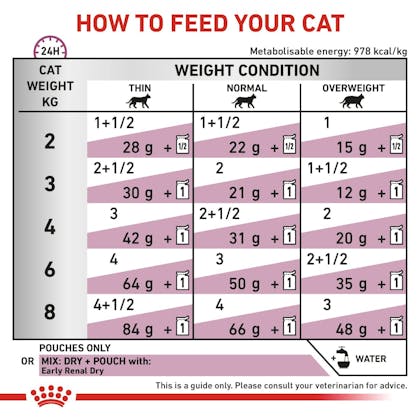 Early renal support

Formulated with EPA + DHA, an antioxidant complex and a moderate phosphorus content to help support renal health at the first signs of impairment.

Age support

Formulated with nutrients, including antioxidants, chondroitin and glucosamine, and an adapted L-tryptophan ratio, to help fight the early signs of ageing.

Digestive support

A highly digestible formula with balanced fibres, including prebiotics, to support healthy digestion and gastrointestinal transit.

ROYAL CANIN® Early Renal dry is a complete dietetic feed for cats formulated to support renal function in the case of chronic renal insufficiency. Early Renal is formulated for the earlier stages of the chronic renal insufficiency. Early Renal diet is recommended when a cat is diagnosed in CKD stage 1 or early stage 2 and non-proteinuric. Cats may remain on Early Renal until creatinine elevates outside of reference ranges. At this point, the cat should be switched to a Renal diet. It is recommended that a full health check be performed every 6 months. Recommendations: It is recommended that a veterinarian's opinion be sought before use or before extending the period of use. Initially feed Early Renal for up to 6 months in cases of chronic renal insufficiency.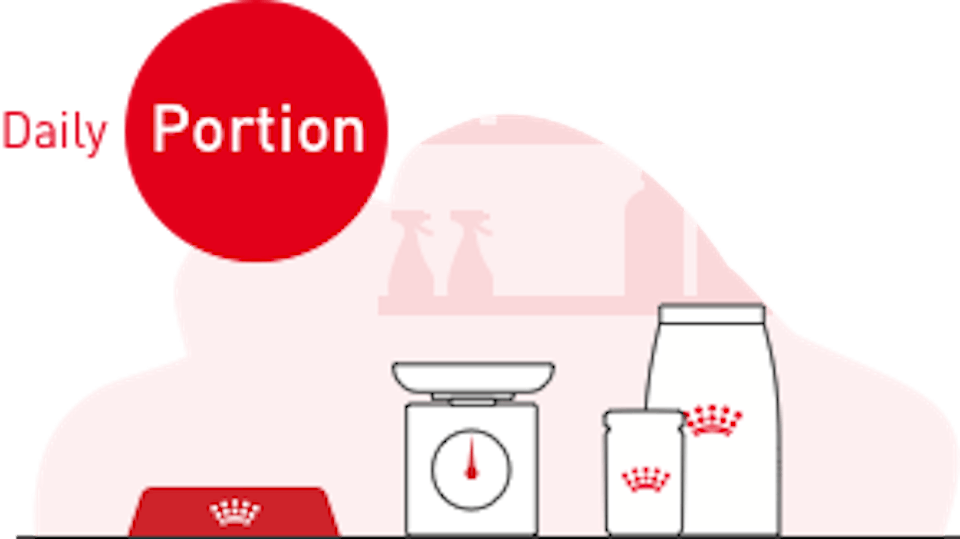 Discover now the perfect tool to calculate the ideal ration for your pet. Fill in your pet's information in the interactive feeding guide and you will get the daily feeding recommendation.
Calculate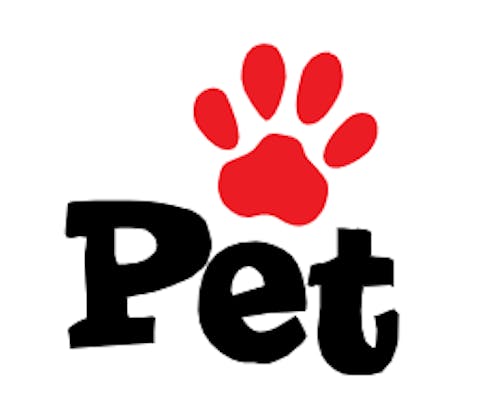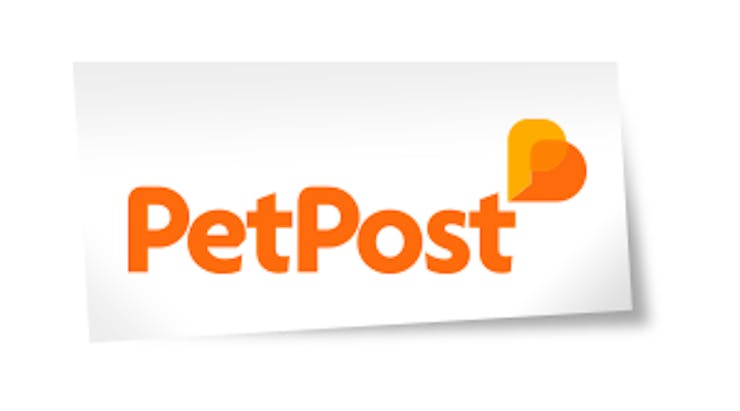 ROYAL CANIN® Early Renal dry is a complete dietetic feed for cats formulated to support renal function in the case of chronic renal insufficiency.

Composition: Pork by-products**, poultry by-products**, chicken meat**, wheat flour, pork blood products**, powdered cellulose, corn starch mixture, sunflower oil, fish oil, wheat gluten, lecithins, minerals, dried tomato pulp, yeasts and part thereof, glucosamine, marigold extract (source of lutein), hydrolysed cartilage (source of chondroitin). **Protein sources.

Additives (per kg): Nutritional additives: Vitamin D3: 340 IU, Iron: 4 mg, Iodine: 0.35 mg, Copper: 2.9 mg, Manganese: 1.3 mg, Zinc: 13 mg - Technological additives: clinoptilolite of sedimentary origin: 0.2 g.

Analytical constituants: Protein: 8.5%, Fat content: 5.0%, Crude ash: 1.3%, Crude fibres: 1.1%, Moisture: 78.0%, Calcium: 0.18%, Phosphorus: 0.15%, Potassium: 0.16%, Sodium: 0.09%, Essential fatty acids (Linoleic acid, Arachidonic acid): 1.25%, Vitamin E: 120 mg/kg, Vitamin C: 50 mg/kg, EPA/DHA: 0.155%. Metabolisable energy: 97.80 kcal/100g.

For RSA: Guaranteed analysis g/kg: Crude protein (min) 65 - Moisture (max) 810 - Crude fat (min) 30 - Crude fibre (max) 21 - Crude ash (max) 14.

Feeding instructions: see table. To be stored in a cool, dry place. For a 4 Kg cat give 2.5 pouches/day or less if fed in combination with dry food. Water should be available at all times. Batch number, factory registration number and best before date: see information on packaging. To be stored in a cool, dry place.

Analytical constituants: Protein: 8.5%, Fat content: 5.0%, Crude ash: 1.3%, Crude fibres: 1.1%, Moisture: 78.0%, Calcium: 0.18%, Phosphorus: 0.15%, Potassium: 0.16%, Sodium: 0.09%, Essential fatty acids (Linoleic acid, Arachidonic acid): 1.25%, Vitamin E: 120 mg/kg, Vitamin C: 50 mg/kg, EPA/DHA: 0.155%. Metabolisable energy: 97.80 kcal/100g.

| - | - | Adult's weight | - | - | - | - |
| --- | --- | --- | --- | --- | --- | --- |
| - | Thin | - | Normal | - | Overweight | - |
| Cat's weight (kg) | grams | cup(s) | grams | cup(s) | grams | cup(s) |
| 2 | 145 | 1+1/2 | 120 | 1+1/2 | 100 | 1 |
| 2.5 | 170 | 2 | 145 | 1+1/2 | 115 | 1+1/2 |
| 3 | 195 | 2+1/2 | 165 | 2 | 130 | 1+1/2 |
| 3.5 | 220 | 2+1/2 | 180 | 2 | 145 | 1+1/2 |
| 4 | 240 | 3 | 200 | 2+1/2 | 160 | 2 |
| 4.5 | 260 | 3 | 220 | 2+1/2 | 175 | 2 |
| 5 | 280 | 3+1/2 | 235 | 3 | 190 | 2 |
| 5.5 | 300 | 3+1/2 | 250 | 3 | 200 | 2+1/2 |
| 6 | 320 | 4 | 265 | 3 | 215 | 2+1/2 |
| 6.5 | 340 | 4 | 285 | 3+1/2 | 225 | 2+1/2 |
| 7 | 355 | 4 | 300 | 3+1/2 | 240 | 3 |
| 7.5 | 375 | 4+1/2 | 315 | 3+1/2 | 250 | 3 |
| 8 | 395 | 4+1/2 | 330 | 4 | 260 | 3 |
| 8.5 | 410 | 5 | 340 | 4 | 275 | 3 |
| 9 | 425 | 5 | 355 | 4 | 285 | 3+1/2 |
| 9.5 | 445 | 5 | 370 | 4+1/2 | 295 | 3+1/2 |
| 10 | 460 | 5+1/2 | 385 | 4+1/2 | 305 | 3+1/2 |