Early Renal
ROYAL CANIN® Early Renal dry is a complete dietetic feed for cats formulated to support renal function in the case of chronic renal insufficiency. If you are a veterinarian or veterinary nurse and wish to see the full product information in more detail, please visit our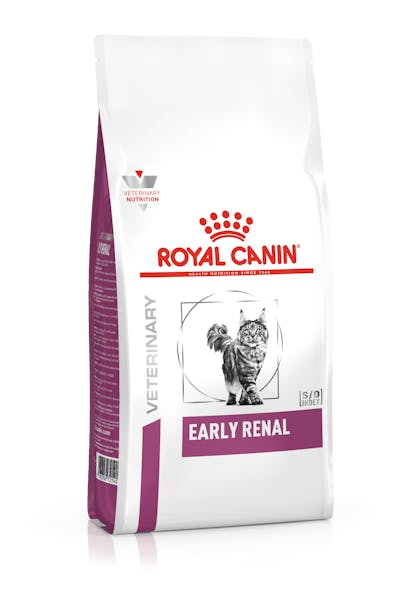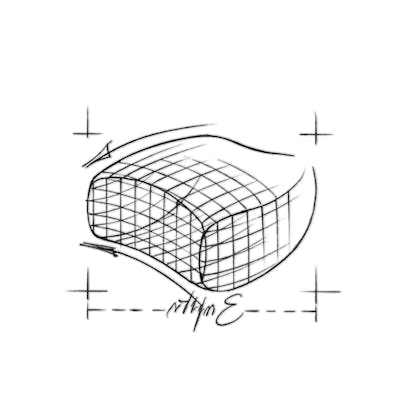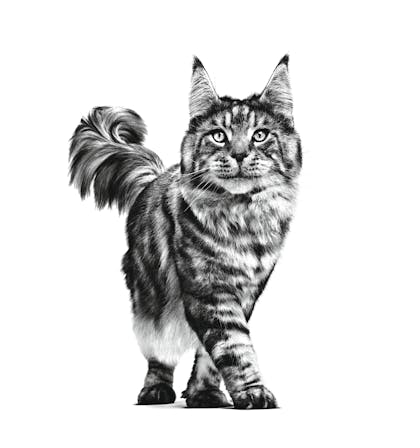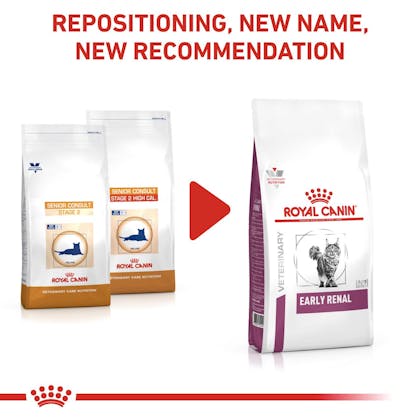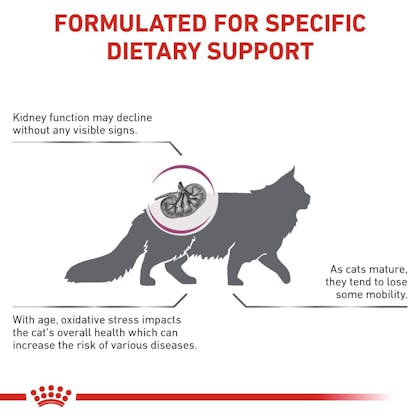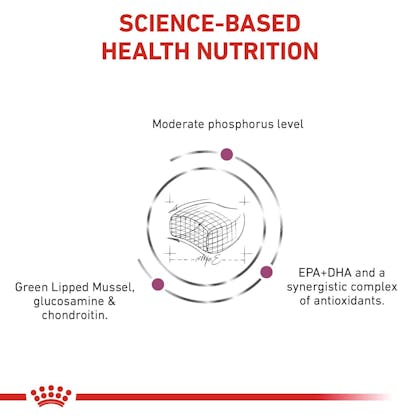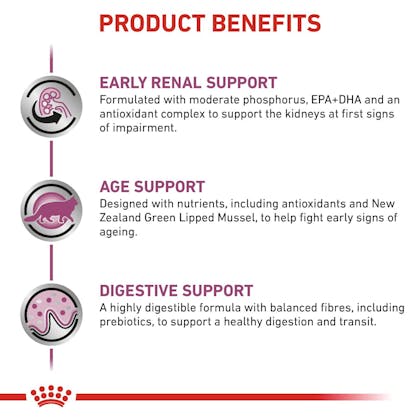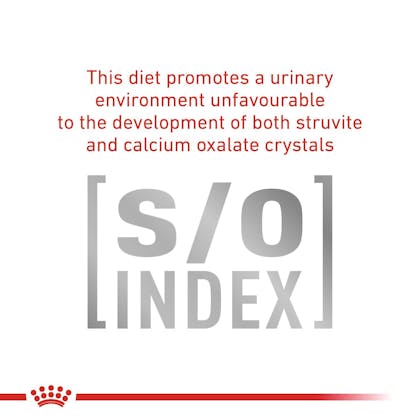 Early renal support

Formulated with EPA + DHA, an antioxidant complex and a moderate phosphorus contentto help support renal health at the first signs of impairment.

Age support

Formulated with nutrients, including antioxidants, chondroitin and glucosamine, andan adapted L-tryptophan ratio, to help fight the early signs of ageing.

Digestive support

A highly digestible formula with balanced fibres, including prebiotics, to support healthy digestion and gastrointestinal transit.

ROYAL CANIN® Early Renal dry is a complete dietetic feed for cats formulated to support renal function in the case of chronic renal insufficiency. Recommendations: It is recommended that a veterinarian's opinion be sought before use or before extending the period of use. Initially feed Early Renal dry for up to 6 months in cases of chronic renal insufficiency. Recommended in cases of: Early Chronic Kidney Disease1 (IRIS stage 1), and/or Senior cats over 7 years old showing apparent signs of ageing. Not recommended in case of: Growth, gestation and lactation. This diet is complete and balanced and can be fed long-term. A full health check should be performed by a veterinarian every 6 months.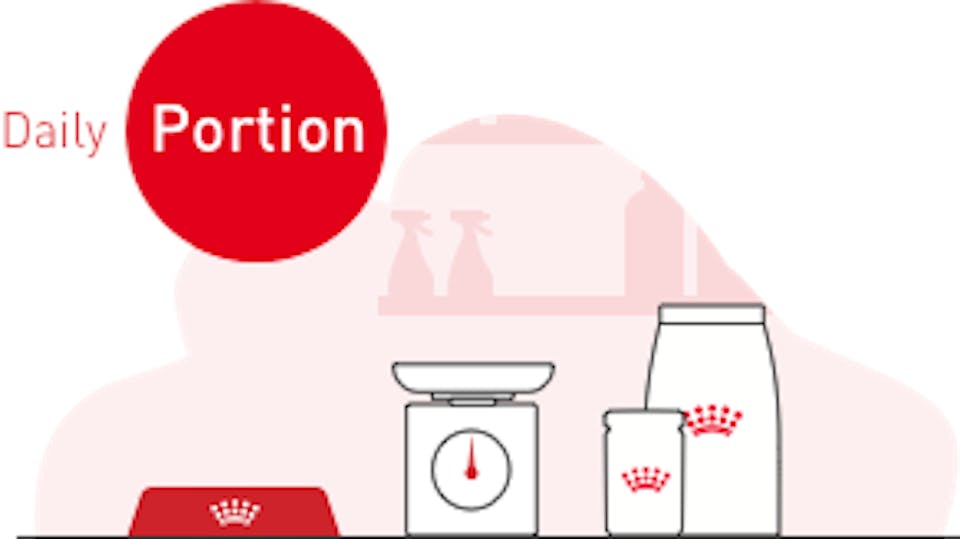 Discover now the perfect tool to calculate the ideal ration for your pet. Fill in your pet's information in the interactive feeding guide and you will get the daily feeding recommendation.
Calculate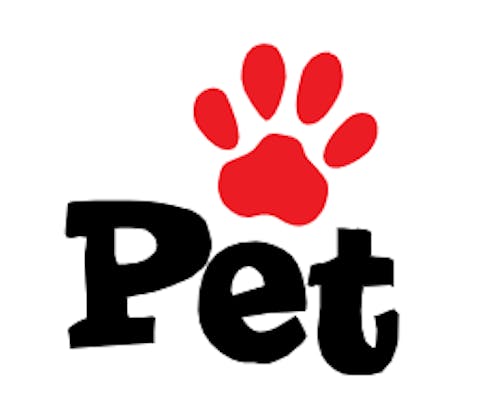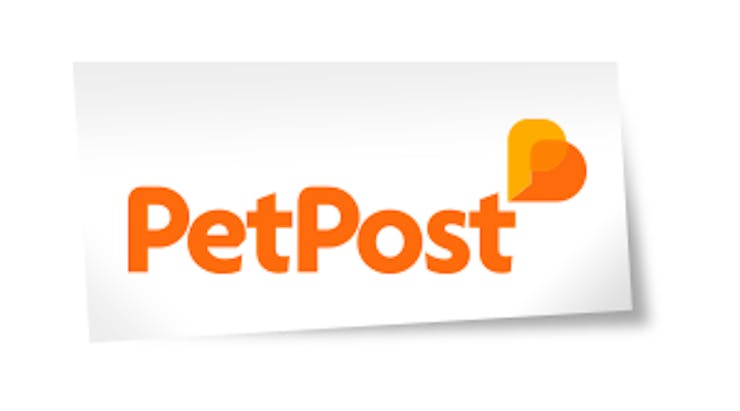 ROYAL CANIN® Early Renal dry is a complete dietetic feed for cats formulated to support renal function in the case of chronic renal insufficiency.

Composition: Maize, wheat gluten**, maize flour, wheat, maize gluten, animal fats, dehydrated poultry protein, vegetable fibres, rice, hydrolysed animal proteins, chicory pulp, minerals, fish oil, soya oil, dried tomato pulp (source of lycopene), psyllium husks and seeds, fructooligosaccharides (0.5%), New Zealand green-lipped mussel extract (GLM) (0.3%), hydrolysed yeast (source of manno-oligosaccharides) (0.2%), borage oil, glucosamine, marigold extract (source of lutein), hydrolysed cartilage (source of chondroitin). Protein sources: wheat gluten**, maize gluten, dehydrated poultry protein, hydrolysed animal proteins. ** L.I.P.: protein selected for its very high digestibility.

Additives: Nutritional additives: Vitamin A: 21500 IU, Vitamin D3: 800 IU, Iron: 42 mg, Iodine : 4.2 mg, Copper: 13 mg, Manganese: 55 mg, Zinc: 144 mg, Selenium: 0.07 mg - Preservatives - Antioxidants.

Analytical constituants: Protein: 28.0%, Fat content: 14.0%, Crude ash: 5.5%, Crude fibres: 5.1%, Calcium: 0.7% - Phosphorus: 0.5% - Potassium: 0.7% - Sodium: 0.4% - Essential Fatty Acids (Linoleic Acid - Arachidonic Acid): 3.38%, EPA/DHA: 0.78% - Glucosamine: 990 mg/kg - Chondroitine: 10 mg/kg. Metabolisable energy: 380.80 kcal/100g.

For RSA: Guaranteed analysis g/kg: Crude protein (min) 260 - Moisture (max) 70 - Crude fat (min) 120 - Crude fibre (max) 61 - Crude ash (max) 61.

* L.I.P.: protein selected for its very high digestibility.

Feeding instructions: see table. Water should be available at all times. Batch number, factory registration number and best before date: see information on packaging. To be stored in a cool, dry place.​

Analytical constituants: Protein: 28.0%, Fat content: 14.0%, Crude ash: 5.5%, Crude fibres: 5.1%, Calcium: 0.7% - Phosphorus: 0.5% - Potassium: 0.7% - Sodium: 0.4% - Essential Fatty Acids (Linoleic Acid - Arachidonic Acid): 3.38%, EPA/DHA: 0.78% - Glucosamine: 990 mg/kg - Chondroitine: 10 mg/kg. Metabolisable energy: 380.80 kcal/100g.

| | | Adult's weight | | | | |
| --- | --- | --- | --- | --- | --- | --- |
| | Thin | | Normal | | Overweight | |
| Cat's weight (kg) | grams | cup(s) | grams | cup(s) | grams | cup(s) |
| 2 | 40 | 4/8 | 33 | 3/8 | 27 | 3/8 |
| 2.5 | 47 | 5/8 | 39 | 4/8 | 31 | 3/8 |
| 3 | 53 | 5/8 | 45 | 4/8 | 36 | 4/8 |
| 3.5 | 60 | 6/8 | 50 | 5/8 | 40 | 4/8 |
| 4 | 65 | 6/8 | 55 | 5/8 | 44 | 4/8 |
| 4.5 | 71 | 7/8 | 59 | 6/8 | 47 | 5/8 |
| 5 | 77 | 1 | 64 | 6/8 | 51 | 5/8 |
| 5.5 | 82 | 1 | 68 | 7/8 | 55 | 5/8 |
| 6 | 87 | 1+1/8 | 73 | 7/8 | 58 | 6/8 |
| 6.5 | 92 | 1+1/8 | 77 | 1 | 62 | 6/8 |
| 7 | 97 | 1+2/8 | 81 | 1 | 65 | 6/8 |
| 7.5 | 102 | 1+2/8 | 85 | 1 | 68 | 7/8 |
| 8 | 107 | 1+2/8 | 89 | 1+1/8 | 71 | 7/8 |
| 8.5 | 112 | 1+3/8 | 93 | 1+1/8 | 75 | 7/8 |
| 9 | 116 | 1+3/8 | 97 | 1+2/8 | 78 | 1 |
| 9.5 | 121 | 1+4/8 | 101 | 1+2/8 | 81 | 1 |
| 10 | 126 | 1+4/8 | 105 | 1+2/8 | 84 | 1 |