Gastro Intestinal
Complete dietetic feed for dogs.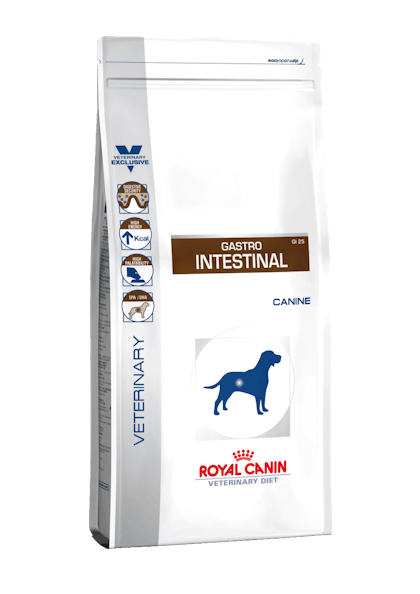 Digestive security

Nutrients which support a balanced digestive system.

High energy

Adequate energy content to meet the needs of adult dogs without overloading the stomach.

High palatability

High palatability to satisfy decreased or fussy appetites.

EPA/DHA

EPA/DHA to help maintain a healthy digestive system.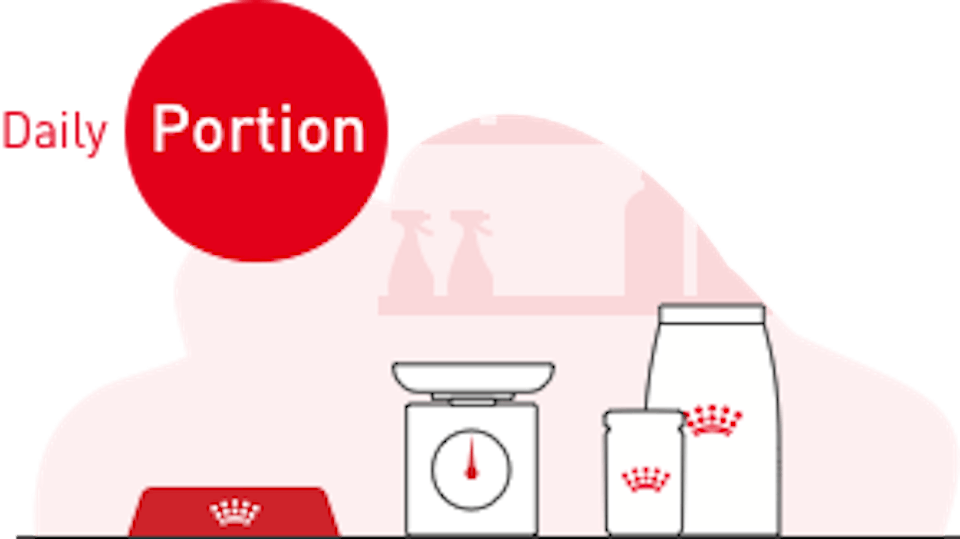 Discover now the perfect tool to calculate the ideal ration for your pet. Fill in your pet's information in the interactive feeding guide and you will get the daily feeding recommendation.
Calculate
Composition: rice, dehydrated poultry protein, animal fats, maize, hydrolysed animal proteins, yeasts, egg powder, beet pulp, soya oil, minerals, vegetable fibres, fish oil, fructo-oligo-saccharides, psyllium husks and seeds, hydrolysed yeast (source of manno-oligo-saccharides), marigold extract (source of lutein).

Additives (per kg): Nutritional additives: Vitamin A: 11400 IU, Vitamin D3: 1000 IU, E1 (Iron): 42 mg, E2 (Iodine): 3.3 mg, E4 (Copper): 8 mg, E5 (Manganese): 55 mg, E6 (Zinc): 181 mg, E8 (Selenium): 0.08 mg - Preservatives - Antioxidants.

Analytical constituents: Protein: 25% - Fat content: 20% - Crude ash: 6.9% - Crude fibres: 1.6% - Per kg: EPA & DHA: 3 g - Sodium: 4 g - Potassium: 7 g - Omega 3 fatty acids: 7 g - Omega 6 fatty acids: 35.2 g - Metabolisable energy: 4074 kcal.

| Dog's weight | Lean | - | Normal | - | Overweight | - |
| --- | --- | --- | --- | --- | --- | --- |
| 2 kg | 52 g | 4/8 cup | 45 g | 4/8 cup | 39 g | 3/8 cup |
| 4 kg | 87 g | 7/8 cup | 76 g | 6/8 cup | 66 g | 6/8 cup |
| 6 kg | 118 g | 1 + 2/8 cup | 104 g | 1 + 1/8 cup | 89 g | 7/8 cup |
| 8 kg | 146 g | 1 + 4/8 cup | 128 g | 1 + 3/8 cup | 111 g | 1 + 1/8 cup |
| 10 kg | 173 g | 1 + 6/8 cup | 152 g | 1 + 5/8 cup | 131 g | 1 + 3/8 cup |
| 15 kg | 234 g | 2 + 4/8 cup | 206 g | 2 + 1/8 cup | 178 g | 1 + 7/8 cup |
| 20 kg | 290 g | 3 cup | 255 g | 2 + 5/8 cup | 221 g | 2 + 2/8 cup |
| 25 kg | 343 g | 3 + 5/8 cup | 302 g | 3 + 1/8 cup | 261 g | 2 + 6/8 cup |
| 30 kg | 393 g | 4 + 1/8 cup | 346 g | 3 + 5/8 cup | 299 g | 3 + 1/8 cup |
| 35 kg | 442 g | 4 + 5/8 cup | 389 g | 4 cup | 336 g | 3 + 4/8 cup |
| 40 kg | 488 g | 5 + 1/8 cup | 429 g | 4 + 4/8 cup | 371 g | 3 + 7/8 cup |
| 50 kg | 577 g | 6 cup | 508 g | 5 + 2/8 cup | 438 g | 4 + 5/8 cup |
| 60 kg | 661 g | 6 + 7/8 cup | 582 g | 6 + 1/8 cup | 503 g | 5 + 2/8 cup |
| 70 kg | 743 g | 7 + 6/8 cup | 653 g | 6 + 6/8 cup | 564 g | 5 + 7/8 cup |
| 80 kg | 821 g | 8 + 4/8 cup | 722 g | 7 + 4/8 cup | 624 g | 6 + 4/8 cup |