n.01 Beauty
Complete balanced feed for adult cats (> 1 year old).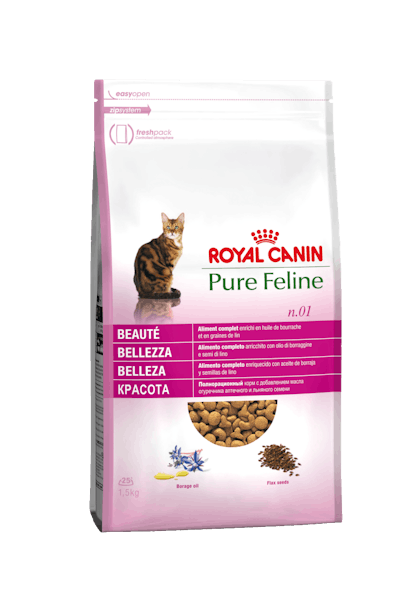 Beautiful coat

The essential fatty acids (Omega 3 / Omega 6) provided byflax seeds and borage oil, combined with polyphenolsfrom grape seeds help make the coat and skin healthy,soft and smooth.

Borage oil

Edible plant originating from Syria its oil is very rich in gamma-linoleic acid(GLA), an OMEGA 6 fatty acid which has a very positive effect on the skin healthand coat beauty.

Flax seeds

A source of unsaturated fatty acids (OMEGA 3). OMEGA 3 fatty acidsare renowned to help the skin stay healthy.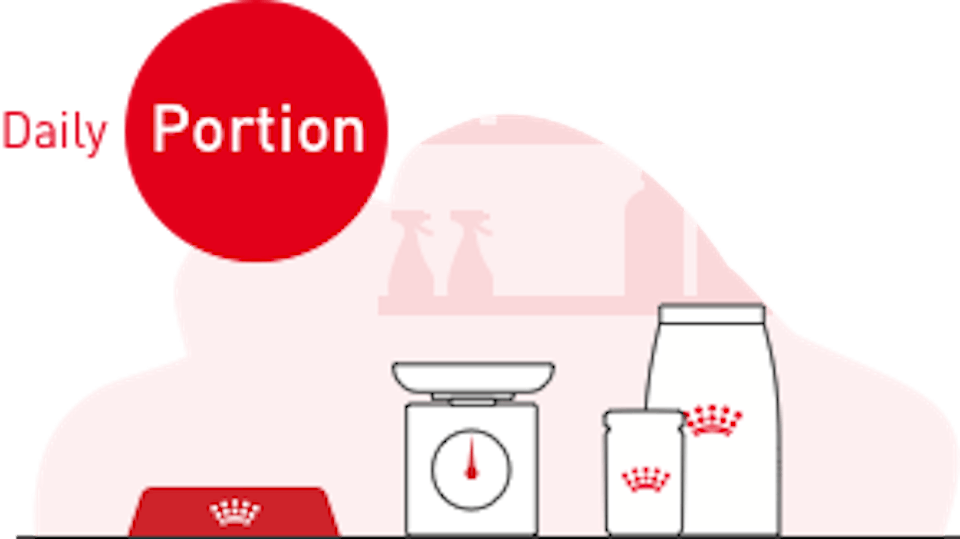 Discover now the perfect tool to calculate the ideal ration for your pet. Fill in your pet's information in the interactive feeding guide and you will get the daily feeding recommendation.
Calculate
Composition: dehydrated poultry meat, rice, husked oats, wheat, animal fats, maize gluten, hydrolysed animal proteins, wheat gluten, yeasts, chicory pulp, vegetable fibres, fish oil, soya oil, flax seeds (source of omega 3) (1%), minerals, egg powder, borage oil (0.1%).

Additives (per kg): Nutritional additives: Vitamin A: 20600 IU, Vitamin D3: 700 IU, E1 (Iron): 30 mg, E2 (Iodine): 2.3 mg, E4 (Copper): 10 mg, E5 (Manganese): 39 mg, E6 (Zinc): 129 mg, E8 (Selenium): 0.04 mg - Antioxidants (natural extracts rich in tocopherols: 120 mg).

Analytical constituents: Protein: 33% - Fat content: 17% - Crude ash: 6.3% - Crude fibres: 2.9% - Omega 6 fatty acids: 32 g/kg - Omega 3 fatty acids: 10 g/kg.

| Body weight | 2 kg | - | 3 kg | - | 4 kg | - | 5 kg | - | 6 kg | - | 7 kg | - | 8 kg | - | 9 kg | - | 10 kg | - |
| --- | --- | --- | --- | --- | --- | --- | --- | --- | --- | --- | --- | --- | --- | --- | --- | --- | --- | --- |
| Thin | 35 g | 3/8 cup | 55 g | 5/8 cup | 75 g | 7/8 cup | 95 g | 1 cup | 110 g | 1+2/8 cup | | | | | | | | |
| Ideal Weight | 30 g | 3/8 cup | 45 g | 4/8 cup | 60 g | 5/8 cup | 75 g | 7/8 cup | 90 g | 1 cup | 105 g | 1+1/8 cup | 120 g | 1+3/8 cup | 135 g | 1+4/8 cup | 150 g | 1+5/8 cup |
| Overweight | | | | | 45 g | 4/8 cup | 55 g | 5/8 cup | 65 g | 6/8 cup | 80 g | 7/8 cup | 90 g | 1 cup | 100 g | 1+1/8 cup | 110 g | 1+2/8 cup |