Renal
Complete dietetic feed for adult dogs.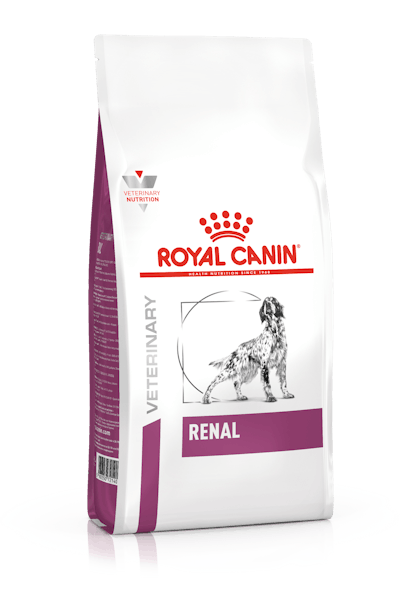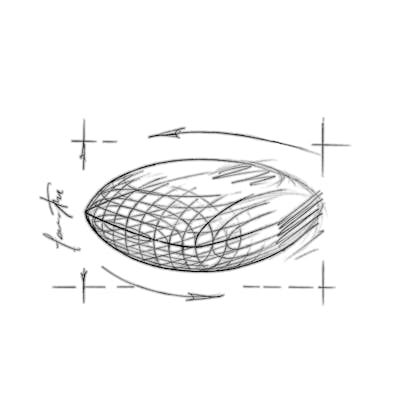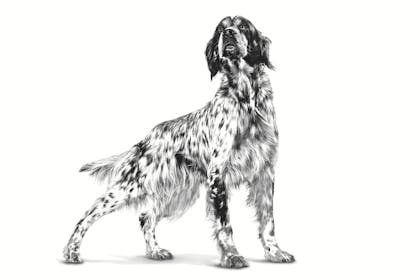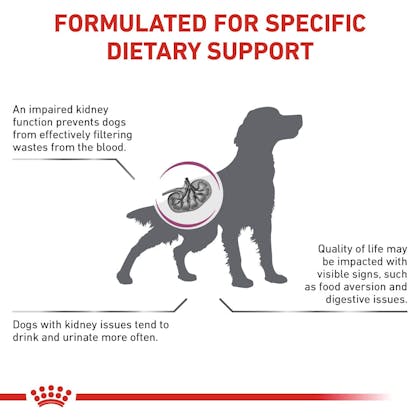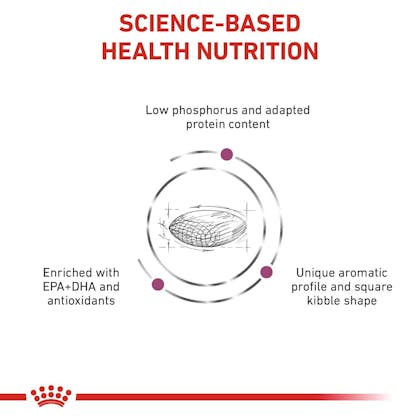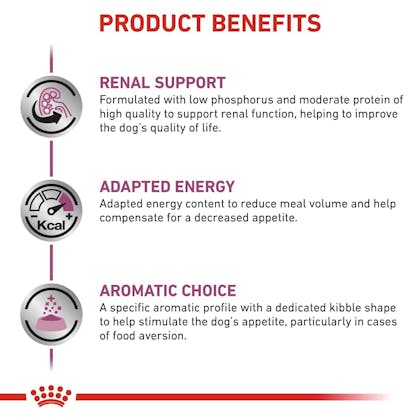 Renal support

Formulated with low phosphorus and moderate protein of high quality to support renal function, helping to improve the dog's quality of life.

Adapted energy

Adapted energy content to reduce meal volume and help compensate for a decreased appetite.

Aromatic choice

A specific aromatic profile with a dedicated kibble shape to help stimulate the dog's appetite, particularly in cases of food aversion.

Benefits: Renal support / Adapted energy / Aromatic choice ROYAL CANIN® Renal is formulated to help support your dog's kidneys in cases of chronic kidney disease or acute kidney injury. This diet is formulated with a low phosphorus content and provides a moderate amount of high-quality proteins to help support kidney function. This formula's adapted energy content reduces the volume of each meal, helping to compensate decreased appetite in some dogs. To help stimulate your dog's appetite, this diet is formulated with a specific aromatic profile and has a dedicated kibble shape, size, and texture. As part of the ROYAL CANIN® Veterinary Range, it is important that this product is only given to your pet when recommended by a veterinary professional. Transitioning your pet from one diet to another should be a smooth and gradual process over a 7–10-day period. Please ensure you follow the correct rationing amount, especially when mix-feeding. To cater to each dog's individual preferences, ROYAL CANIN® Renal is also available as wet food with either thin slices in gravy, or with a soft, loaf-like texture, and as dry food Renal Special and Renal Select with different kibble shape, texture and aromatic profile*. *Subject to product availability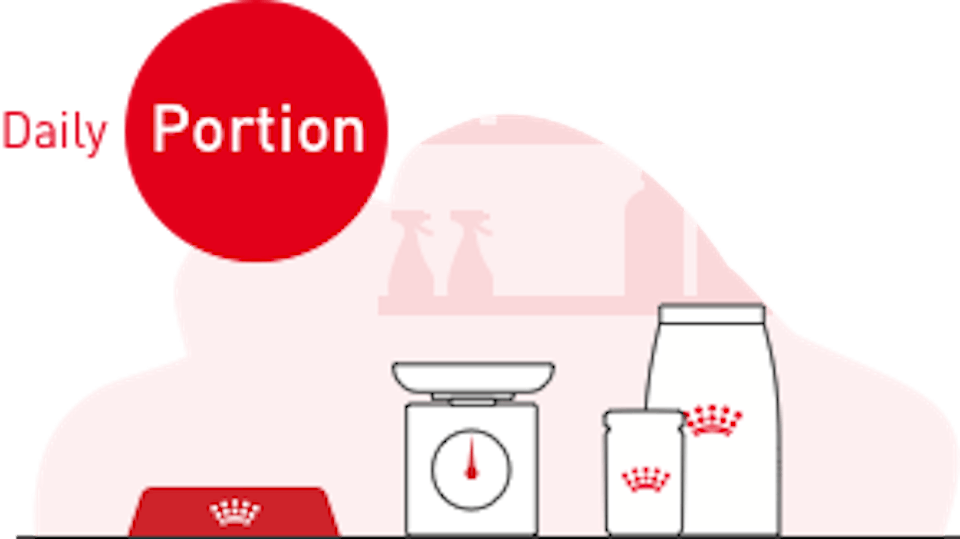 Discover now the perfect tool to calculate the ideal ration for your pet. Fill in your pet's information in the interactive feeding guide and you will get the daily feeding recommendation.
Calculate
ROYAL CANIN® RENAL dry is a complete dietetic feed for dogs formulated to support renal function in the case of chronic renal insufficiency, through its restricted levels of phosphorus and high-quality proteins. RECOMMENDATIONS: It is recommended that a veterinarian's opinion be sought before use or before extending the period of use. Initially feed RENAL dry for up to 6 months in cases of chronic renal insufficiency.

Composition: Rice, maize flour, animal fats, maize gluten, maize, hydrolysed animal proteins, beet pulp, wheat gluten*, minerals, fish oil, vegetable fibres, soya oil, psyllium husks and seeds, fructo-oligosaccharides, mono - and diglycerides of palmitic and stearic acids esterified with citric acid, marigold extract (source of lutein).Protein sources: maize gluten, hydrolysed animal proteins, wheat gluten*.

Additives (per kg): Nutritional additives: Vitamin A: 15500 IU, Vitamin D3: 1000 IU, Iron (3b103): 40 mg, Iodine (3b201, 3b202): 4 mg, Copper (3b405, 3b406): 12 mg, Manganese (3b502, 3b504): 52 mg, Zinc (3b603, 3b605, 3b606): 156 mg, Selenium (3b801, 3b811, 3b812): 0.05 mg - Technological additives: Clinoptilolite of sedimentary origin: 5 g - Preservatives - Antioxidants.

Analytical constituants: Protein: 14.0% - Fat content: 18.0% - Crude ash: 4.0% - Crude fibres: 2.4% - Calcium: 0.4% - Phosphorus: 0.2% - Potassium: 0.6% - Sodium: 0.35% - Essential Fatty Acids (Linoleic Acid): 4% - EPA/DHA: 0.47%.

For RSA: Guaranteed analysis g/kg: Crude protein (min) 120 - Moisture (max) 110 - Crude fat (min) 160 - Crude fibre (max) 34 - Crude ash (max) 44. Product registration number: XXXXXX - Act 36/1947. For Namibia: N-FF XXXX.

* L.I.P.: protein selected for its very high digestibility.

Feeding instructions: see table. Water should be available at all times. Batch number, factory registration number and best before date: see information on packaging. To be stored in a cool, dry place.​

Analytical constituants: Protein: 14.0% - Fat content: 18.0% - Crude ash: 4.0% - Crude fibres: 2.4% - Calcium: 0.4% - Phosphorus: 0.2% - Potassium: 0.6% - Sodium: 0.35% - Essential Fatty Acids (Linoleic Acid): 4% - EPA/DHA: 0.47%.

| | | Adult weight | | | | |
| --- | --- | --- | --- | --- | --- | --- |
| | Thin | | Normal | | Overweight | |
| Dog weight (kg) | grams | cup(s) | grams | cup(s) | grammes | cup(s) |
| 2 | 53 | 5/8 | 46 | 4/8 | 40 | 4/8 |
| 4 | 89 | 1 | 78 | 7/8 | 67 | 6/8 |
| 6 | 120 | 1+3/8 | 106 | 1+1/8 | 91 | 1 |
| 8 | 149 | 1+5/8 | 131 | 1+3/8 | 113 | 1+2/8 |
| 10 | 176 | 1+7/8 | 155 | 1+6/8 | 134 | 1+4/8 |
| 15 | 239 | 2+5/8 | 210 | 2+2/8 | 182 | 2 |
| 20 | 297 | 3+2/8 | 261 | 2+7/8 | 226 | 2+4/8 |
| 25 | 351 | 3+7/8 | 309 | 3+3/8 | 267 | 2+7/8 |
| 30 | 402 | 4+3/8 | 354 | 3+7/8 | 306 | 3+3/8 |
| 35 | 451 | 5 | 397 | 4+3/8 | 343 | 3+6/8 |
| 40 | 499 | 5+4/8 | 439 | 4+7/8 | 379 | 4+1/8 |
| 45 | 545 | 6 | 480 | 5+2/8 | 414 | 4+4/8 |
| 50 | 590 | 6+4/8 | 519 | 5+6/8 | 448 | 4+7/8 |
| 55 | 634 | 7 | 558 | 6+1/8 | 482 | 5+2/8 |
| 60 | 676 | 7+3/8 | 595 | 6+4/8 | 514 | 5+5/8 |
| 65 | 718 | 7+7/8 | 632 | 6+7/8 | 546 | 6 |
| 70 | 759 | 8+3/8 | 668 | 7+3/8 | 577 | 6+3/8 |
| 80 | 839 | 9+2/8 | 739 | 8+1/8 | 638 | 7 |