German Shepherd Loaf In Sauce Dog Food
GERMAN SHEPHERD Adult loaf in sauce canned dog food is designed exclusively for purebred German Shepherds over 15 months old.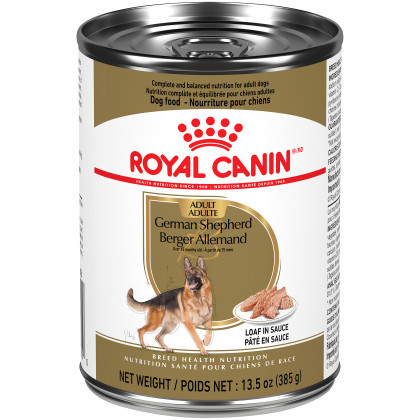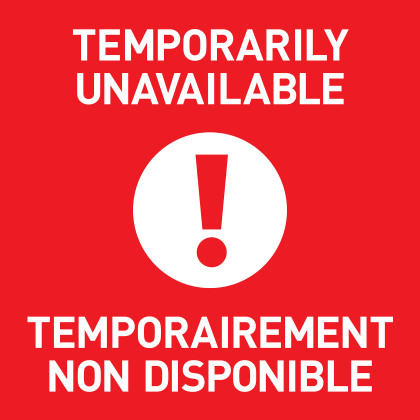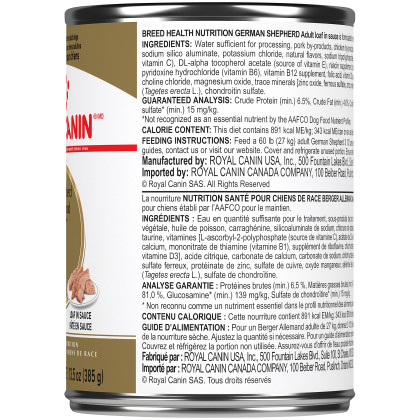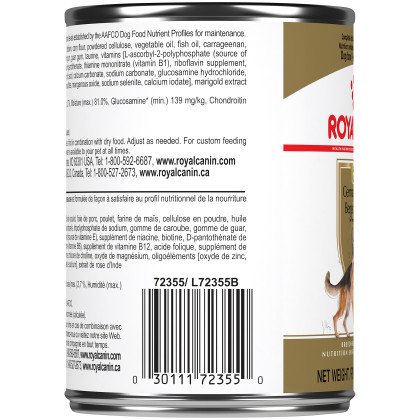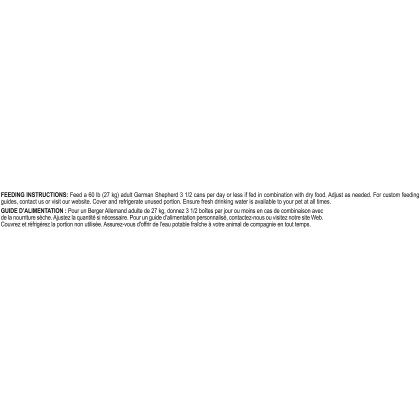 A longer colonic transit time, plus increased colonic permeability in large breed dogs can lead to more fermentation and poor stool quality. GERMAN SHEPHERD Adult contributes to supporting this breed's sensitive digestive system with highly digestible proteins (LIPs*), prebiotic support (MOS**) and a specific fibre blend to limit intestinal fermentation and to help maintain a balanced intestinal flora.

The German Shepherd has alkaline skin which increases the risk of skin infections and a thick, double coat. Targeted nutrition is important for maintaining a healthy skin and coat. The GERMAN SHEPHERD Adult formula helps strengthen the skin barrier and supports skin regeneration with an exclusive complex of nutrients including PINCH, omega 3s (EPA and DHA), omega 6s, vitamin A, biotin, and high quality protein.

The German Shepherd is susceptible to hip dysplasia, and can have an active lifestyle that leads to hard working joints. The GERMAN SHEPHERD Adult formula nutritionally supports the German Shepherd's bones and joints with an appropriate mineral balance (calcium and phosphorus), glucosamine, chondroitin and omega 3s (EPA and DHA) to supply the building blocks for joint regeneration and help reduce inflammation.

*Low indigestible proteins **Mannanoligosaccharides

100% Satisfaction Guaranteed

German Shepherds are well-known for being smart and athletic.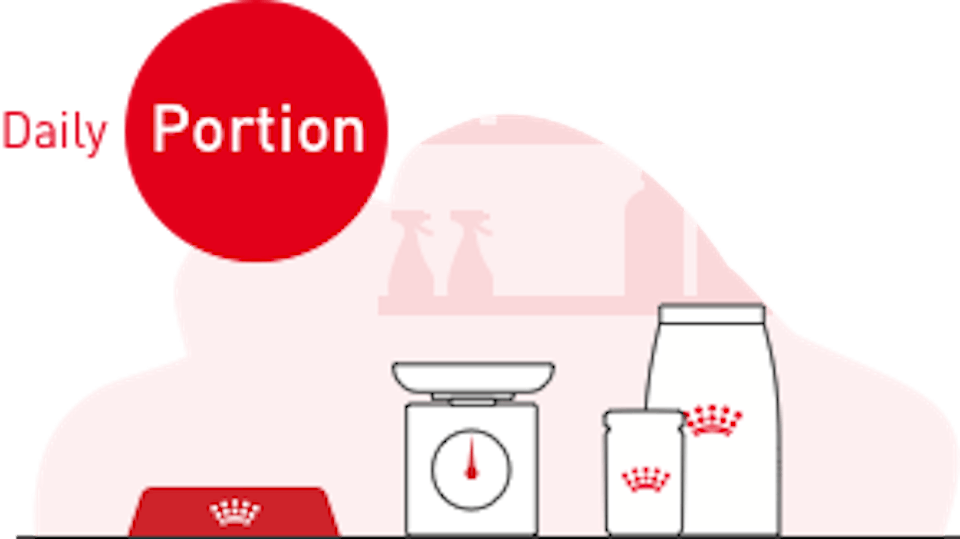 Discover now the perfect tool to calculate the ideal ration for your pet. Fill in your pet's information in the interactive feeding guide and you will get the daily feeding recommendation.
Calculate
Water sufficient for processing, pork by-products, chicken by-products, pork liver, chicken, corn flour, powdered cellulose, vegetable oil, fish oil, carrageenan, sodium silico aluminate, potassium chloride, natural flavors, sodium tripolyphosphate, carob bean gum, guar gum, taurine, vitamins [L-ascorbyl-2-polyphosphate (source of vitamin C), DL-alpha tocopherol acetate (source of vitamin E), niacin supplement, biotin, D-calcium pantothenate, thiamine mononitrate (vitamin B1), riboflavin supplement, pyridoxine hydrochloride (vitamin B6), vitamin B12 supplement, folic acid, vitamin D3 supplement], citric acid, calcium carbonate, sodium carbonate, glucosamine hydrochloride, choline chloride, magnesium oxide, trace minerals [zinc oxide, ferrous sulfate, zinc proteinate, copper sulfate, manganous oxide, sodium selenite, calcium iodate], marigold extract (Tagetes erecta L.), chondroitin sulfate.

Calorie Content

This diet contains 891 kcal ME(metabolizable energy)/kg; 323 kcal ME/can on an as fed basis (calculated).

Crude Protein (min) 6.5% Crude Fat (min) 4.0% Crude Fiber (max) 2.7% Moisture (max) 81.0% Glucosamine* (min) 139 mg/kg Chondroitin sulfate* (min) 15 mg/kg

*Not recognized as an essential nutrient by the AAFCO Dog Food Nutrient Profiles.

Wet Feeding

| Weight | Low Activity | Medium Activity | High Activity |
| --- | --- | --- | --- |
| 4 lb (2 kg) | 2/4 can (169 g) | 2/4 can (196 g) | 2/4 can (223 g) |
| 9 lb (4 kg) | 3/4 can (285 g) | 3/4 can (330 g) | 1 cans (375 g) |
| 13 lb (6 kg) | 1 can (386 g) | 1 1/4 cans (447 g) | 1 1/4 cans (508 g) |
| 18 lb (8 kg) | 1 1/4 cans (479 g) | 1 2/4 cans (554 g) | 1 3/4 cans (630 g) |
| 22 lb (10 kg) | 1 2/4 cans (566 g) | 1 3/4 cans (655 g) | 2 cans (745 g) |
| 33 lb (15 kg) | 2 cans (767 g) | 2 1/4 cans (888 g) | 2 2/4 cans (1,009 g) |
| 44 lb (20 kg) | 2 2/4 cans (952 g) | 2 3/4 cans (1,102 g) | 3 1/4 cans (1,252 g) |
| 55 lb (25 kg) | 3 cans (1,125 g) | 3 2/4 cans (1,303 g) | 3 3/4 cans (1,480 g) |
| 66 lb (30 kg) | 3 1/4 cans (1,290 g) | 4 cans (1,494 g) | 4 2/4 cans (1,697 g) |
| 77 lb (35 kg) | 3 3/4 cans (1,448 g) | 4 1/4 cans (1,677 g) | 5 cans (1,905 g) |
| 88 lb (40 kg) | 4 1/4 cans (1,601 g) | 4 3/4 cans (1,853 g) | 5 2/4 cans (2,106 g) |
| 99 lb (45 kg) | 4 2/4 cans (1,748 g) | 5 1/4 cans (2,025 g) | 6 cans (2,301 g) |
| 110 lb (50 kg) | 5 cans (1,892 g) | 5 3/4 cans (2,191 g) | 6 2/4 cans (2,490 g) |

Mixed Feeding

| Weight | Can | Low Activity | Medium Activity | High Activity |
| --- | --- | --- | --- | --- |
| 4 lb (2 kg) | 1/4 | 1/4 cup (18 g) | 3/8 cup (24 g) | 3/8 cup (31 g) |
| 9 lb (4 kg) | 1/4 | 5/8 cup (46 g) | 3/4 cup (56 g) | 1 cup (67 g) |
| 13 lb (6 kg) | 1/2 | 5/8 cup (47 g) | 7/8 cup (62 g) | 1 1/8 cups (76 g) |
| 18 lb (8 kg) | 1/2 | 1 cup (69 g) | 1 1/4 cups (88 g) | 1 1/2 cups (106 g) |
| 22 lb (10 kg) | 1/2 | 1 1/4 cups (90 g) | 1 5/8 cups (112 g) | 1 7/8 cups (134 g) |
| 33 lb (15 kg) | 1 | 1 1/4 cups (92 g) | 1 3/4 cups (122 g) | 2 1/8 cups (151 g) |
| 44 lb (20 kg) | 1 | 1 7/8 cups (137 g) | 2 1/2 cups (174 g) | 3 cups (210 g) |
| 55 lb (25 kg) | 1 | 2 1/2 cups (179 g) | 3 1/8 cups (222 g) | 3 3/4 cups (265 g) |
| 66 lb (30 kg) | 1 | 3 1/8 cups (219 g) | 3 3/4 cups (268 g) | 4 1/2 cups (318 g) |
| 77 lb (35 kg) | 1 | 3 5/8 cups (257 g) | 4 3/8 cups (313 g) | 5 1/8 cups (368 g) |
| 88 lb (40 kg) | 1 | 4 1/8 cups (294 g) | 5 cups (356 g) | 5 7/8 cups (417 g) |
| 99 lb (45 kg) | 1 | 4 5/8 cups (330 g) | 5 5/8 cups (397 g) | 6 1/2 cups (464 g) |
| 110 lb (50 kg) | 1 | 5 1/8 cups (365 g) | 6 1/8 cups (437 g) | 7 1/8 cups (510 g) |