Urinary UC
Complete dietetic feed for adult dogs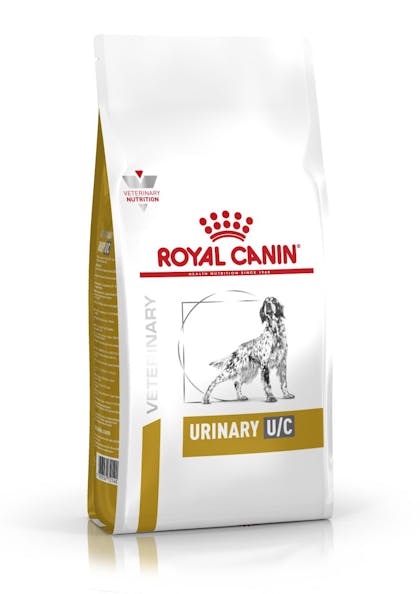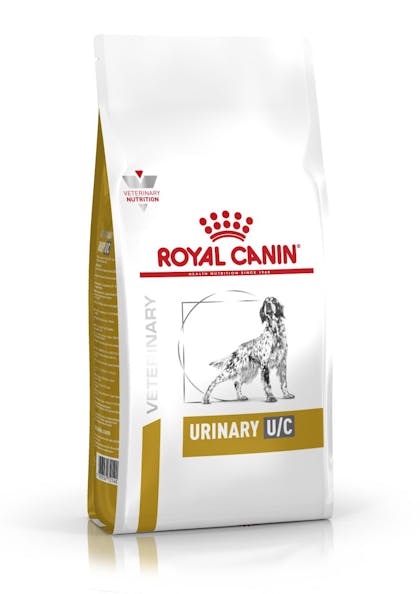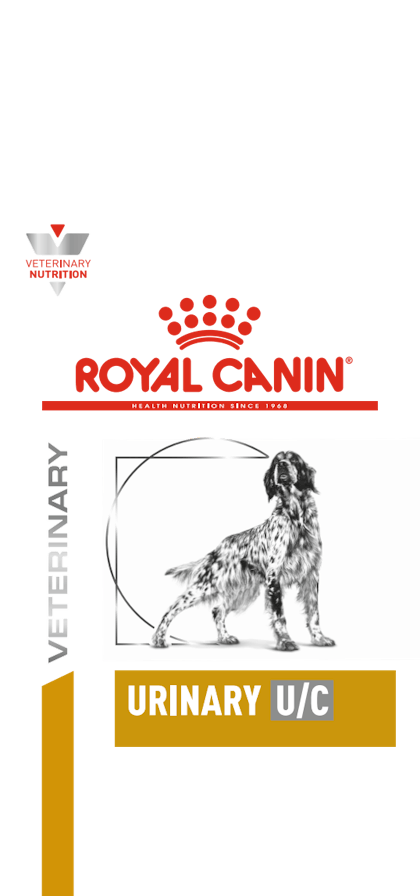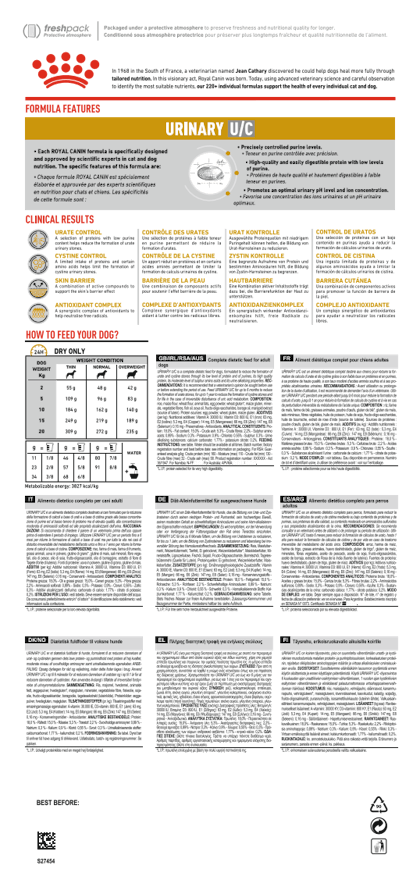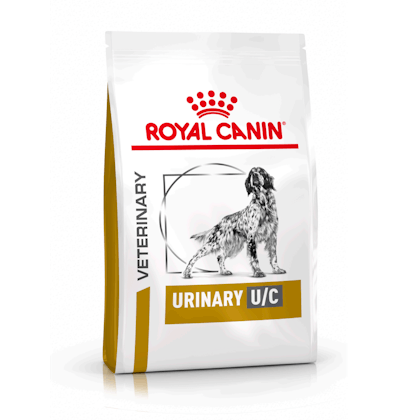 Urate control

A selection of proteins with low purine content helps reduce the formation of urate urinary stones.

Cistyne control

A limited intake of proteins and of some amino acids helps limit the formation of cystine urinary stones.

Skin barrier

A patented complex to support the barrier effect of the skin

Antioxidant complex

A synergistic complex of antioxidants to help neutralise free radicals.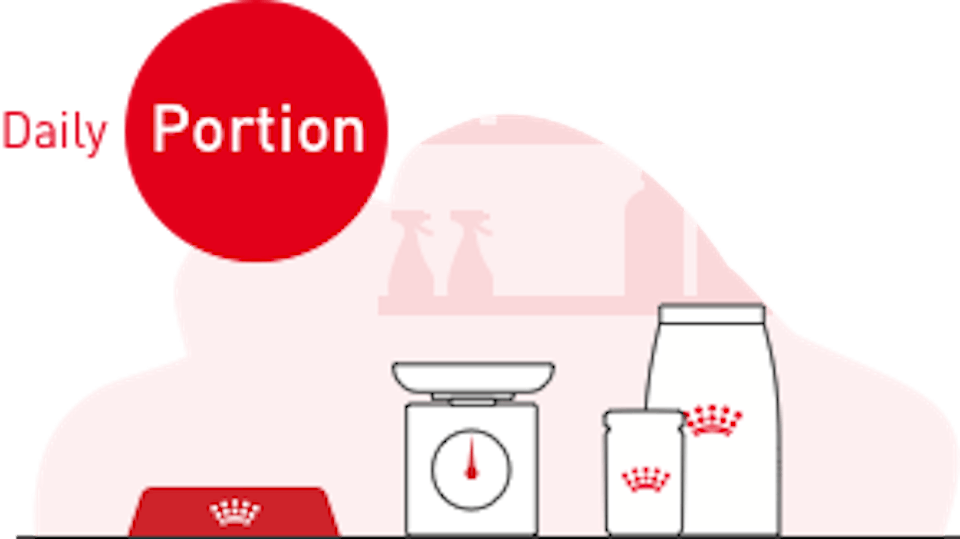 Discover now the perfect tool to calculate the ideal ration for your pet. Fill in your pet's information in the interactive feeding guide and you will get the daily feeding recommendation.
Calculate
Composition: rice, maize flour, wheat flour, animal fats, egg powder, wheat gluten*, maize gluten, minerals, vegetable fibres, fish oil, soya oil, fructo-oligo-saccharides, borage oil, marigold extract (source of lutein). Protein sources: egg powder, wheat gluten, maize gluten.

Additives (per kg): Nutritional additives: Vitamin A: 30000 IU, Vitamin D3: 800 IU, E1 (Iron): 63 mg, E2 (Iodine): 5.3 mg, E4 (Copper): 14 mg, E5 (Manganese): 66 mg, E6 (Zinc): 147 mg, E8 (Selenium): 0.16 mg - - Preservatives - Antioxidants.

Analytical constituents: Protein: 18.0% - Fat content: 15.0% - Crude ash: 5.3% - Crude fibres: 2.2% - Total sulphur amino acids : 0.89% - Sodium: 0.3% - Potassium: 0.9% - Chlorides: 0.55% - Sulphur: 0.3% - Urine alkalising substances: calcium carbonate: 1.77%- potassium citrate: 0.2%.

* L.I.P.: protein selected for its very high digestibility.

Feeding instructions: see table. Weight shown in the table is the target body weight. Batch number, factory registration number and best before date: see information on packaging. To be stored in a cool, dry place.

| Weight of dog | Thin | cup | Normal | cup | Overweight | cup |
| --- | --- | --- | --- | --- | --- | --- |
| 2 kg | 55 g | 5/8 | 48 g | 4/8 | 42 g | 4/8 |
| 4 kg | 92 g | 1 | 81 g | 7/8 | 70 g | 6/8 |
| 6 kg | 125 g | 1+3/8 | 110 g | 1+2/8 | 95 g | 1 |
| 8 kg | 155 g | 1+6/8 | 137 g | 1+4/8 | 118 g | 1+2/8 |
| 10 kg | 184 g | 2 | 162 g | 1+6/8 | 140 g | 1+4/8 |
| 15 kg | 249 g | 2+6/8 | 219 g | 2+3/8 | 189 g | 2+1/8 |
| 20 kg | 309 g | 3+3/8 | 272 g | 3 | 235 g | 2+5/8 |
| 25 kg | 365 g | 4 | 321 g | 3+4/8 | 278 g | 3 |
| 30 kg | 419 g | 4+5/8 | 368 g | 4 | 318 g | 3+4/8 |
| 35 kg | 470 g | 5+1/8 | 414 g | 4+4/8 | 357 g | 3+7/8 |
| 40 kg | 520 g | 5+6/8 | 457 g | 5 | 395 g | 4+3/8 |
| 45 kg | 568 g | 6+2/8 | 499 g | 5+4/8 | 431 g | 4+6/8 |
| 50 kg | 614 g | 6+6/8 | 541 g | 5+7/8 | 467 g | 5+1/8 |
| 55 kg | 660 g | 7+2/8 | 581 g | 6+3/8 | 501 g | 5+4/8 |
| 60 kg | 704 g | 7+6/8 | 620 g | 6+6/8 | 535 g | 5+7/8 |
| 70 kg | 791 g | 8+5/8 | 696 g | 7+5/8 | 601 g | 6+5/8 |
| 80 kg | 874 g | 9+5/8 | 769 g | 8+3/8 | 664 g | 7+2/8 |