Hepatic
Complete dietetic feed for adult dogs.
Vegetable protein

Highly digestable proteins (soy protein isolate) are better tolerated in dogs with hepatic encephalopathy.

Low copper

A low copper with increased zinc content minimises both copper accumulation in the hepatocytes and intracellular lesions caused by cholestasis.

Antioxidant complex

A patented synergistic complex of antioxidants to help neutralise free radicals.

High energy

High energy provided from fat avoids excessive protein catabolism, limiting the risk of onset or the progression of hepatic encephalopathy.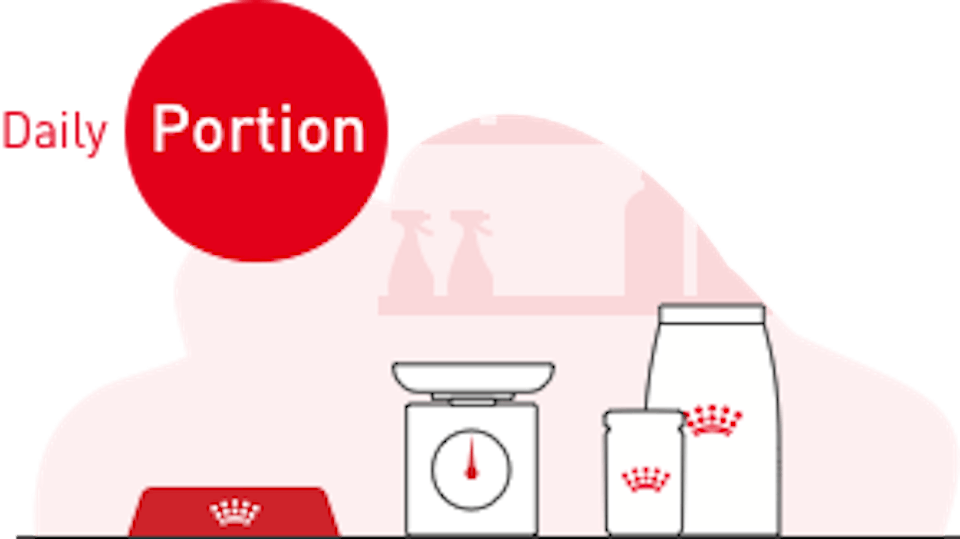 Discover now the perfect tool to calculate the ideal ration for your pet. Fill in your pet's information in the interactive feeding guide and you will get the daily feeding recommendation.
Calculate
Composition: rice, maize, animal fats, soya protein isolate*, hydrolysed animal proteins, beet pulp, minerals, soya oil, vegetable fibres, fish oil, fructo-oligo-saccharides, marigold extract (source of lutein).

Additives (per kg): Nutritional additives: Vitamin A: 11600 IU, Vitamin D3: 1000 IU, E1 (Iron): 115 mg, E2 (Iodine): 4.3 mg, E5 (Manganese): 53 mg, E6 (Zinc): 212 mg, E8 (Selenium): 0.38 mg - Preservatives - Antioxidants.

Analytical constituents: Protein: 16% - Fat content: 16% - Crude ash: 4.7% - Crude fibres: 2% - Essential fatty acids: 43 g/kg - Total copper: 5 mg/kg - Sodium: 0.2% - Potassium: 0.9% - Metabolisable energy: 4043 kcal/kg.

*L.I.P.: protein selected for its very high assimilation.

| Dog's weight | Thin | - | Normal | - | Overweight | - |
| --- | --- | --- | --- | --- | --- | --- |
| - | (g) | cup* | (g) | cup* | (g) | cup* |
| 2 kg | 54 g | 6/8 cup | 47 g | 5/8 cup | 41 g | 4/8 cup |
| 4 kg | 91 g | 1 + 1/8 cup | 80 g | 1 cup | 69 g | 7/8 cup |
| 5 kg | 107 g | 1 + 3/8 cup | 94 g | 1 + 2/8 cup | 81 g | 1 cup |
| 6 kg | 123 g | 1 + 5/8 cup | 108 g | 1 + 3/8 cup | 93 g | 1 + 2/8 cup |
| 8 kg | 152 g | 2 cup | 134 g | 1 + 6/8 cup | 116 g | 1 + 4/8 cup |
| 10 kg | 180 g | 2 + 3/8 cup | 158 g | 2 cup | 137 g | 1 + 6/8 cup |
| 15 kg | 244 g | 3 + 1/8 cup | 215 g | 2 + 6/8 cup | 185 g | 2 + 3/8 cup |
| 20 kg | 303 g | 4 cup | 266 g | 3 + 4/8 cup | 230 g | 3 cup |
| 25 kg | 358 g | 4 + 5/8 cup | 315 g | 4 + 1/8 cup | 272 g | 3 + 4/8 cup |
| 30 kg | 410 g | 5 + 3/8 cup | 361 g | 4 + 6/8 cup | 312 g | 4 + 1/8 cup |
| 35 kg | 460 g | 6 cup | 405 g | 5 + 2/8 cup | 350 g | 4 + 4/8 cup |
| 40 kg | 509 g | 6 + 5/8 cup | 448 g | 5 + 7/8 cup | 387 g | 5 cup |
| 50 kg | 602 g | 7 + 7/8 cup | 530 g | 6 + 7/8 cup | 457 g | 6 cup |
| 60 kg | 690 g | 9 cup | 607 g | 7 + 7/8 cup | 524 g | 6+ 7/8 cup |
| 70 kg | 774 g | 10 + 1/8 cup | 682 g | 8 + 7/8 cup | 589 g | 7+ 5/8 cup |
| 80 kg | 856 g | 11 + 1/8 cup | 753 g | 9 + 6/8 cup | 651 g | 8+ 4/8 cup |