Maxi Adult
Complete feed for dogs - For adult large breed dogs (from 26 to 44 kg) - From 15 months to 5 years old.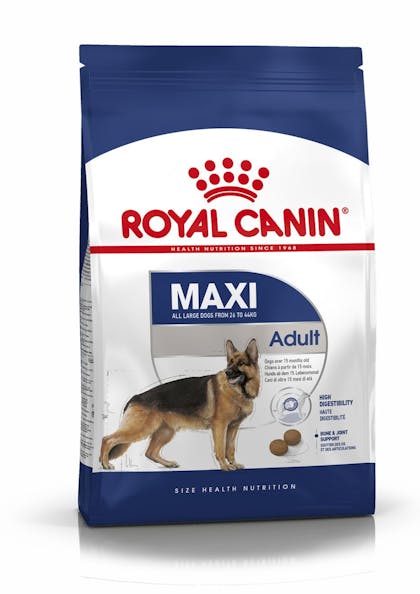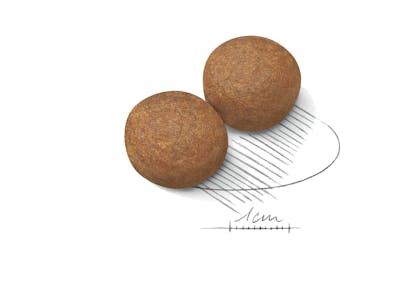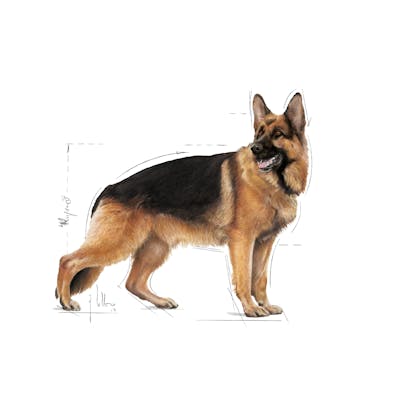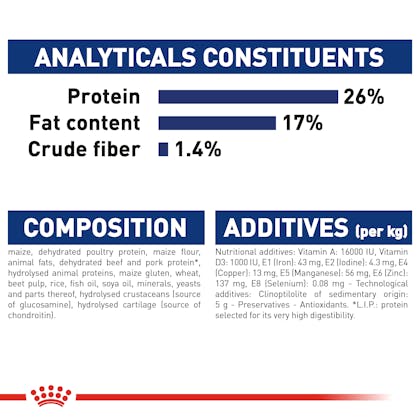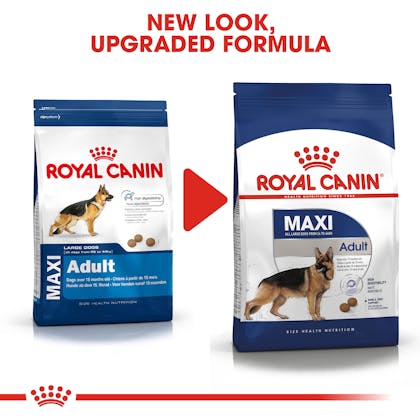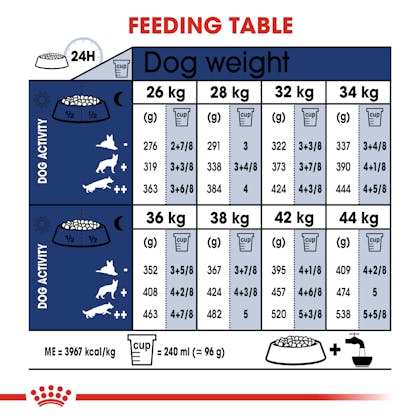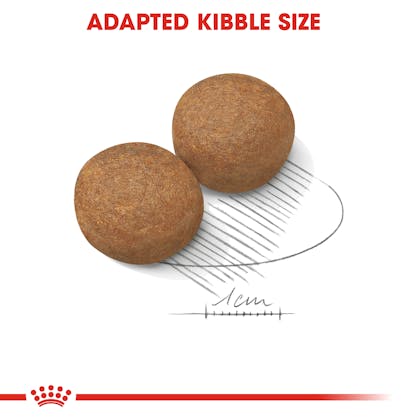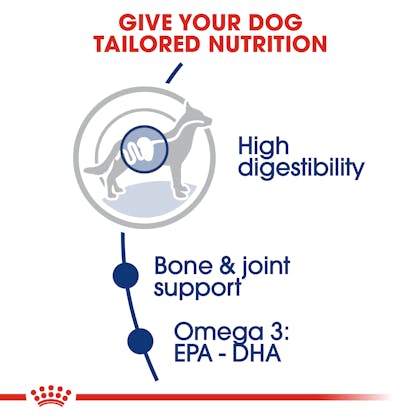 High digestibility

Helps support optimal digestibility thanks to an exclusive formula including very high quality protein and a balanced supply of dietary fibre.

Bone & joint support

Helps support large breed dogs' healthy bones and joints, which can be placed under stress by body weight.

Omega 3: EPA-DHA

Enriched with Omega 3 fatty acids (EPA-DHA) to help maintain healthy skin.

The nutritional requirements of a larger breed dog versus a smaller breed dog vary greatly, therefore it is essential you feed a balanced diet according to size and other particular sensitivities. ROYAL CANIN® Maxi Adult food is specially formulated with your dog's nutritional needs in mind. This food is suitable for large dogs aged 15 months and over - with an adult weight ranging between 26-44kg. For large dogs, bones and joints can be a particular sensitivity, therefore maintaining your dog's joint health is crucial for the wear and tear it may face due to its size. ROYAL CANIN® Maxi Adult food will help maintain an ideal weight that your dog can comfortably support. ROYAL CANIN® Maxi dog food contains an exclusive formula to help maintain your dog's digestive health. What's more, it's enriched with omega-3 fatty acids (EPA and DHA), ROYAL CANIN® Maxi adult dog food also helps to support and maintain your dog's skin by keeping it healthy and nourished.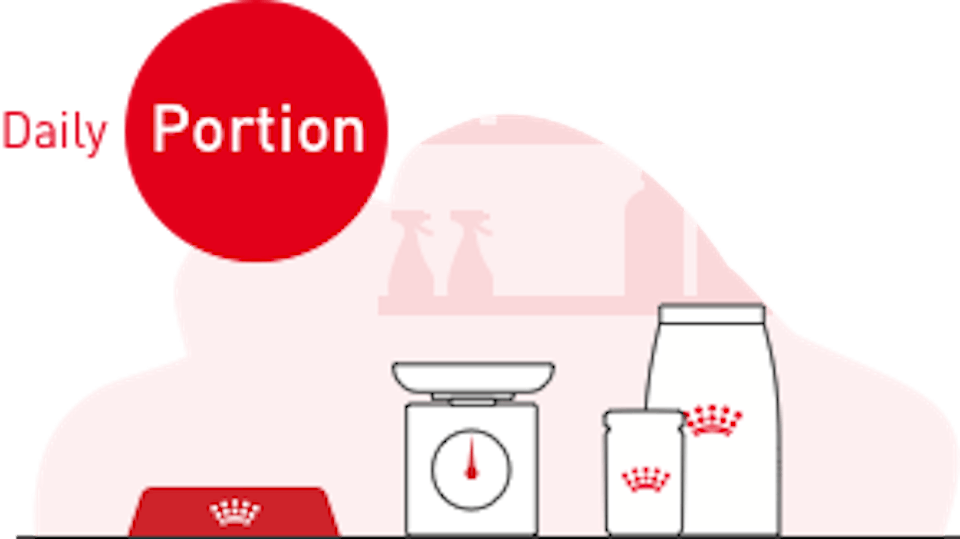 Discover now the perfect tool to calculate the ideal ration for your pet. Fill in your pet's information in the interactive feeding guide and you will get the daily feeding recommendation.
Calculate
Composition: dehydrated poultry protein, maize, maize flour, animal fats, wheat, rice, maize gluten, hydrolysed animal proteins, beet pulp, fish oil, soya oil, minerals, yeasts and parts thereof, hydrolysed crustaceans (source of glucosamine), hydrolysed cartilage (source of chondroitin).

Additives (per kg):  Nutritional additives: Vitamin A: 16000 IU, Vitamin D3: 1000 IU, E1 (Iron): 38 mg, E2 (Iodine): 3.8 mg, E4 (Copper): 12 mg, E5 (Manganese): 50 mg, E6 (Zinc): 132 mg, E8 (Selenium): 0.07 mg - Technological additives: Clinoptilolite of sedimentary origin: 5 g - Preservatives - Antioxidants.

Analytical constituants:  Protein: 26.0% - Fat content: 17.0% - Crude ash: 6.7% - Crude fibres: 1.3% - Per Kg: Omega 3 fatty acids: 7.8 g including EPA/DHA: 4 g.

| Weight of dog | Low activity | Medium activity | High activity |
| --- | --- | --- | --- |
| 26 kg | 276 g (2+7/8 cups) | 319 g (3+3/8 cups) | 363 g (3+6/8 cups) |
| 28 kg | 291 g (3 cups) | 337 g (3+4/8 cups) | 383 g (4 cups) |
| 30 kg | 307 g (3+2/8 cups) | 355 g (3+6/8 cups) | 404 g (4+2/8 cups) |
| 32 kg | 322 g (3+3/8 cups) | 373 g (3+7/8 cups) | 424 g (4+3/8 cups) |
| 34 kg | 337 g (3+4/8 cups) | 390 g (4+1/8 cups) | 443 g (4+5/8 cups) |
| 36 kg | 352 g (3+5/8 cups) | 407 g (4+2/8 cups) | 463 g (4+7/8 cups) |
| 38 kg | 366 g (3+7/8 cups) | 424 g (4+3/8 cups) | 482 g (5 cups) |
| 40 kg | 381 g (4 cups) | 441 g (4+5/8 cups) | 501 g (5+2/8 cups) |
| 42 kg | 395 g (4+1/8 cups) | 457 g (4+6/8 cups) | 519 g (5+3/8 cups) |
| 44 kg | 405 g (4+2/8 cups) | 473 g (4+7/8 cups) | 538 g (5+5/8 cups) |