Urinary S/O
Complete dietetic feed for adult cats.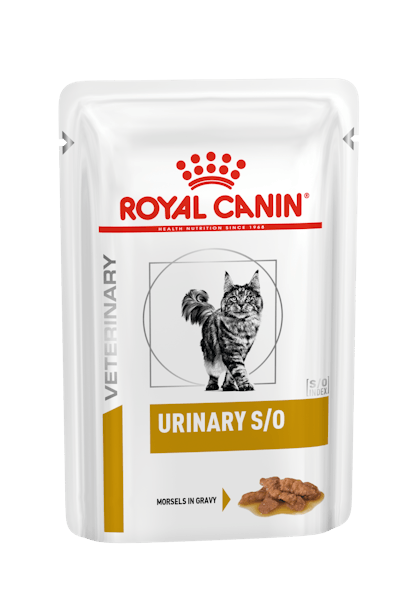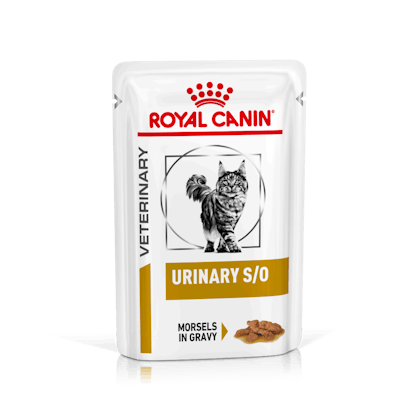 Idiopathic cystitis

High moisture content increases urine dilution.

Struvite dissolution

Helps dissolve all types of struvite stones.

Low RSS

Helps lower the concentration of ions contributing to crystal formation.

Urine dilution

Urine dilution makes the urine less liable to form struvite and calcium oxalate stones.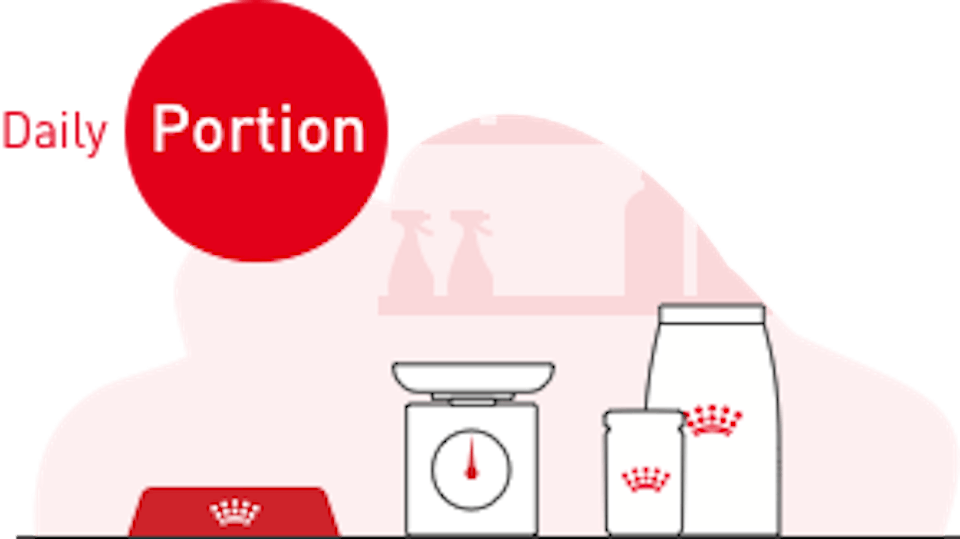 Discover now the perfect tool to calculate the ideal ration for your pet. Fill in your pet's information in the interactive feeding guide and you will get the daily feeding recommendation.
Calculate
Composition: Poultry by-products, pork by-products, pork blood products, wheat flour, vital wheat gluten, powder cellulose, starch mixture, minerals, fish oil, sunflower oil refined, caramelised sugars, marigold extract (source of lutein).

Additives (per kg): Nutritional additives: Vitamin D3: 225IU, E1 (Iron): 3mg, E2 (Iodine): 0.25mg, E4 (Copper): 2mg, E5 (Manganese): 1mg, E6 (Zinc): 10mg, Urine acidifying substances: calcium sulfate: 0.25%.Technological additives: (acidity regulator) sodium bisulfate: 0.5g.

Analytical constituents: Protein: 10% - Fat content: 3.5% - Crude ash: 1.8% - Crude fibres: 1% - Moisture: 80% - Taurine (total): 0.1% - Calcium: 0.22% - Phosphorus: 0.19% - Sodium: 0.3% - Magnesium: 0.012% - Potassium: 0.18% - Chloride: 0.42% - Sulfur: 0.17% - Urine acidifying substances: calcium sulfate: 0.25% - DL Methionine: 0.03%.

| Cat weight | Thin | - | Normal | - | Overweight | - |
| --- | --- | --- | --- | --- | --- | --- |
| - | (g) | Pouches | (g) | Pouches | (g) | Pouches |
| 2 kg | 170 g | 2 | 140 g | 1+1/2 | 110 g | 1+1/2 |
| 2.5 kg | 195 g | 2+1/2 | 165 g | 2 | 130 g | 1+1/2 |
| 3 kg | 225 g | 2+1/2 | 185 g | 2 | 150 g | 2 |
| 3.5 kg | 250 g | 3 | 210 g | 2+1/2 | 165 g | 2 |
| 4 kg | 275 g | 3 | 230 g | 2+1/2 | 185 g | 2 |
| 4.5 kg | 300 g | 3+1/2 | 250 g | 3 | 200 g | 2+1/2 |
| 5 kg | 320 g | 4 | 270 g | 3 | 215 g | 2+1/2 |
| 5.5 kg | 345 g | 4 | 285 g | 3+1/2 | 230 g | 2+1/2 |
| 6 kg | 365 g | 4+1/2 | 305 g | 3+1/2 | 245 g | 3 |
| 6.5 kg | 390 g | 4+1/2 | 325 g | 4 | 260 g | 3 |
| 7 kg | 410 g | 5 | 340 g | 4 | 275 g | 3 |
| 7.5 kg | 430 g | 5 | 360 g | 4 | 285 g | 3+1/2 |
| 8 kg | 450 g | 5+1/2 | 375 g | 4+1/2 | 300 g | 3+1/2 |
| 8.5 kg | 470 g | 5+1/2 | 390 g | 4+1/2 | 315 g | 3+1/2 |
| 9 kg | 490 g | 6 | 410 g | 5 | 325 g | 4 |
| 9.5 kg | 510 g | 6 | 425 g | 5 | 340 g | 4 |
| 10 kg | 530 g | 6 | 440 g | 5 | 350 g | 4 |