HYPOALLERGENIC SMALL DOG
Complete dietetic feed for adult dogs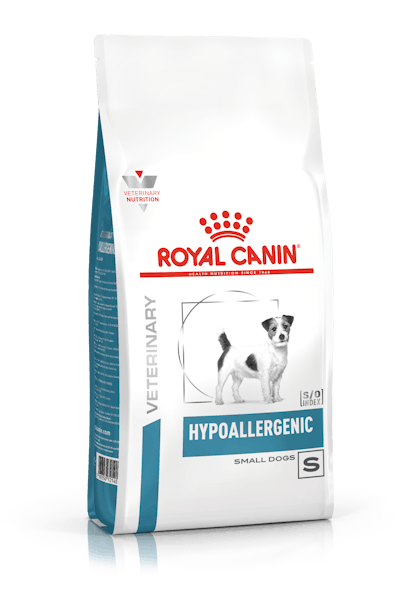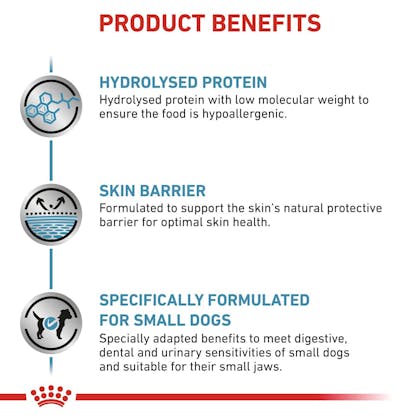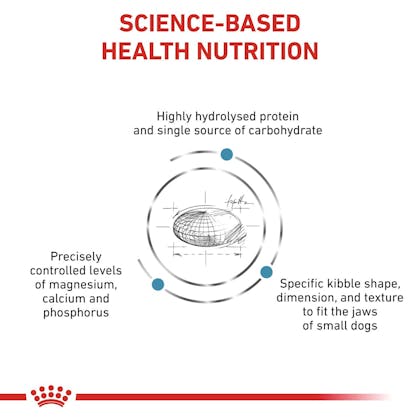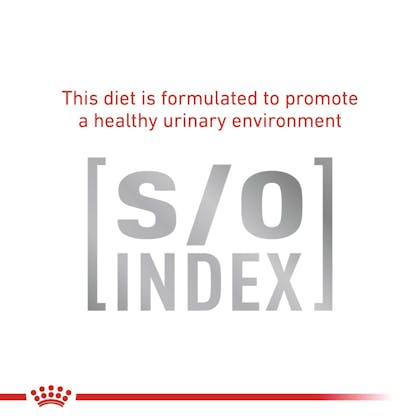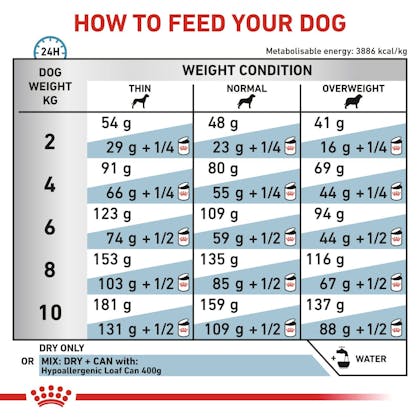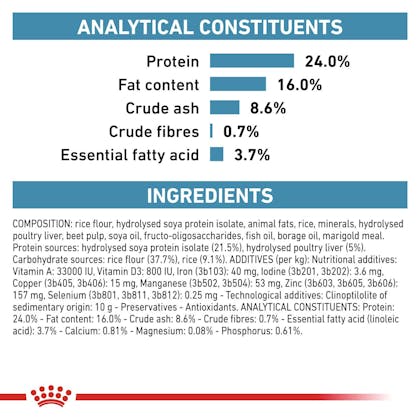 BRAND TEXT VETERINARY

In 1968 in the South of France, a veterinarian named Jean Cathary discovered he could better support dogs' health through tailored nutrition. In this visionary act, ROYAL CANIN® was born. Today, using advanced veterinary science and careful observation to identify the most adapted nutrients, our 220+ individual formulas support the health of every individual cat and dog.

5A. HYDROLYSED PROTEIN

Hydrolysed protein with low molecular weight to ensure the food is hypoallergenic.

5B. SKIN BARRIER

Formulated to support the skin's natural protective barrier for optimal skin health.

5C. SPECIFICALLY FORMULATED FOR SMALL DOGS

Specially adapted benefits to meet digestive, dental and urinary sensitivities of small dogs and suitable for their small jaws.

SENSITIVITIES 2A

2A. In dogs, food sensitivities to specific protein sources may cause cutaneous signs.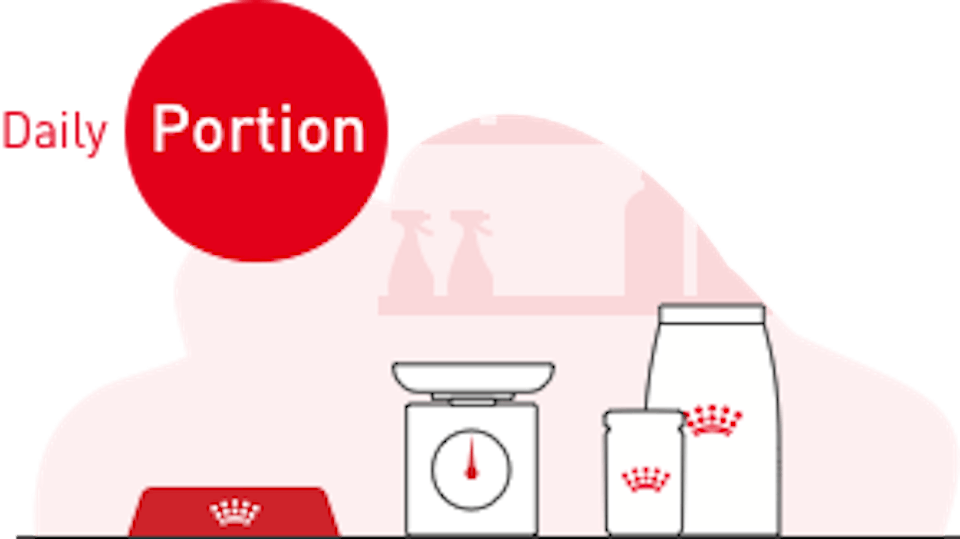 Discover now the perfect tool to calculate the ideal ration for your pet. Fill in your pet's information in the interactive feeding guide and you will get the daily feeding recommendation.
Calculate
ROYAL CANIN® HYPOALLERGENIC SMALL DOG dry is a complete dietetic feed for dogs formulated for the reduction of ingredient and nutrient intolerances. Hydrolysed protein sources and selected carbohydrate sources. RECOMMENDATIONS: It is recommended that a veterinarian's opinion be sought before use and before extending the period of use. Feed HYPOALLERGENIC SMALL DOG dry for 3 to 8 weeks: if signs of intolerance disappear this feed can be used initially up to one year.

COMPOSITION : Rice flour, hydrolysed soya protein isolate, animal fats, rice, minerals, hydrolysed poultry liver, beet pulp, soya oil, fructo-oligo-saccharides, fish oil, borage oil, marigold meal.Protein sources: hydrolysed soya protein isolate (21.5%), hydrolysed poultry liver (5%). Carbohydrate sources: rice flour (37.7%), rice (9.1%).

ADDITIVES (per kg): Nutritional additives: Vitamin A: 33000 IU, Vitamin D3: 800 IU, Iron (3b103): 40 mg, Iodine (3b201, 3b202): 3.6 mg, Copper (3b405, 3b406): 15 mg, Manganese (3b502, 3b504): 53 mg, Zinc (3b603, 3b605, 3b606): 157 mg, Selenium (3b801, 3b811, 3b812): 0.25 mg - Technological additives: Clinoptilolite of sedimentary origin: 10 g - Preservatives - Antioxidants.

ANALYTICAL CONSTITUANTS: Protein: 24.0%, Fat content: 16.0%, Crude ash: 8.6%, Crude fibres: 0.7%, Essential fatty acid (Linoleic acid): 3.7% - Calcium: 0.81% - Magnesium: 0.08% - Phosphorus: 0.61%.

For RSA: Guaranteed analysis g/kg: Crude protein (min) 220 - Moisture (max) 110 - Crude fat (min) 140 - Crude fibre (max) 17 - Crude ash (max) 95. Product registration number: XXXXXX - Act 36/1947. For Namibia: N-FF XXXX.

FEEDING INSTRUCTIONS: FEEDING INSTRUCTIONS: see table. Water should be available at all times. Batch number, factory registration number and best before date: see information on packaging. To be stored in a cool, dry place.

COMPOSITION: rice, soy protein concentrate, animal fat (chicken, duck, pork), minerals, hydrolysed animal proteins (chicken, turkey), soybean oil, beet pulp, fructo-oligo-saccharides, fish oil, borage oil, marigold meal.

ADDITIVES (per kg) Vitamin A: 33000 IU, Vitamin D3: 800 IU, Iron: 40 mg, Iodine: 3.6 mg, Copper: 15 mg, Manganese: 53 mg, Zinc: 157 mg, Selenium: 0.25 mg, zeolite: 10 g - potassium sorbate, Antioxidants.

ANALYTICAL CONSTITUANTS: Crude Protein 22.0% (min.), Crude Fat 14.0% (min.), Calcium 0.648% (min.), Phosphorus 0.488% (min.), Ash 9.5% (max.), Crude Fiber 1.7% (max.), Moisture 10.5% (max.).

FEEDING INSTRUCTIONS: FEEDING INSTRUCTIONS: see table. Water should be available at all times. Batch number, factory registration number and best before date: see information on packaging. To be stored in a cool, dry place.

LEGAL NOTICE Expiration date: Displayed at the bottom of the bag (date/month/year) - Manufacture date: 18/12 months before the expiration date - Manufacturing country & source: France, ROYAL CANIN SAS France - Net weight: Separately declared on the bag - Importer & address: ROYAL CANIN KOREA, Jipyungsun-sandan-2 gil, 72, Baeksan-myun, Gymje City, Jeollabukdo, Korea - Importer phone number: 080-041-5161 - Animal medicine and re-packaging: Not applied - NOTICE: Feed for companion animals. Do not feed to ruminant cattle. Store in a cool, dry place away from direct sunlight and pests. This product can be exchanged or compensated in cases of legitimate consumer damage in accordance with the Fair Trade Commission's Notice of Consumer Dispute Resolution Standards. - Country of origin: France.

ANALYTICAL CONSTITUANTS: Protein: 24.0%, Fat content: 16.0%, Crude ash: 8.6%, Crude fibres: 0.7%, Essential fatty acid (Linoleic acid): 3.7% - Calcium: 0.81% - Magnesium: 0.08% - Phosphorus: 0.61%.

| DOG'S WEIGHT (kg) | BODY CONDITION | | | | | |
| --- | --- | --- | --- | --- | --- | --- |
| | THIN | THIN | NORMAL | NORMAL | OVERWEIGHT | OVERWEIGHT |
| | Grams | Cups | Grams | Cups | Grams | Cups |
| 2 | 54 | 5/8  | 48 | 4/8  | 41 | 4/8 |
| 2.5 | 64      | 6/8  | 56 | 5/8 | 49  | 4/8  |
| 3 | 73  | 7/8 | 65  | 6/8  | 56 | 5/8  |
| 3.5  | 82      | 7/8  | 72 | 6/8  | 63 | 6/8  |
| 4  | 91  | 1 | 80 | 7/8 | 69 | 6/8 |
| 5      | 108      | 1  + 2/8 | 95 | 1  + 1/8  | 82  | 7/8  |
| 6    | 123      | 1  + 3/8  | 109 | 1  + 2/8    | 94  | 1  |
| 7    | 138  | 1  + 4/8  | 122 | 1  + 3/8    | 105 | 1  + 1/8 |
| 8      | 153    | 1  + 6/8  | 135 | 1  + 4/8  | 116 | 1  + 2/8  |
| 9      | 167        | 1  + 7/8    | 147 | 1  + 5/8  | 127 | 1  + 3/8  |
| 10 | 181 | 2 | 159 | 1  + 6/8 | 137 | 1  + 4/8 |