Pediatric Junior Large Dog
Complete feed for the dogs - For large breed puppies (adult weight over 25 kg) with digestive and joint sensitivity- Up to 15 months old.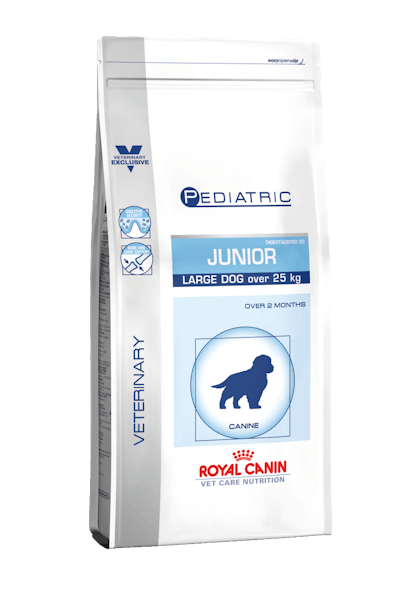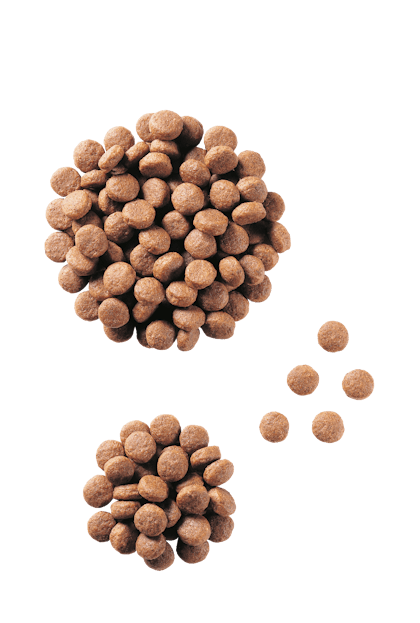 Digestive security

Une combinaison de protéines hautement digestibles (protéines L.I.P), de prébiotiques (Fructo-Oligo-Saccharides et Mannan-Oligo-Saccharides), de pulpe de betterave, de riz et d'huile de poisson pour assurer une sécurité digestive maximale.

Bone and joint support

Une formule equilibrée en protéines et en minéraux, et supplémentée en acides gras essentiels,en particulier des EPA/DHA pour protéger et nourrir les os et les articulations des chiens en croissance.

Intense hair colour

La présence de composants précurseurs de la mélanine, en particulier la tyrosine et la phénylalanine, et de cuivre chélaté renforce la couleur naturelle du poil.

Natural defences support

Les Mannan-Oligo-Saccharides (MOS) et d'un complexe synergique breveté d'antioxydants (vitamines E et C, taurine et lutéine), aide à renforcer les défenses naturelles du chiot pendant la croissance.
Additives(per kg): Nutritional additives: Vitamin A: 17800 IU,   Vitamin D3: 1000 IU, E1 (Iron): 45 mg, E2 (Iodine): 3.5 mg, E4 (Copper): 9   mg, E5 (Manganese): 58 mg, E6 (Zinc): 190 mg, E8 (Selenium): 0.08 mg -   Preservatives - Antioxidants.

Analytical constituents: Protein: 30% - Fat   content: 14% - Crude ash: 7.8% - Crude fibres: 1.9%.*L.I.P.: protein selected   for its very high assimilation.

Composition: maize, dehydrated poultry protein, dehydrated pork protein, rice, wheat flour, wheat gluten*, animal fats, hydrolysed animal proteins, beet pulp, minerals, soya oil, fish oil, vegetable fibres, fructo-oligo-saccharides, psyllium husks and seeds, hydrolysed yeast (source of manno-oligo-saccharides), hydrolysed crustaceans (source of glucosamine), marigold extract (source of lutein), hydrolysed cartilage (source of chondroitin).

Analytical constituents: Protein: 30% - Fat   content: 14% - Crude ash: 7.8% - Crude fibres: 1.9%.*L.I.P.: protein selected   for its very high assimilation.

| Peso del cane | 25 kg | - | 30 kg | - | 35 kg | - | 40 kg | - | 44 kg | - |
| --- | --- | --- | --- | --- | --- | --- | --- | --- | --- | --- |
| - | (g) | dose | (g) | dose | (g) | dose | (g) | dose | (g) | dose |
| 2 mesi | 235 g | 2+3/8 | 240 g | 2+4/8 | 255 g | 2+5/8 | 280 g | 2+7/8 | 310 g | 3+1/8 |
| 3 mesi | 285 g | 2+7/8 | 300 g | 3 | 335 g | 3+3/8 | 370 g | 3+6/8 | 405 g | 4+1/8 |
| 4 mesi | 305 g | 3+1/8 | 340 g | 3+4/8 | 380 g | 3+7/8 | 415 g | 4+2/8 | 445 g | 4+4/8 |
| 5 mesi | 355 g | 3+5/8 | 400 g | 4+1/8 | 445 g | 4+4/8 | 490 g | 5 | 530 g | 5+3/8 |
| 8 mesi | 390 g | 4 | 445 g | 4+4/8 | 500 g | 5+1/8 | 550 g | 5+5/8 | 595 g | 6 |
| 10 mesi | 380 g | 3+7/8 | 435 g | 4+3/8 | 490 g | 5 | 540 g | 5+4/8 | 580 g | 6 |
| 12 mesi | 375 g | 3+6/8 | 425 g | 4+3/8 | 480 g | 4+7/8 | 530 g | 5+3/8 | 570 g | 5+6/8 |
| 14 mesi | 370 g | 3+6/8 | 420 g | 4+2/8 | 475 g | 4+7/8 | 520 g | 5+2/8 | 560 g | 5+6/8 |