Neutered Satiety Balance
Complete feed for adult cats from neutering up to 7 years old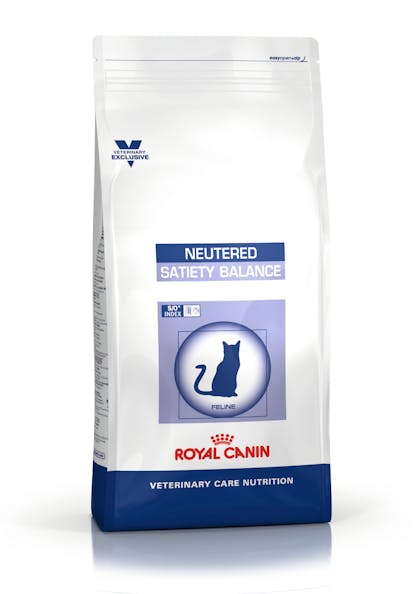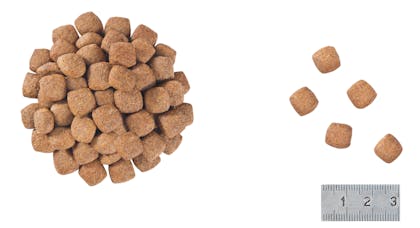 ELEVATO CONTENUTO DI FIBRE

<br />Fibre selezionate per il loro effetto saziante

PESO FORMA OTTIMALE

Aiuta a mantenere il peso ideale grazie a una formula ipocalorica.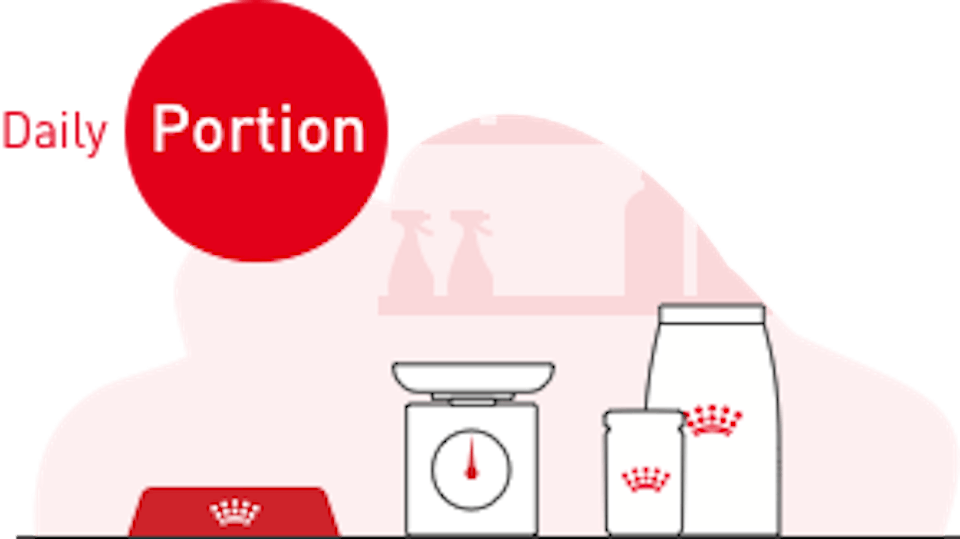 Discover now the perfect tool to calculate the ideal ration for your pet. Fill in your pet's information in the interactive feeding guide and you will get the daily feeding recommendation.
Calculate
COMPOSITION: dehydrated poultry protein, maize, vegetable fibres, wheat, maize gluten, wheat gluten*, hydrolysed animal proteins, animal fats, minerals, chicory pulp, psyllium husks and seeds, fish oil, marigold extract (source of lutein).

ADDITIVES (per kg): Nutritional additives: Vitamin A: 25100 IU, Vitamin D3: 1000 IU, E1 (Iron): 38 mg, E2 (Iodine): 3.8 mg, E4 (Copper): 5 mg, E5 (Manganese): 49 mg, E6 (Zinc): 148 mg, E8 (Selenium): 0.08 mg - Preservatives - Antioxidants.

ANALYTICAL CONSTITUENTS: Protein: 35% - Fat content: 10% - Crude ash: 9.3% - Crude fibres: 9.2%.

*L.I.P.: protein selected for its very high assimilation.

ADDITIVES (per kg): Nutritional additives: Vitamin A: 25500 IU, Vitamin D3: 1000 IU, Iron (3b103): 32 mg, Iodine (3b201, 3b202): 3.2 mg, Copper (3b405, 3b406): 10 mg, Manganese (3b502, 3b504): 41 mg, Zinc (3b603, 3b605, 3b606): 126 mg, Selenium (3b801, 3b811, 3b812): 0.06 mg - Preservatives - Antioxidants.

COMPOSITION : Dehydrated poultry protein, maize, vegetable fibres, wheat gluten*, wheat, maize gluten, hydrolysed animal proteins, minerals, animal fats, chicory pulp, fish oil, psyllium husks and seeds (0.5%), marigold extract (source of lutein).

FEEDING INSTRUCTION: FEEDING INSTRUCTIONS: see table. Water should be available at all times. Batch number, factory registration number and best before date: see information on packaging. To be stored in a cool, dry place.​

* L.I.P.: protein selected for its very high digestibility.

For RSA: Guaranteed analysis g/kg: Crude protein (min) 330 - Moisture (max) 70 - Crude fat (min) 80 - Crude fibre (max) 107 - Crude ash (max) 100. Product registration number: XXXXXX - Act 36/1947. For Namibia: N-FF XXXX.

ANALYTICAL CONSTITUANTS: Protein: 35.0%, Fat content: 10.0%, Crude ash: 9.1%, Crude fibres: 9.7%, Phosphorus: 1.13%, Calcium: 1.25%, Sodium: 0.91%, Magnesium: 0.08%, Potassium: 1%, Chloride: 1.59%, Sulfur: 0.7%, L-carnitine: 200 mg/kg.

ADDITIVES (per kg) Vitamin A: 25500 IU, Vitamin D3: 1000 IU, Iron: 32 mg, Iodine: 3.2 mg, Copper: 10 mg, Manganese: 41 mg, Zinc: 126 mg, Selenium: 0.06 mg, L-carnitine: 200 mg, Antioxidants.

COMPOSITION: dehydrated poultry protein (chicken, duck), corn, powdered cellulose, wheat gluten, wheat, corn gluten, hydrolysed animal proteins (chicken, turkey), minerals, animal fat (chicken, duck, pork), chicory pulp, fish oil, psyllium husks and seeds, marigold extract.

FEEDING INSTRUCTION: FEEDING INSTRUCTIONS: see table. Water should be available at all times. Batch number, factory registration number and best before date: see information on packaging. To be stored in a cool, dry place.​

LEGAL NOTICE INSTRUCTIONS: see table. Expiration date: Displayed at the bottom of the bag (date/month/year) - Manufacture date: 18 months before the expiration date - Manufacturing country & source: France, ROYAL CANIN SAS FRANCE - Net weight: Separately declared on the bag - Importer & address: ROYAL CANIN KOREA, Jipyungsun-sandan-2 gil, 72, Baeksan-myun, Gymje City, Jeollabukdo, Korea - Importer phone number: 080-041-5161 - Animal medicine and re-packaging: Not applied - NOTICE: Feed for companion animals. Do not feed to ruminant cattle. Store in a cool, dry place away from direct sunlight and pests. This product can be exchanged or compensated in cases of legitimate consumer damage in accordance with the Fair Trade Commission's Notice of Consumer Dispute Resolution Standards. - Country of origin: France.

ANALYTICAL CONSTITUANTS: Crude Protein 33.0% (min.), Crude Fat 8.0% (min.), Calcium 1.0% (min.), Phosphorus 0.904% (min.), Ash 10.0% (max.), Crude Fiber 10.7% (max.), Moisture 6.5% (max.).

| - | Sovrappeso | - | Normale | - | Magro | - |
| --- | --- | --- | --- | --- | --- | --- |
| Peso del gatto (kg) | (g) | dose | (g) | dose | (g) | dose |
| 2 | 30 | 3/8 | 38 | 4/8 | 45 | 5/8 |
| 3 | 40 | 4/8 | 50 | 5/8 | 60 | 6/8 |
| 4 | 49 | 5/8 | 62 | 6/8 | 74 | 7/8 |
| 5 | 58 | 6/8 | 72 | 7/8 | 87 | 1 1/8 |
| 6 | 66 | 7/8 | 82 | 1 | 99 | 1 2/8 |
| 7 | 74 | 7/8 | 92 | 1 1/8 | 110 | 1 3/8 |
| 8 | 81 | 1 | 101 | 1 2/8 | 121 | 1 4/8 |
| 9 | 88 | 1 1/8 | 110 | 1 3/8 | 132 | 1 5/8 |
| 10 | 95 | 1 2/8 | 119 | 1 4/8 | 142 | 1 6/8 |