INTENSE BEAUTY Jelly
Complete feed for adult cats (thin slices in jelly)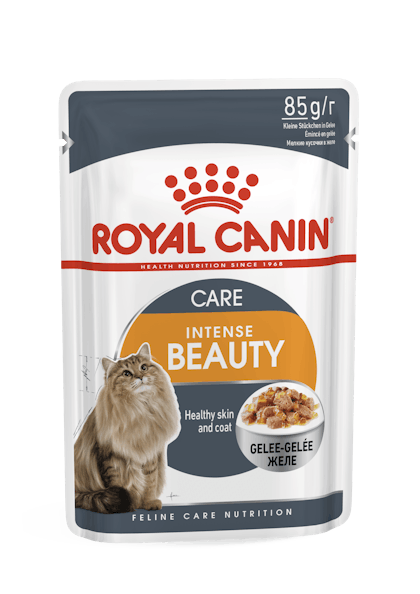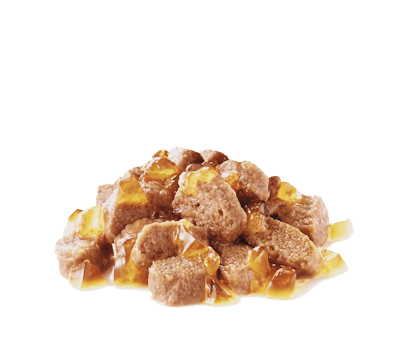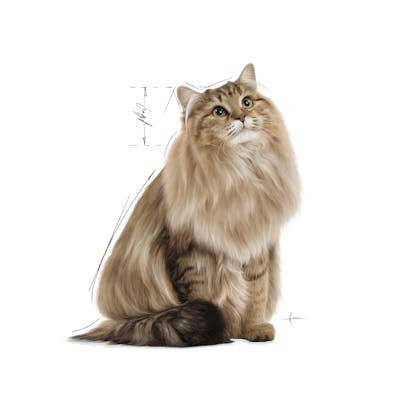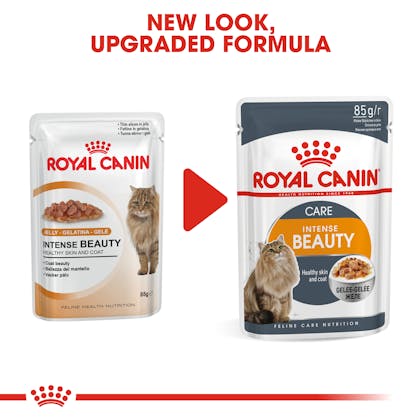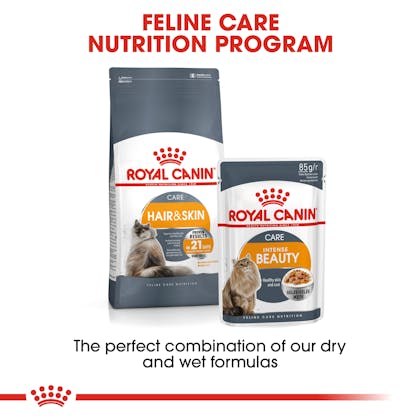 HEALTHY SKIN AND COAT OMEGA 3 & 6

Helps maintain coat beauty particularly due to Omega 3 and Omega 6 fatty acids.

MAINTAINS IDEAL WEIGHT

Helps maintain ideal weight.

HEALTHY URINARY SYSTEM

Helps support a healthy urinary system.

Your cat's coat is a thing of beauty, which is why consuming an ideal level of nutrients is essential, otherwise the general health and appearance of its coat can be less than optimal. ROYAL CANIN® Intense Beauty in Jelly contains a patented complex of antioxidants and fatty acids (omega-3 & omega-6) specially formulated to help support and maintain the beauty and health of your cat's coat, as well as its skin. ROYAL CANIN® Intense Beauty in Jelly also helps your cat maintain an ideal weight - with a fat content of just 3.7% to prevent excess weight gain, and an optimal level of protein to contribute to healthy muscular growth and development. A healthy urinary system is also supported by ROYAL CANIN® Intense Beauty in Gravy, it helps maintain your cat's bladder function. To cater to each cat's individual preferences, ROYAL CANIN® Intense Beauty is also available as dry food, with crunchy and tasty kibble. If you're considering mixed feeding, simply follow our feeding guidelines to ensure your cat gets an accurate amount of both wet and dry food for optimal benefit.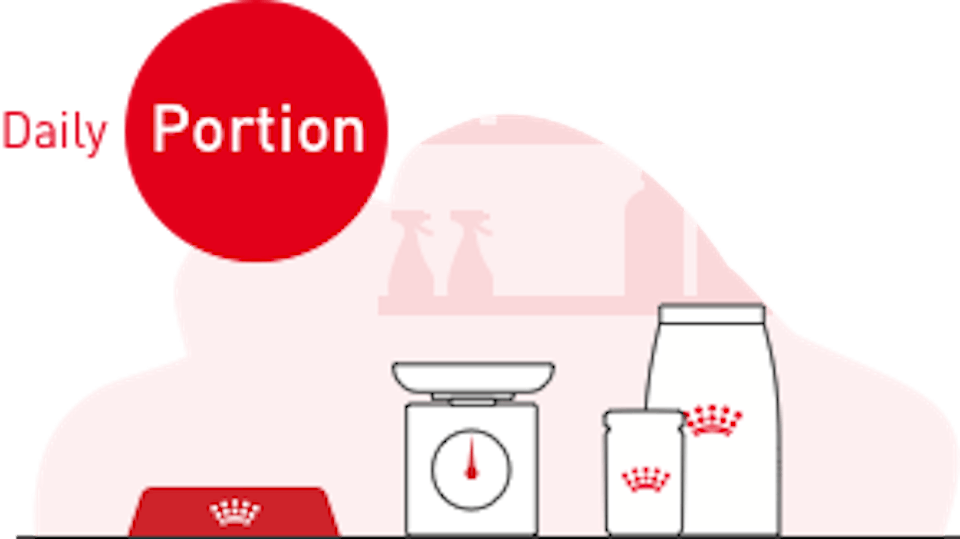 Discover now the perfect tool to calculate the ideal ration for your pet. Fill in your pet's information in the interactive feeding guide and you will get the daily feeding recommendation.
Calculate
meat and animal derivatives, fish and fish derivatives, cereals, vegetable protein extracts, oils and fats, derivatives of vegetable origin, minerals, various sugars.

Nutritional additives: Vitamin D3: 100 IU, E1 (Iron): 7 mg, E2 (Iodine): 0.23 mg, E4 (Copper): 1.8 mg, E5 (Manganese): 2.1 mg, E6 (Zinc): 21 mg.

Protein: 10.5% - Fat content: 4.0% - Crude ash: 1.5% - Crude fibres: 1.0% - Moisture: 81.0% - Omega-3 fatty acids: 0.16% - Omega-6 fatty acids: 0.94%.

Additifs (au kg) : Additifs nutritionnels : Vitamine D3 : 100 UI, E1 (Fer) : 7 mg, E2 (Iode) : 0,23 mg, E4 (Cuivre) : 1,8 mg, E5 (Manganèse) : 2,1 mg, E6 (Zinc) : 21 mg.

Composition : viandes et sous-produits animaux, poissons et sous-produits de poisson, céréales, extraits de protéines végétales, huiles et graisses, sous-produits d'origine végétale, substances minérales, sucres.

Mode d'emploi : voir tableau. Numéro de lot et d'identifiant usine, à utiliser de préférence avant : voir sur l'emballage. À conserver dans un endroit sec et frais.

| Poids du chat | Alimentation humide | Alimentation mixte |
| --- | --- | --- |
| 3 kg | 2 + 1/4 sachets | 22 g + 1 sachet |
| 4 kg | 2 + 3/4 sachets | 32 g + 1 sachet |
| 5 kg | 3 + 1/4 sachets | 40 g + 1 sachet |
| 6 kg | 3 + 3/4 sachets | 48 g + 1 sachet |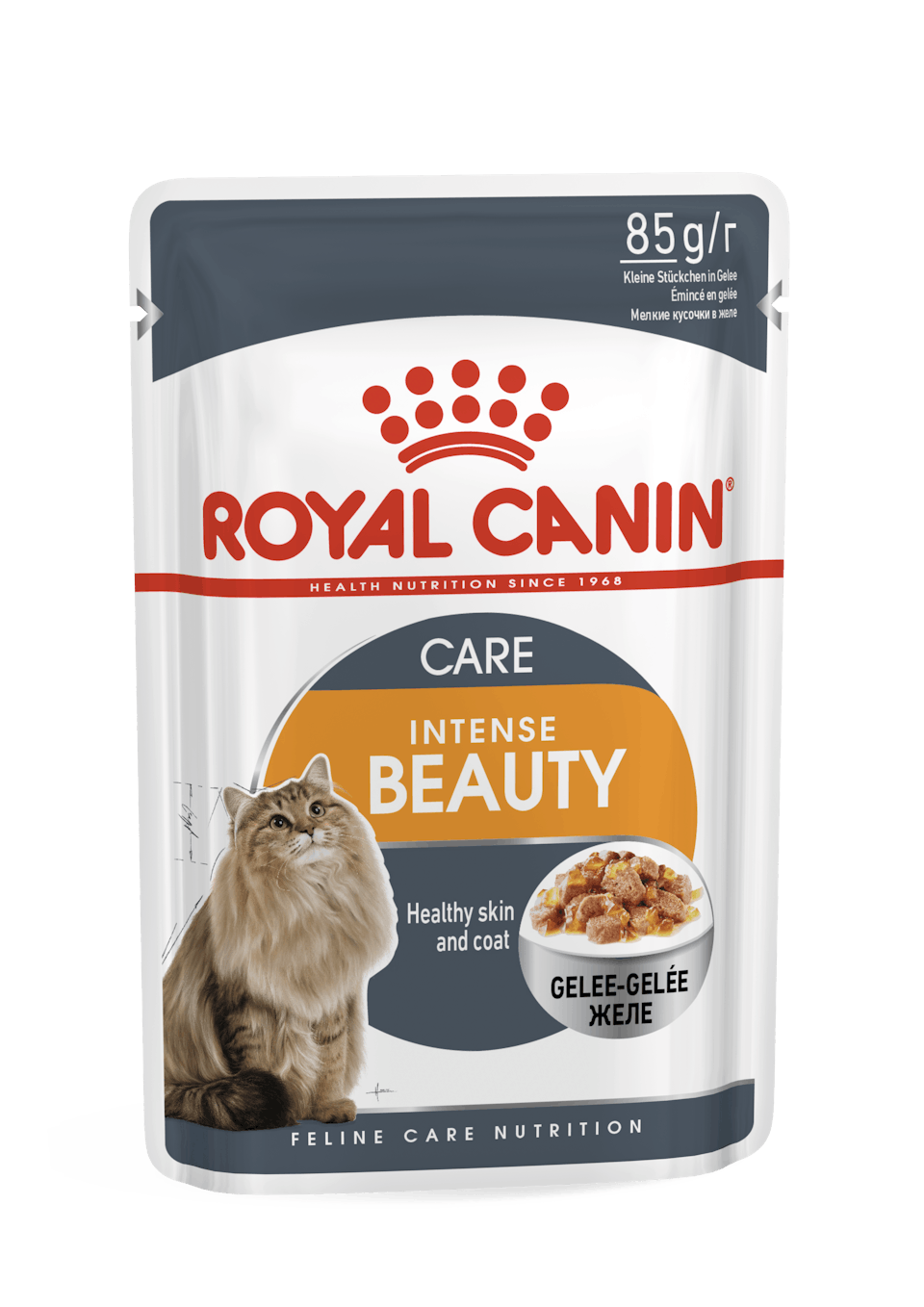 Vous avez encore des questions sur ce produit ?
Découvrez comment entrer en contact avec nous.
Poser une question