Mature Adult Loaf Canned Dog Food
Mature Adult is for senior dogs over 5 years old.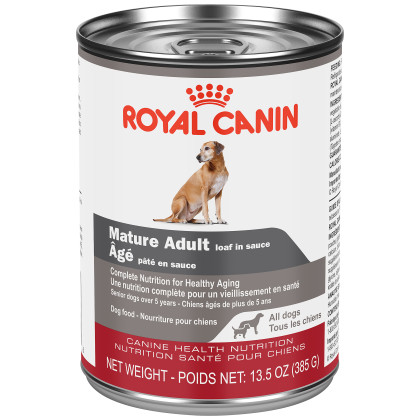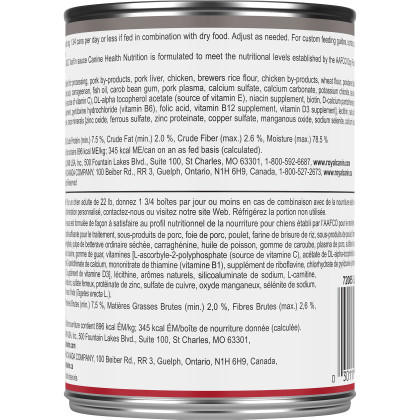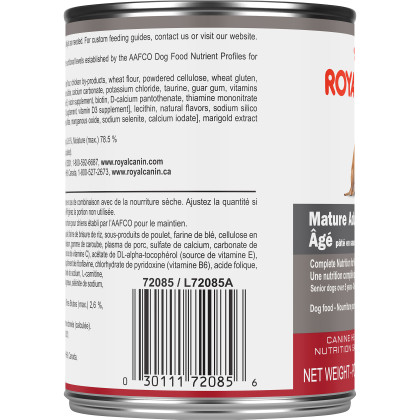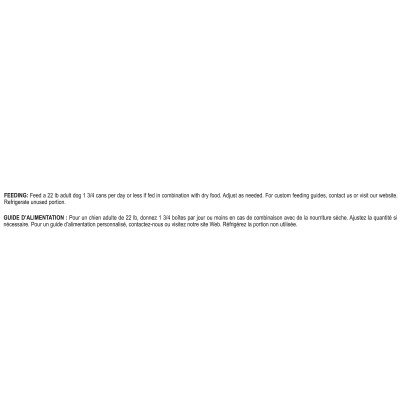 The soft loaf texture, natural flavours and aromas help to encourage a mature dog to eat, ensuring they consume nutrition required for optimal health.

Helps promote vitality by supporting the unique needs of a maturing dog with antioxidants and EPA/DHA.

Formulated with a controlled phosphorus content, EPA and DHA to support optimal kidney health and filtration.

100% Satisfaction Guaranteed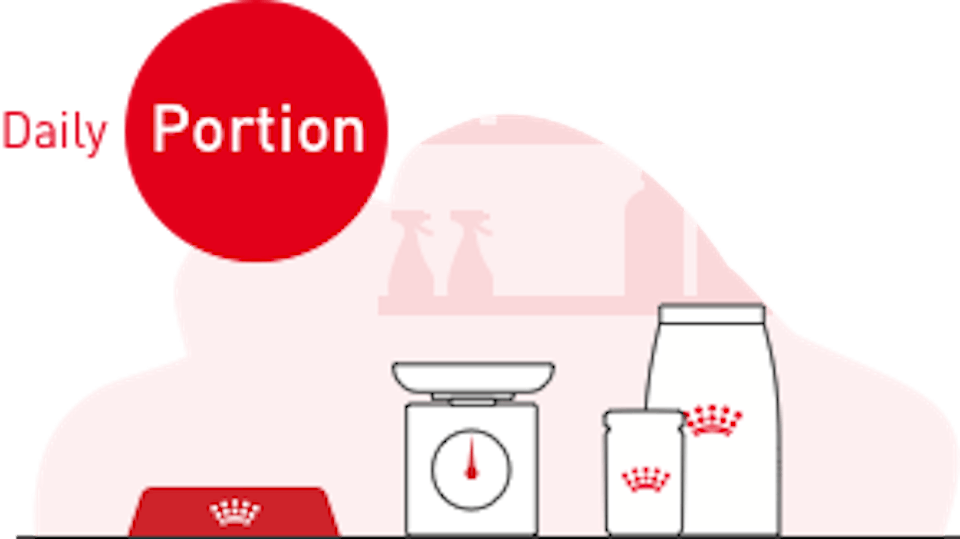 Discover now the perfect tool to calculate the ideal ration for your pet. Fill in your pet's information in the interactive feeding guide and you will get the daily feeding recommendation.
Calculate
Water sufficient for processing, pork by-products, pork liver, chicken, brewers rice flour, chicken by-products, wheat flour, powdered cellulose, wheat gluten, vegetable oil, dried plain beet pulp, carrageenan, fish oil, carob bean gum, pork plasma, calcium sulfate, calcium carbonate, potassium chloride, taurine, guar gum, vitamins [L-ascorbyl-2-polyphosphate (source of vitamin C), DL-alpha tocopherol acetate (source of vitamin E), niacin supplement, biotin, D-calcium pantothenate, thiamine mononitrate (vitamin B1), riboflavin supplement, pyridoxine hydrochloride (vitamin B6), folic acid, vitamin B12 supplement, vitamin D3 supplement], lecithin, natural flavors, sodium silico aluminate, L-carnitine, glycine, trace minerals [zinc oxide, ferrous sulfate, zinc proteinate, copper sulfate, manganous oxide, sodium selenite, calcium iodate], marigold extract (Tagetes erecta L.).

Calorie Content

This diet contains 896 kcal ME/kg; 345 kcal ME/can on an as fed basis (calculated).

Crude Protein (min) 7.5% Crude Fat (min) 2.0% Crude Fiber (max) 2.6% Moisture (max) 78.5%

Wet Feeding

| Dog Weight | Low Activity | Moderate Activity | High Activity |
| --- | --- | --- | --- |
| 4.4 lb (2 kg) | 1/2 can (167 g) | 1/2 can (193 g) | 1/2 can (219 g) |
| 8.8 lb (4 kg) | 3/4 can (280 g) | 3/4 can (325 g) | 1 can (369 g) |
| 13.2 lb (6 kg) | 1 can (380 g) | 1 1/4 cans (440 g) | 1 1/4 cans (500 g) |
| 17.6 lb (8 kg) | 1 1/4 cans (471 g) | 1 1/2 cans (546 g) | 1 1/2 cans (620 g) |
| 22.0 lb (10 kg) | 1 1/2 cans (557 g) | 1 3/4 cans (645 g) | 2 cans (733 g) |
| 30.9 lb (14 kg) | 1 3/4 cans (717 g) | 2 1/4 cans (831 g) | 2 1/2 cans (944 g) |
| 39.7 lb (18 kg) | 2 1/4 cans (866 g) | 2 1/2 cans (1003 g) | 3 cans (1140 g) |
| 48.5 lb (22 kg) | 2 1/2 cans (1007 g) | 3 cans (1166 g) | 3 1/2 cans (1325 g) |
| 55.1 lb (25 kg) | 3 cans (1108 g) | 3 1/4 cans (1283 g) | 3 3/4 cans (1458 g) |
| 66.1 lb (30 kg) | 3 1/4 cans (1270 g) | 3 3/4 cans (1471 g) | 4 1/4 cans (1672 g) |
| 77.1 lb (35 kg) | 3 3/4 cans (1426 g) | 4 1/4 cans (1651 g) | 4 3/4 cans (1876 g) |
| 88.2 lb (40 kg) | 4 cans (1576 g) | 4 3/4 cans (1825 g) | 5 1/2 cans (2074 g) |
| 99.2 lb (45 kg) | 4 1/2 cans (1722 g) | 5 1/4 cans (1994 g) | 6 cans (2266 g) |
| 110.2 lb (50 kg) | 4 3/4 cans (1863 g) | 5 1/2 cans (2158 g) | 6 1/4 cans (2452 g) |
| 121.3 lb (55 kg) | 5 1/4 cans (2001 g) | 6 cans (2318 g) | 6 3/4 cans (2634 g) |
| 132.3 lb (60 kg) | 5 1/2 cans (2136 g) | 6 1/2 cans (2474 g) | 7 1/4 cans (2811 g) |
| 143.3 lb (65 kg) | 6 cans (2269 g) | 6 3/4 cans (2627 g) | 7 3/4 cans (2985 g) |
| 154.3 lb (70 kg) | 6 1/4 cans (2398 g) | 7 1/4 cans (2777 g) | 8 1/4 cans (3156 g) |
| 165.3 lb (75 kg) | 6 1/2 cans (2669 g) | 7 1/2 cans (3091 g) | 8 3/4 cans (3512 g) |
| 176.4 lb (80 kg) | 7 cans (2651 g) | 8 cans (3069 g) | 9 cans (3488 g) |

Mixed Feeding with Medium Aging 10+ Dry Food

| Weight | Can + | Low Activity | Moderate Activity | High Activity |
| --- | --- | --- | --- | --- |
| 4.4 lb (2 kg) | 1/4 Can + | 1/4 cup (17 g) | 1/4 cup (24 g) | 3/8 cup (30 g) |
| 8.8 lb (4 kg) | 1/4 Can + | 5/8 cup (45 g) | 3/4 cup (56 g) | 7/8 cup (67 g) |
| 13 lb (6 kg) | 1/2 Can + | 5/8 cup (46 g) | 3/4 cup (61 g) | 1 cup (76 g) |
| 18 lb (8 kg) | 1/2 Can + | 7/8 cup (69 g) | 1 1/8 cups (87 g) | 1 3/8 cups (105 g) |
| 22 lb (10 kg) | 1/2 Can + | 1 1/8 cups (90 g) | 1 3/8 cups (111 g) | 1 5/8 cups (133 g) |
| 27 lb (12 kg) | 1 Can + | 3/4 cup (63 g) | 1 1/8 cups (87 g) | 1 3/8 cups (112 g) |
| 31 lb (14 kg) | 1 Can + | 1 cup (82 g) | 1 3/8 cups (110 g) | 1 3/4 cups (138 g) |
| 35 lb (16 kg) | 1 Can + | 1 1/4 cups (100 g) | 1 5/8 cups (131 g) | 2 cups (162 g) |
| 40 lb (18 kg) | 1 Can + | 1 1/2 cups (118 g) | 1 7/8 cups (152 g) | 2 3/8 cups (186 g) |
| 44 lb (20 kg) | 1 Can + | 1 3/4 cups (136 g) | 2 1/8 cups (172 g) | 2 5/8 cups (209 g) |
| 49 lb (22 kg) | 1 Can + | 1 7/8 cups (153 g) | 2 3/8 cups (192 g) | 2 7/8 cups (231 g) |
| 53 lb (24 kg) | 1 Can + | 2 1/8 cups (170 g) | 2 5/8 cups (211 g) | 3 1/4 cups (253 g) |
| 57 lb (26 kg) | 1 Can + | 2 3/8 cups (186 g) | 2 7/8 cups (230 g) | 3 1/2 cups (275 g) |
| 62 lb (28 kg) | 1 Can + | 2 1/2 cups (202 g) | 3 1/8 cups (249 g) | 3 3/4 cups (296 g) |
| 66 lb (30 kg) | 1 Can + | 2 3/4 cups (218 g) | 3 3/8 cups (267 g) | 4 cups (317 g) |
| 71 lb (32 kg) | 1 Can + | 3 cups (233 g) | 3 5/8 cups (285 g) | 4 1/4 cups (337 g) |
| 75 lb (34 kg) | 1 Can + | 3 1/8 cups (249 g) | 3 7/8 cups (303 g) | 4 1/2 cups (357 g) |
| 79 lb (36 kg) | 1 Can + | 3 3/8 cups (264 g) | 4 cups (320 g) | 4 3/4 cups (377 g) |
| 84 lb (38 kg) | 1 Can + | 3 1/2 cups (279 g) | 4 1/4 cups (337 g) | 5 cups (396 g) |
| 88 lb (40 kg) | 1 Can + | 3 3/4 cups (293 g) | 4 1/2 cups (354 g) | 5 1/4 cups (416 g) |
| 97 lb (44 kg) | 1 Can + | 3 7/8 cups (308 g) | 4 5/8 cups (371 g) | 5 1/2 cups (435 g) |
| 97 lb (44 kg) | 1 Can + | 4 1/8 cups (322 g) | 4 7/8 cups (388 g) | 5 3/4 cups (454 g) |
| 101 lb (46 kg) | 1 Can + | 4 1/4 cups (336 g) | 5 1/8 cups (404 g) | 6 cups (472 g) |
| 106 lb (48 kg) | 1 Can + | 4 3/8 cups (350 g) | 5 1/4 cups (420 g) | 6 1/4 cups (490 g) |
| 110 lb (50 kg) | 1 Can + | 4 5/8 cups (364 g) | 5 1/2 cups (436 g) | 6 3/8 cups (509 g) |
| 121 lb (55 kg) | 1 Can + | 5 cups (398 g) | 6 cups (476 g) | 7 cups (553 g) |
| 132 lb (60 kg) | 1 Can + | 5 1/2 cups (431 g) | 6 1/2 cups (514 g) | 7 1/2 cups (597 g) |
| 143 lb (65 kg) | 1 Can + | 5 7/8 cups (464 g) | 7 cups (552 g) | 8 1/8 cups (640 g) |
| 154 lb (70 kg) | 1 Can + | 6 1/4 cups (496 g) | 7 3/8 cups (589 g) | 8 5/8 cups (682 g) |
| 165 lb (75 kg) | 1 Can + | 6 5/8 cups (527 g) | 7 7/8 cups (625 g) | 9 1/8 cups (723 g) |
| 176 lb (80 kg) | 1 Can + | 7 cups (558 g) | 8 3/8 cups (661 g) | 9 5/8 cups (764 g) |