Golden Retriever Adult Loaf In Sauce Dog Food
GOLDEN RETRIEVER Adult loaf in sauce is designed exclusively for purebred Golden Retrievers over 15 months.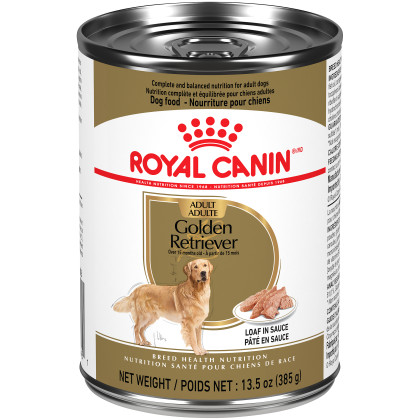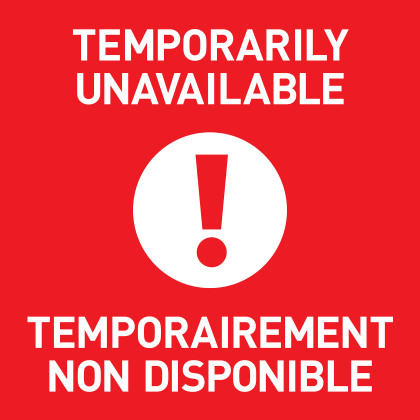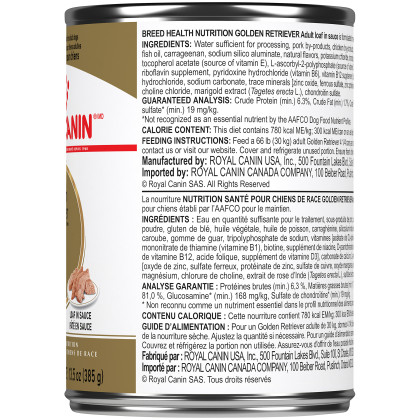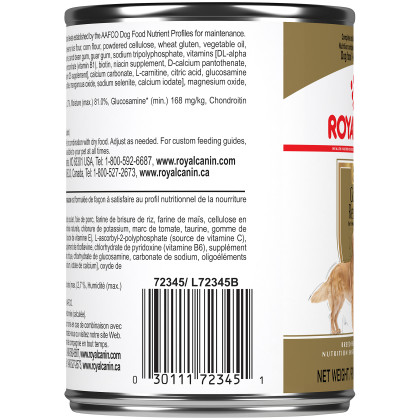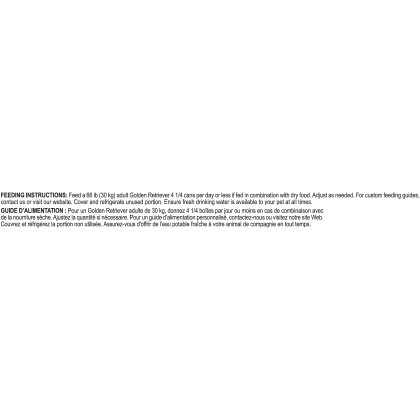 Golden Retrievers are prone to skin irritations such as hot spots. Targeted nutrition is important for maintaining a healthy skin and coat. The GOLDEN RETRIEVER Adult formula helps maintain a strong skin barrier and a healthy coat with an exclusive complex of nutrients, including PINCH, omega 3s (EPA and DHA), omega 6s, Vitamin A, biotin and high quality protein.

Golden Retrievers are susceptible to cardiac conditions. The GOLDEN RETRIEVER Adult formula contains additional nutrients to help support healthy cardiac function, such as taurine, EPA, DHA, L-carnitine and antioxidants.

Golden Retrievers have a big appetite,which can lead to excess weight gain that can affect their overall health. GOLDEN RETRIEVER Adult is formulated to promote an optimal body condition and help prevent obesity. Nutritional support includes highly digestible proteins (LIPs*), moderate fat levels, a unique blend of fibres (including psyllium) and fat burning L-carnitine.

*Low indigestible proteins

100% Satisfaction Guaranteed

Golden Retrievers are well-known for their happy personalities and luxurious coats. With targeted nutrients, GOLDEN RETRIEVER Adult loaf in sauce helps to promote an ideal body condition and strengthen skin.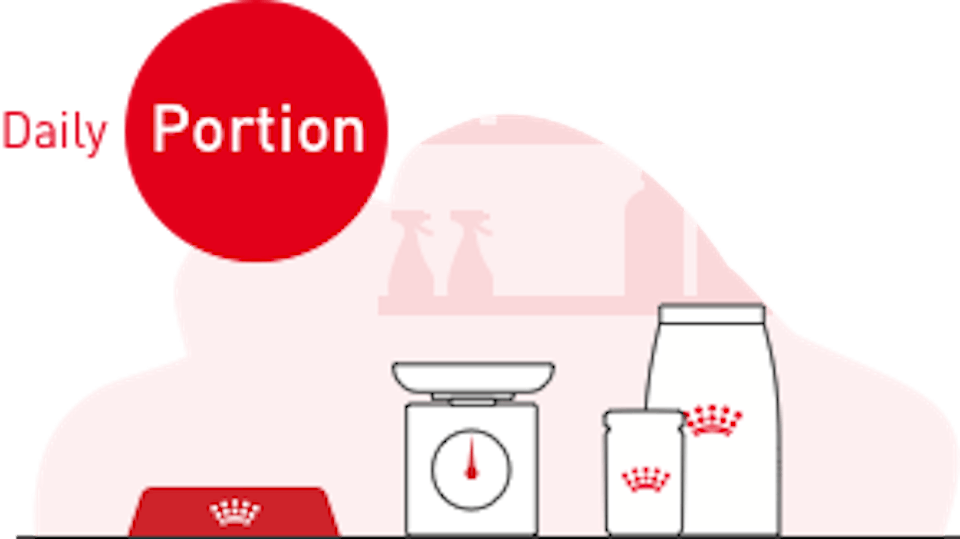 Discover now the perfect tool to calculate the ideal ration for your pet. Fill in your pet's information in the interactive feeding guide and you will get the daily feeding recommendation.
Calculate
Water sufficient for processing, pork by-products, chicken by-products, pork liver, brewers rice flour, corn flour, powdered cellulose, wheat gluten, vegetable oil, fish oil, carrageenan, sodium silico aluminate, natural flavors, potassium chloride, tomato pomace, taurine, carob bean gum, guar gum, sodium tripolyphosphate, vitamins [DL-alpha tocopherol acetate (source of vitamin E), L-ascorbyl-2-polyphosphate (source of vitamin C), thiamine mononitrate (vitamin B1), biotin, niacin supplement, D-calcium pantothenate, riboflavin supplement, pyridoxine hydrochloride (vitamin B6), vitamin B12 supplement, folic acid, vitamin D3 supplement], calcium carbonate, L-carnitine, citric acid, glucosamine hydrochloride, sodium carbonate, trace minerals [zinc oxide, ferrous sulfate, zinc proteinate, copper sulfate, manganous oxide, sodium selenite, calcium iodate], magnesium oxide, choline chloride, marigold extract (Tagetes erecta L.), chondroitin sulfate.

Calorie Content

This diet contains 780 kcal ME(metabolizable energy)/kg; 300 kcal ME/can on an as fed basis (calculated).

Crude Protein (min) 6.3% Crude Fat (min) 1.7% Crude Fiber (max) 2.7% Moisture (max) 81.0% Glucosamine* (min) 168 mg/kg Chondroitin sulfate* (min) 19 mg/kg

*Not recognized as an essential nutrient by the AAFCO Dog Food Nutrient Profiles.

Wet Feeding

| Weight | Low Activity | Medium Activity | High Activity |
| --- | --- | --- | --- |
| 44 lb (20 kg) | 2 3/4 cans (1,066 g) | 3 1/4 cans (1,234 g) | 3 3/4 cans (1,402 g) |
| 49 lb (22 kg) | 3 cans (1,145 g) | 3 1/2 cans (1,326 g) | 4 cans (1,506 g) |
| 53 lb (24 kg) | 3 1/4 cans (1,222 g) | 3 3/4 cans (1,415 g) | 4 1/4 cans (1,608 g) |
| 57 lb (26 kg) | 3 1/4 cans (1,298 g) | 4 cans (1,502 g) | 4 1/2 cans (1,707 g) |
| 62 lb (28 kg) | 3 1/2 cans (1,372 g) | 4 cans (1,588 g) | 4 3/4 cans (1,805 g) |
| 66 lb (30 kg) | 3 3/4 cans (1,445 g) | 4 1/4 cans (1,673 g) | 5 cans (1,901 g) |
| 71 lb (32 kg) | 4 cans (1,516 g) | 4 1/2 cans (1,756 g) | 5 1/4 cans (1,995 g) |
| 75 lb (34 kg) | 4 cans (1,587 g) | 4 3/4 cans (1,837 g) | 5 1/2 cans (2,088 g) |
| 79 lb (36 kg) | 4 1/4 cans (1,656 g) | 5 cans (1,918 g) | 5 3/4 cans (2,179 g) |
| 84 lb (38 kg) | 4 1/2 cans (1,725 g) | 5 1/4 cans (1,997 g) | 6 cans (2,269 g) |
| 88 lb (40 kg) | 4 3/4 cans (1,792 g) | 5 1/2 cans (2,075 g) | 6 cans (2,358 g) |

Mixed Feeding

| Weight | Can | Low Activity | Medium Activity | High Activity |
| --- | --- | --- | --- | --- |
| 44 lb (20 kg) | 1 | 2 3/8 cups (158 g) | 3 cups (197 g) | 3 5/8 cups (236 g) |
| 49 lb (22 kg) | 1 | 2 5/8 cups (176 g) | 3 2/8 cups (218 g) | 3 7/8 cups (260 g) |
| 53 lb (24 kg) | 1 | 2 7/8 cups (194 g) | 3 5/8 cups (239 g) | 4 1/4 cups (283 g) |
| 57 lb (26 kg) | 1 | 3 1/4 cups (211 g) | 3 7/8 cups (259 g) | 4 5/8 cups (306 g) |
| 62 lb (28 kg) | 1 | 3 1/2 cups (229 g) | 4 1/4 cups (279 g) | 5 cups (329 g) |
| 66 lb (30 kg) | 1 | 3 6/8 cups (245 g) | 4 1/2 cups (298 g) | 5 3/8 cups (351 g) |
| 71 lb (32 kg) | 1 | 4 cups (262 g) | 4 6/8 cups (317 g) | 5 5/8 cups (373 g) |
| 75 lb (34 kg) | 1 | 4 1/4 cups (278 g) | 5 1/8 cups (336 g) | 6 cups (394 g) |
| 79 lb (36 kg) | 1 | 4 1/2 cups (294 g) | 5 3/8 cups (355 g) | 6 1/2 cups (416 g) |
| 84 lb (38 kg) | 1 | 4 3/4 cups (310 g) | 5 5/8 cups (373 g) | 6 5/8 cups (436 g) |
| 88 lb (40 kg) | 1 | 5 cups (326 g) | 5 7/8 cups (391 g) | 6 7/8 cups (457 g) |