Comfort Care Canned Dog Food
Complete and balanced nutrition for adult and mature dogs in unfamiliar situations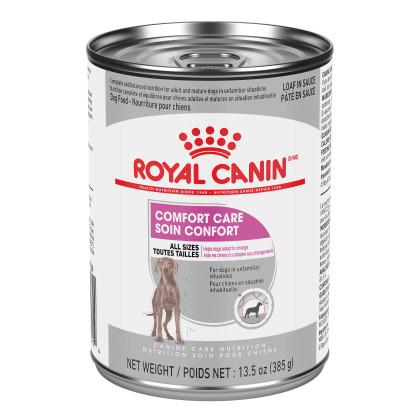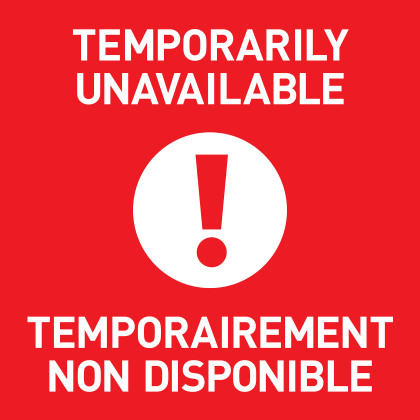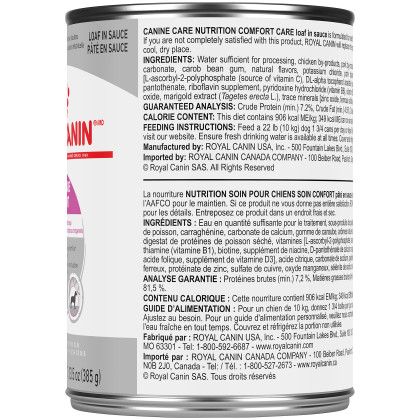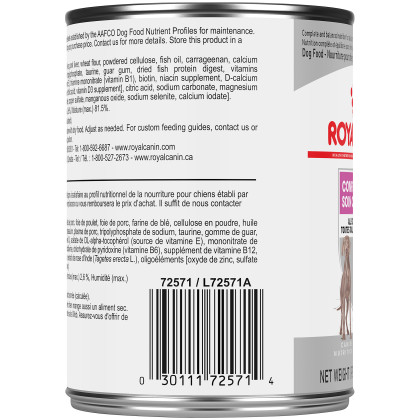 This formula is enriched with nutrients known for their soothing effect to help your dog feel calm in a changing environment or in unfamiliar situations.

Changes to your dog's routine can be stressful. A car trip, moving to a new home, or the arrival of a new baby for example can make a dog nervous, which may lead to unwanted behaviors. Adapting his nutrition can help him cope with change.

Providing healthy & balanced nutrition across both our dry & wet formulas, enabling you to choose the perfect combination for your dog.

Founded by a veterinarian, Royal Canin has over 40 years experience in Health Nutrition. Our work with veterinarians, pet nutritionists, breeders and dog professionals from around the world has provided us with knowledge about the specific nutritional requirements of dogs. This knowledge has allowed us to formulate the precise diet for your dog's special needs.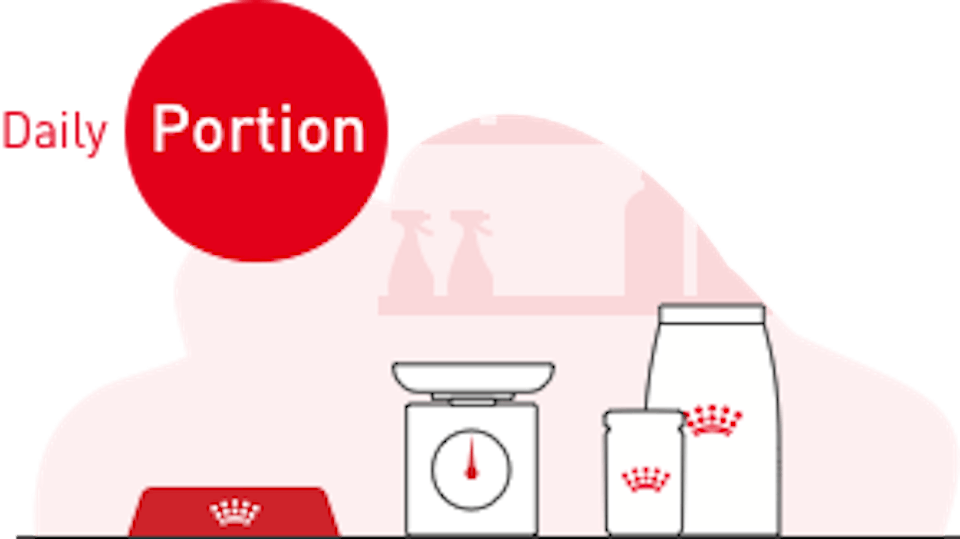 Discover now the perfect tool to calculate the ideal ration for your pet. Fill in your pet's information in the interactive feeding guide and you will get the daily feeding recommendation.
Calculate
Water sufficient for processing, chicken by-products, pork by-products, chicken liver, pork liver, wheat flour, powdered cellulose, fish oil, carrageenan, calcium carbonate, carob bean gum, natural flavors, potassium chloride, pork plasma, sodium tripolyphosphate, taurine, guar gum, dried fish protein digest, vitamins [L-ascorbyl-2-polyphosphate (source of vitamin C), DL-alpha tocopherol acetate (source of vitamin E), thiamine mononitrate (vitamin B1), biotin, niacin supplement, D-calcium pantothenate, riboflavin supplement, pyridoxine hydrochloride (vitamin B6), vitamin B12 supplement, folic acid, vitamin D3 supplement], citric acid, sodium carbonate, magnesium oxide, marigold extract (Tagetes erecta L.), trace minerals [zinc oxide, ferrous sulfate, zinc proteinate, copper sulfate, manganous oxide, sodium selenite, calcium iodate].

Calorie Content

This diet contains 906 kcal ME/kg; 349 kcal ME/can on an as fed basis (calculated).

| | |
| --- | --- |
| Crude Protein (min) | 7.2% |
| Crude Fat (min) | 4.5% |
| Crude Fiber (max) | 2.6% |
| Moisture (max) | 81.5%. |

Wet Feeding

| Weight | Low Activity | Medium Activity | High Activity |
| --- | --- | --- | --- |
| 4 lb (2 kg) | 1/2 can (162 g) | 1/2 can (188 g) | 1/2 can (213 g) |
| 9 lb (4 kg) | 3/4 can (273 g) | 3/4 can (316 g) | 1 can (359 g) |
| 13 lb (6 kg) | 1 can (369 g) | 1 can (428 g) | 1 1/4 cans (486 g) |
| 18 lb (8 kg) | 1 1/4 cans (458 g) | 1 1/2 cans (531 g) | 1 1/2 cans (603 g) |
| 22 lb (10 kg) | 1 1/2 cans (542 g) | 1 3/4 cans (627 g) | 1 3/4 cans (713 g) |
| 26 lb (12 kg) | 1 1/2 cans (621 g) | 1 3/4 cans (719 g) | 2 cans (817 g) |
| 31 lb (14 kg) | 1 3/4 cans (697 g) | 2 cans (807 g) | 2 1/2 cans (918 g) |
| 35 lb (16 kg) | 2 cans (771 g) | 2 1/4 cans (892 g) | 2 3/4 cans (1014 g) |
| 40 lb (18 kg) | 2 1/4 cans (842 g) | 2 1/2 cans (975 g) | 3 cans (1108 g) |
| 44 lb (20 kg) | 2 1/4 cans (911 g) | 2 3/4 cans (1055 g) | 3 cans (1199 g) |
| 55 lb (25 kg) | 2 3/4 cans (1077 g) | 3 1/4 cans (1247 g) | 3 3/4 cans (1417 g) |
| 66 lb (30 kg) | 3 1/4 cans (1235 g) | 3 3/4 cans (1430 g) | 4 1/4 cans (1625 g) |
| 77 lb (35 kg) | 3 1/2 cans (1386 g) | 4 1/4 cans (1605 g) | 4 3/4 cans (1824 g) |
| 88 lb (40 kg) | 4 cans (1532 g) | 4 1/2 cans (1774 g) | 5 1/4 cans (2016 g) |
| 99 lb (45 kg) | 4 1/4 cans (1674 g) | 5 cans (1938 g) | 5 3/4 cans (2203 g) |
| 110 lb (50 kg) | 4 3/4 cans (1812 g) | 5 1/2 cans (2098 g) | 6 1/4 cans (2384 g) |
| 132 lb (60 kg) | 5 1/2 cans (2077 g) | 6 1/4 cans (2405 g) | 7 cans (2733 g) |
| 154 lb (70 kg) | 6 cans (2332 g) | 7 cans (2700 g) | 8 cans (3068 g) |
| 176 lb (80 kg) | 6 3/4 cans (2577 g) | 7 3/4 cans (2984 g) | 8 3/4 cans (3391 g) |
| 198 lb (90 kg) | 7 1/4 cans (2815 g) | 8 1/2 cans (3260 g) | 9 1/2 cans (3704 g) |

Mixed Feeding with Comfort Care Small Dry

| Weight | Can + | Low Activity | Moderate Activity | High Activity |
| --- | --- | --- | --- | --- |
| 4.4 lb (2 kg) | 1/4 Can + | 1/4 tasse(17 g) | 1/4 tasse(23 g) | 3/8 tasse(30 g) |
| 8.8 lb (4 kg) | 1/4 Can + | 1/2 tasse(45 g) | 5/8 tasse(56 g) | 3/4 tasse(67 g) |
| 13 lb (6 kg) | 1/2 Can + | 1/2 tasse(45 g) | 3/4 tasse(60 g) | 7/8 tasse(75 g) |
| 18 lb (8 kg) | 1/2 Can + | 3/4 tasse(68 g) | 1 tasse(87 g) | 1 1/4 cups (105 g) |
| 22 lb (10 kg) | 1/2 Can + | 1 tasse(90 g) | 1 1/4 cups (112 g) | 1 1/2 cups (134 g) |

Mixed Feeding with Comfort Care Medium Dry

| Weight | Can + | Low Activity | Moderate Activity | High Activity |
| --- | --- | --- | --- | --- |
| 27 lb (12 kg) | 1 Can + | 3/4 tasse(62 g) | 1 tasse(87 g) | 1 1/4 cups (113 g) |
| 31 lb (14 kg) | 1 Can + | 1 cups (81 g) | 1 1/4 cups (110 g) | 1 5/8 cups (139 g) |
| 35 lb (16 kg) | 1 Can + | 1 1/8 cups (101 g) | 1 1/2 cups (132 g) | 1 7/8 cups (164 g) |
| 40 lb (18 kg) | 1 Can + | 1 3/8 cups (119 g) | 1 3/4 cups (154 g) | 2 1/8 cups (188 g) |
| 44 lb (20 kg) | 1 Can + | 1 5/8 cups (137 g) | 2 cups (175 g) | 2 1/2 cups (212 g) |
| 55 lb (25 kg) | 1 Can + | 2 1/8 cups (180 g) | 2 5/8 cups (225 g) | 3 1/8 cups (269 g) |

Mixed Feeding with Comfort Care Large Dry

| Weight | Can + | Low Activity | Moderate Activity | High Activity |
| --- | --- | --- | --- | --- |
| 66 lb (30 kg) | 1 Can + | 2 3/8 cups (222 g) | 2 7/8 cups (273 g) | 3 3/8 cups (324 g) |
| 77 lb (35 kg) | 1 Can + | 2 3/4 cups (262 g) | 3 3/8 cups (319 g) | 3 7/8 cups (376 g) |
| 88 lb (40 kg) | 1 Can + | 3 1/8 cups (300 g) | 3 3/4 cups (363 g) | 4 1/2 cups (426 g) |
| 99 lb (45 kg) | 1 Can + | 3 1/2 cups (337 g) | 4 1/4 cups (406 g) | 5 cups (475 g) |
| 110 lb (50 kg) | 1 Can + | 3 7/8 cups (373 g) | 4 5/8 cups (447 g) | 5 1/2 cups (522 g) |
| 132 lb (60 kg) | 1 Can + | 4 5/8 cups (442 g) | 5 1/2 cups (528 g) | 6 3/8 cups (613 g) |
| 154 lb (70 kg) | 1 Can + | 5 1/4 cups (508 g) | 6 1/4 cups (605 g) | 7 1/4 cups (701 g) |
| 176 lb (80 kg) | 1 Can + | 6 cups (573 g) | 7 1/8 cups (679 g) | 8 1/8 cups (785 g) |
| 198 lb (90 kg) | 1 Can + | 6 5/8 cups (635 g) | 7 7/8 cups (751 g) | 9 cups (867 g) |