Urinary S/O Moderate Calorie (Wet)
ROYAL CANIN® Urinary S/O Moderate Calorie (Wet) - Complete dietetic feed for adult dogs. Formulated to dissolve struvite stones and reducing their recurrence through its urine acidifying properties, its low level of magnesium and its restricted level of protein but of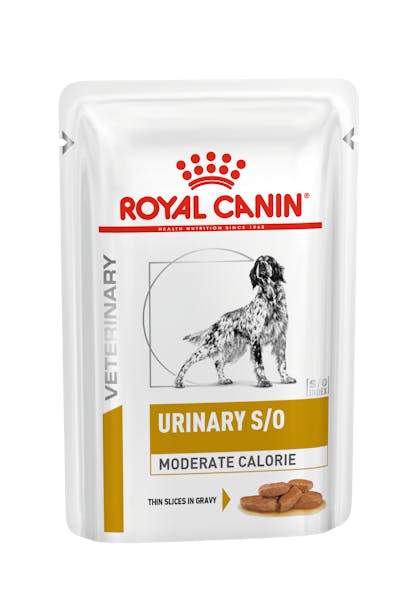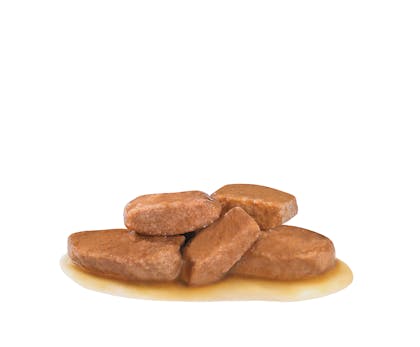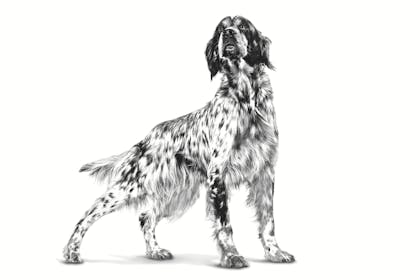 Struvite dissolution

Helps dissolve all types of struvite stones.

Moderate calorie

Moderate calorie content to help maintain ideal weight.

Urine dilution

Urine dilution makes the urine less liable to form struvite and calcium oxalate stones.

Low RSS

Helps lower the concentration of ions contributing to crystal formation.

Complete dietetic feed for adult dogs. Formulated to dissolve struvite stones and reducing their recurrence through its urine acidifying properties, its low level of magnesium and its restricted level of protein but of high quality.ROYAL CANIN® Urinary S/O Moderate Calorie in Gravy is formulated especially for dogs with urinary health concerns and is available in boxes of 12x 100g pouches . ROYAL CANIN® Urinary S/O Moderate Calorie in Gravy helps to dissolve all types of struvite stones. What's more, this specially tailored formula contains nutrients that reduce the likelihood of calcium oxalate stones or struvite stones reforming. This exclusive formula also helps to maintain your dog's ideal body weight to further support good health and wellbeing. Developed with Relative Super Saturation methodology in mind, this product contains a reduced concentration of ions that can contribute to crystal formation. As part of the ROYAL CANIN® Veterinary Range, it is important that this product is only given to your pet when recommended by a veterinary professional. To cater to each dog's individual preferences, ROYAL CANIN® Urinary S/O Moderate Calorie is also available as dry food, with crunchy and tasty kibble. If you're considering mixed feeding, simply follow our feeding guidelines to ensure your dog gets an accurate amount of both wet and dry food for optimal benefit.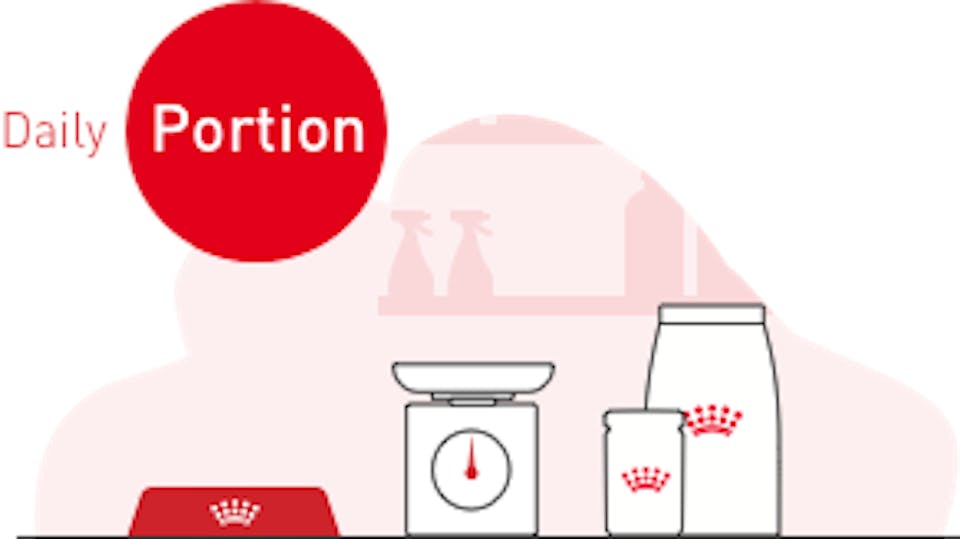 Discover now the perfect tool to calculate the ideal ration for your pet. Fill in your pet's information in the interactive feeding guide and you will get the daily feeding recommendation.
Calculate
ROYAL CANIN® Urinary S/O Moderate Calorie (Wet) - Complete dietetic feed for adult dogs. Formulated to dissolve struvite stones and reducing their recurrence through its urine acidifying properties, its low level of magnesium and its restricted level of protein but of high quality. See table for batch number, factory registration number and best before date: see information on packaging. Follow your veterinarian's nutritional recommendations. To be stored in a cool, dry place.

COMPOSITION: Meat and animal derivatives, cereals, vegetable protein extracts, derivatives of vegetable origin, minerals, oils and fats, various sugars.

ADDITIVES (per kg): Nutritional additives: Vitamin D3: 180IU, E1 (Iron): 2mg, E2 (Iodine): 0.2mg, E4 (Copper): 1.8mg, E5 (Manganese): 0.8mg, E6 (Zinc): 8mg -Technological additives: (acidity regulator) Sodium bisulphate: 1.1g.

ANALYTICAL CONSTITUENTS: Protein: 8% - Fat content: 3.6% - Crude ash: 1.5% - Crude fibres: 1% - Moisture: 80% - Taurine (total): 0.1% - Calcium: 0.14% - Phosphorus: 0.13% - Sodium: 0.24% - Magnesium: 0.01% - Potassium: 0.15% - Chloride: 0.35% - Sulphur: 0.2% - Urine acidifying substances: Calcium sulphate: 0.3% - Protein sources: chicken meats- chicken by- products- pork by- products- pork blood products- wheat gluten.

Feeding instruction: see table. Batch number, factory registration number and best before date: see information on packaging. To be stored in a cool, dry place.

ANALYTICAL CONSTITUENTS: Protein: 8% - Fat content: 3.6% - Crude ash: 1.5% - Crude fibres: 1% - Moisture: 80% - Taurine (total): 0.1% - Calcium: 0.14% - Phosphorus: 0.13% - Sodium: 0.24% - Magnesium: 0.01% - Potassium: 0.15% - Chloride: 0.35% - Sulphur: 0.2% - Urine acidifying substances: Calcium sulphate: 0.3% - Protein sources: chicken meats- chicken by- products- pork by- products- pork blood products- wheat gluten.

| Dog's weight (kg) | Normal | Overweight |
| --- | --- | --- |
| 2 | 181 g (2 pouches) | 152 g (1+1/2 pouches) |
| 4 | 304 g (3 pouches) | 256 g (2+1/2 pouches) |
| 6 | 412 g (4 pouches) | 347 g (3+1/2 pouches) |
| 10 | 605 g (6 pouches) | 509 g (5 pouches) |
| 15 | 820 g (8 pouches) | 691 g (7 pouches) |
| 20 | 1018 g (10 pouches) | 857 g (8+1/2 pouches) |
| 25 | 1203 g (12 pouches) | 1013 (10 pouches) |
| 30 | (13 pouches) | 1161 (11+1/2 pouches) |
| 35 | 1548 g (15+1/2 pouches) | 1304 g (13 pouches) |
| 40 | 1711 g (17 pouches) | 1441 g (14+1/2 pouches) |