Urinary S/O Ageing 7+
ROYAL CANIN® Urinary S/O Ageing 7+ - Complete dietetic feed for adult dogs. Formulated to dissolve struvite stones and reducing their recurrence through its urine acidifying properties, its low level of magnesium and its restricted level of protein but of high quality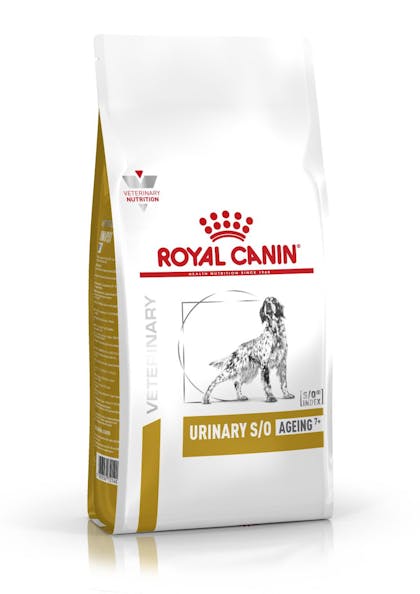 Urinary tract health

Effective struvite stone dissolution and specifically formulated to help prevent up to 80% of all urinary stones.

Ageing support

Supports dogs' vitality and cognition with an blend of nutrients and antioxidants. Also supports kidney health.

Complete dietetic feed for adult dogs. Formulated to dissolve struvite stones and reducing their recurrence through its urine acidifying properties, its low level of magnesium and its restricted level of protein but of high quality.ROYAL CANIN® Urinary S/O Ageing 7+ is specially tailored with the needs of senior dogs in mind and is suitable for dogs aged 7 years and over. This food is available in 1. 5kg, 3. 5kg and 8kg bags. The exclusive formula in ROYAL CANIN® Urinary S/O Ageing 7+ helps to support effective struvite stone dissolution, having been specially formulated for up to 80% of all stones. ROYAL CANIN® Urinary S/O Ageing 7+ contains an exclusive blend of nutrients and antioxidants to support your dog's kidneys, vitality, and cognitive function throughout this life stage. As part of the ROYAL CANIN® Veterinary Range, it is important that this product is only given to your pet when recommended by a veterinary professional. To cater to each dog's individual preferences, ROYAL CANIN® Urinary S/O Ageing 7+ is also available as wet food in a soft and tasty loaf. If you're considering mixed feeding, simply follow our feeding guidelines to ensure your dog gets an accurate amount of both wet and dry food for optimal benefit.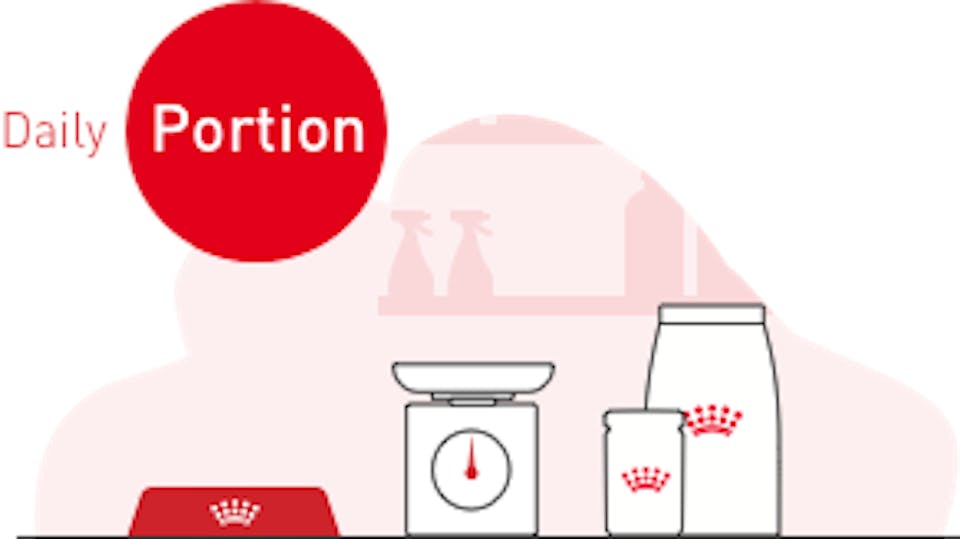 Discover now the perfect tool to calculate the ideal ration for your pet. Fill in your pet's information in the interactive feeding guide and you will get the daily feeding recommendation.
Calculate
ROYAL CANIN® Urinary S/O Ageing 7+ - Complete dietetic feed for adult dogs. Formulated to dissolve struvite stones and reducing their recurrence through its urine acidifying properties, its low level of magnesium and its restricted level of protein but of high quality. See table for batch number, factory registration number and best before date: see information on packaging. Follow your veterinarian's nutritional recommendations. To be stored in a cool, dry place.

COMPOSITION: Rice, maize flour, dehydrated poultry protein, animal fats, wheat flour, minerals, hydrolysed animal proteins, maize gluten, cellulose powder, wheat gluten*, egg powder, fish oil, soya oil, dried tomato pulp (source of lycopene), fructo-oligo-saccharides, hydrolysed crustaceans (source of glucosamine), marigold extract (source of lutein), hydrolysed cartilage (source of chondroitin). Protein sources: dehydrated poultry

ADDITIVES (per kg): Nutritional additives: Vitamin A: 15500IU, Vitamin D3: 1000IU, E1 (Iron): 60mg, E2 (Iodine): 5.3mg, E4 (Copper): 14mg, E5 (Manganese): 67mg, E6 (Zinc): 145mg, E8 (Selenium): 0.11mg -Technological additives: Sodium bisulphate (urine acidifying substance): 5g-Preservatives-Antioxidants.

ANALYTICAL CONSTITUENTS: Protein: 20.0% - Fat content: 17.0% - Crude ash: 7.1% - Crude fibres: 2.4% - Calcium: 0.67% - Phosphorus: 0.56% - Sodium: 0.4% - Chloride: 1.47% - Potassium: 1.75% - Magnesium: 0.09% - Sulphur: 0.8% - Urine acidifying substances: Calcium sulphate (1.4% )- DL- Methionine (0.5% )- EPA & DHA: 0.4% .

* L.I.P. - protein selected for its very high digestibility.

Feeding instruction: see table. Batch number, factory registration number and best before date: see information on packaging. To be stored in a cool, dry place.

ANALYTICAL CONSTITUENTS: Protein: 20.0% - Fat content: 17.0% - Crude ash: 7.1% - Crude fibres: 2.4% - Calcium: 0.67% - Phosphorus: 0.56% - Sodium: 0.4% - Chloride: 1.47% - Potassium: 1.75% - Magnesium: 0.09% - Sulphur: 0.8% - Urine acidifying substances: Calcium sulphate (1.4% )- DL- Methionine (0.5% )- EPA & DHA: 0.4% .

| Dog's weight (kg) | Thin | Normal | Overweight |
| --- | --- | --- | --- |
| 2 | 55 g (5/8 cup) | 48 g (4/8 cup) | 42 g (4/8 cup) |
| 4 | 92 g (1 cup) | 81 g (7/8 cup) | 70 g (6/8 cup) |
| 6 | 125 g (1 + 3/8 cups) | 110 g (1 + 2/8 cups) | 95 g (1 cup) |
| 8 | 155 g (1 + 6 /8 cups) | 136 g (1 + 4/8 cups) | 117 g (1 + 2/8) |
| 10 | 183 g (2 cups) | 161 g (1 + 6/8 cups) | 139 g (1 + 4/8) |
| 15 | 248 g (2 + 6/8 cups) | 218 g (2 + 3/8 cups) | 188 g (2 cups) |
| 20 | 307 g (3 + 3/8 cups) | 270 g (3 cups) | 233 g (2 + 4/8) |
| 25 | 363 g (4 cups) | 320 g (3 + 4/8 cups) | 276 g (3 cups) |
| 30 | 416 g (4 + 4/8 cups) | 366 g (4 cups) | 316 g (3 + 4/8) |
| 35 | 467 g (5 + 1/8 cups) | 411 g (4 + 4/8 cups) | 355 g (3 + 7/8) |
| 40 | 517 g (5 + 5/8 cups) | 455 g (5 cups) | 393 g (4 + 2/8) |
| 45 | 564 g (6 + 1/8 cups) | 497 g (5 + 4/8 cups) | 429 g (4 + 6/8) |
| 50 | 611 g (6 + 6/8cups) | 538 g (5 + 7/8 cups) | 464 g (5 + 1/8) |
| 55 | 656 g (7 + 2/8 cups) | 577 g (6 + 3/8 cups) | 499 g (5 + 4/8) |
| 60 | 700 g (7 + 5/8 cups) | 616 g (6 + 6/8 cups) | 532 g (5 + 7/8) |
| 70 | 786 g (8 + 5/8 cups) | 692 g (7 + 5/8 cups) | 597 g (6 + 4/8) |
| 80 | 869 g (9+ 4/8 cups) | 765 g (8 + 3/8 cups) | 660 g (7 + 2/8) |