Multifunction Renal + Hypoallergenic (GFR - AFR)
ROYAL CANIN® Multifunction Renal + Hypoallergenic (GFR - AFR) - Complete dietetic feed for dogs. Formulated to support renal function in the case of chronic renal insufficiency, through its restricted levels of phosphorus and high - quality proteins. MULTIFUNCTION REN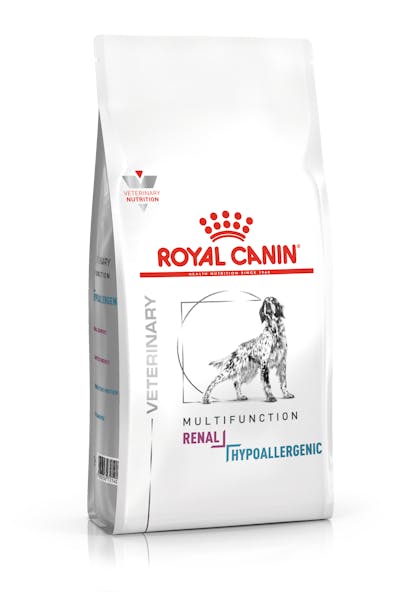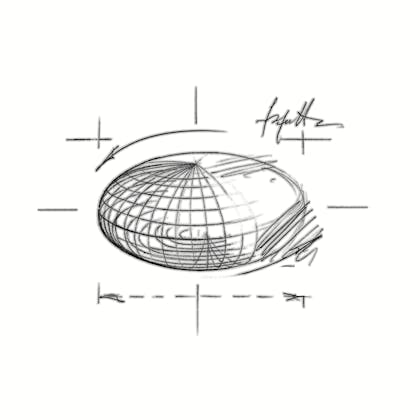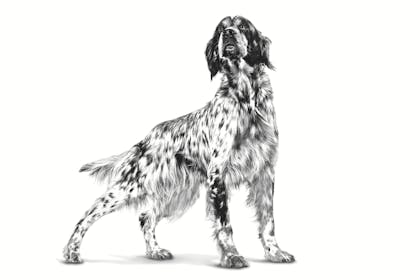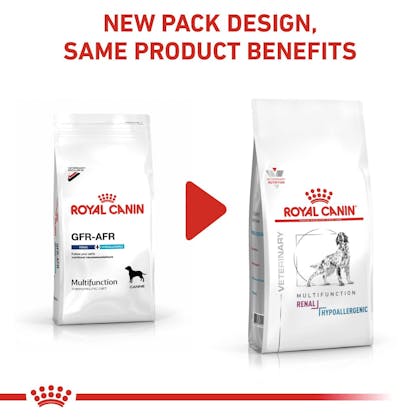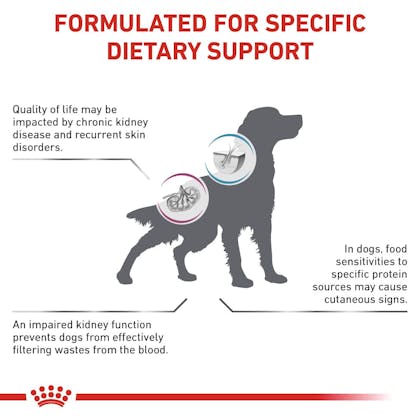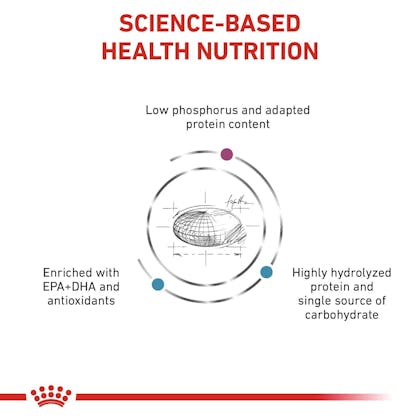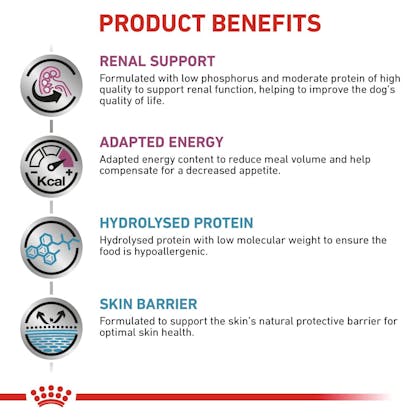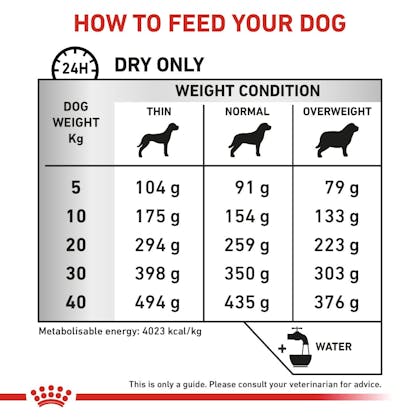 Renal support

Formulated with low phosphorus and moderate protein of high quality to support renal function, helping to improve the dog's quality of life.

Adapted energy

Adapted energy content to reduce meal volume and help compensate for a decreased appetite.

Hydrolysed protein

Hydrolysed protein with low molecular weight to ensure the food is hypoallergenic.

Skin barrier

Formulated to support the skin's natural protective barrier for optimal skin health.

Complete dietetic feed for dogs. Formulated to support renal function in the case of chronic renal insufficiency, through its restricted levels of phosphorus and high - quality proteins. MULTIFUNCTION RENAL + HYPOALLERGENIC dry is also formulated to reduce ingredient and nutrient intolerances. Selected sources of protein and carbohydrate.Complete dietetic feed for adult dogs.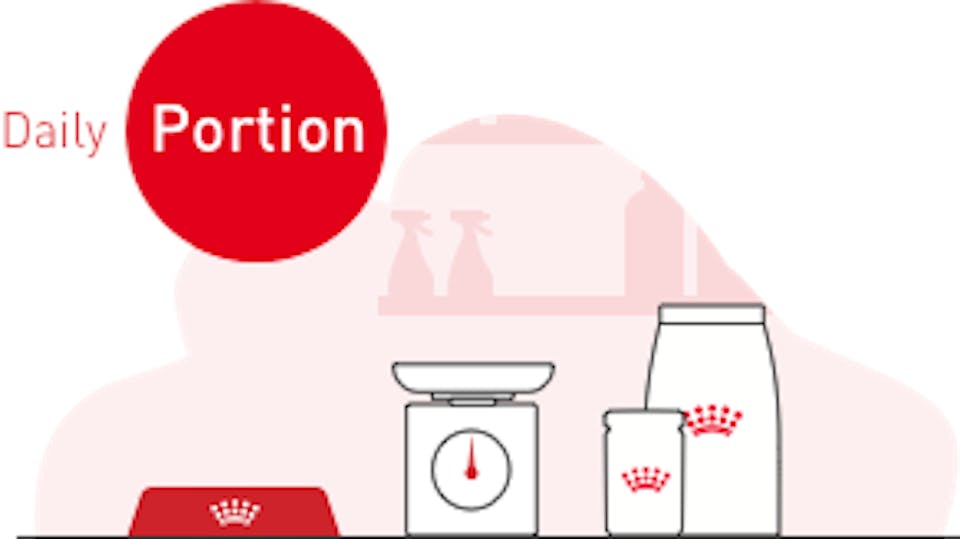 Discover now the perfect tool to calculate the ideal ration for your pet. Fill in your pet's information in the interactive feeding guide and you will get the daily feeding recommendation.
Calculate
ROYAL CANIN® Multifunction Renal + Hypoallergenic (GFR - AFR) - Complete dietetic feed for dogs. Formulated to support renal function in the case of chronic renal insufficiency, through its restricted levels of phosphorus and high - quality proteins. MULTIFUNCTION RENAL + HYPOALLERGENIC dry is also formulated to reduce ingredient and nutrient intolerances. Selected sources of protein and carbohydrate. See table for batch number, factory registration number and best before date: see information on packaging. Follow your veterinarian's nutritional recommendations. To be stored in a cool, dry place.

COMPOSITION: Rice, animal fats, soya protein isolate*, chicory pulp, soya oil, vegetable fibres, fish oil, minerals, fructo-oligo-saccharides, butyric acid salt, borage oil, marigold extract (source of lutein). Carbohydrate source: rice. Protein source: soya protein isolate.

ADDITIVES (per kg): Nutritional additives: Vitamin A: 36000 IU, Vitamin D3: 800 IU, Iron (3b103): 41 mg, Iodine (3b201, 3b202): 3.7 mg, Copper (3b405, 3b406): 15 mg, Manganese (3b502, 3b504): 54 mg, Zinc (3b603, 3b605, 3b606): 159 mg, Selenium (3b801, 3b811, 3b812): 0.26 mg - Technological additives: Clinoptilolite of sedimentary origin: 10g - Preserv-atives - Antioxidants.

ANALYTICAL CONSTITUENTS: Protein: 14.0% - Fat content: 19.0% - Crude ash: 4.2% - Crude fibres: 2.4% - Calcium: 0.3% - Phosphorus: 0.15% - Potassium: 0.6% - Sodium: 0.35% - Essential fatty acid (linoleic acid): 4% - EPA & DHA: 0.5% .

* L.I.P.: protein selected for its very high digestibility.

Feeding instructions: see table. Batch number, factory registration number and best before date: see information on packaging. To be stored in a cool, dry place.

ANALYTICAL CONSTITUENTS: Protein: 14.0% - Fat content: 19.0% - Crude ash: 4.2% - Crude fibres: 2.4% - Calcium: 0.3% - Phosphorus: 0.15% - Potassium: 0.6% - Sodium: 0.35% - Essential fatty acid (linoleic acid): 4% - EPA & DHA: 0.5% .

| | | Adult weight | | | | |
| --- | --- | --- | --- | --- | --- | --- |
| | Thin | | Normal | | Overweight | |
| Dog weight (kg) | grams | cup(s) | grams | cup(s) | grams | cup(s) |
| 2 | 52     | 4/8 | 46 | 4/8 | 40 | 3/8 |
| 4 | 88 | 7/8 | 77 | 6/8 | 67 | 6/8 |
| 6 | 119 | 1+2/8 | 105 | 1+1/8 | 91 | 1 |
| 8 | 148 | 1+4/8 | 130 | 1+3/8 | 112 | 1+1/8 |
| 10 | 175 | 1+7/8 | 154 | 1+5/8 | 133 | 1+3/8 |
| 15 | 237 | 2+4/8 | 208 | 2+1/8 | 180 | 1+7/8 |
| 20 | 294 | 3+1/8 | 259 | 2+6/8 | 223 | 2+3/8 |
| 25 | 347 | 3+5/8 | 306 | 3+2/8 | 264 | 2+6/8 |
| 30 | 398 | 4+1/8 | 350 | 3+5/8 | 303 | 3+1/8 |
| 35 | 447 | 4+5/8 | 393 | 4+1/8 | 340 | 3+4/8 |
| 40 | 494 | 5+1/8 | 435 | 4+4/8 | 376 | 3+7/8 |
| 45 | 540 | 5+5/8 | 475 | 5 | 410 | 4+2/8 |
| 50 | 584 | 6+1/8 | 514 | 5+3/8 | 444 | 4+5/8 |
| 55 | 628 | 6+4/8 | 552 | 5+6/8 | 477 | 5 |
| 60 | 670 | 7 | 589 | 6+1/8 | 509 | 5+2/8 |
| 70 | 752 | 7+7/8 | 662 | 6+7/8 | 571 | 6 |
| 80                 | 831 | 8+5/8 | 731 | 7+5/8 | 632 | 6+5/8 |