GI Low Fat Liquid Dog
ROYAL CANIN® GI Low Fat Liquid Dog - Complete dietetic feed for adult dogs.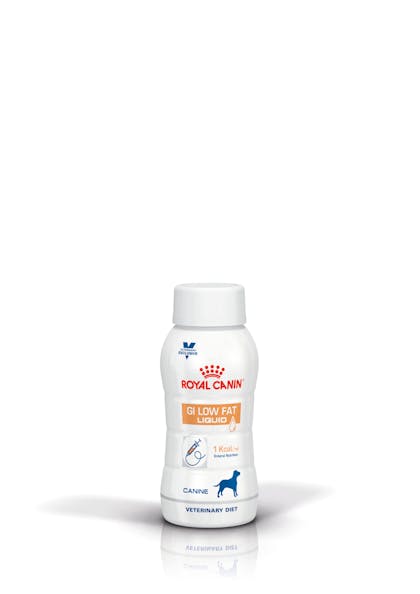 Low fat

Formulated with low fat levels to help support dogs requiring fat restriction

Adapted energy

High energy density that provides daily energy requirements in a reduced feeding volume.

Complete nutrition

Complete and balanced liquid diet to support nutritional restoration and convalescence of dogs requiring assisted enteral nutrition.

Antioxidant complex

The synergistic antioxidant complex (including high levels of Vit E, Vit C, taurine & lutein) helps neutralise free radicals.

Easy tube feeding

Liquid formula with adapted viscosity for an easy use whatever the tube size.

Complete dietetic feed for adult dogs.ROYAL CANIN® GI Low Fat Liquid is exclusive liquid diet formulated to support your dog's nutritional restoration during critical care and convalescence. Available in 200 ml bottles, ROYAL CANIN® GI Low Fat Liquid provides your dog with complete and balanced nutrition. This tailor-made formula contains a reduced fat content for dogs that require a fat-restricted diet. Thanks to its synergistic antioxidant complex, ROYAL CANIN® GI Low Fat Liquid helps to support your dog's natural defences. ROYAL CANIN® GI Low Fat Liquid contains a specially adapted energy content and density. This means that your dog gets their required daily energy intake in a reduced volume of food. This liquid formula supports easy tube or syringe feeding – no matter what size the tube is. This diet is also highly palatable, which helps maintain your dog's appetite, and encourages spontaneous eating through convalescence and recovery. As part of the ROYAL CANIN® Veterinary Range, it is important that this product is only given to your pet when recommended by a veterinary professional.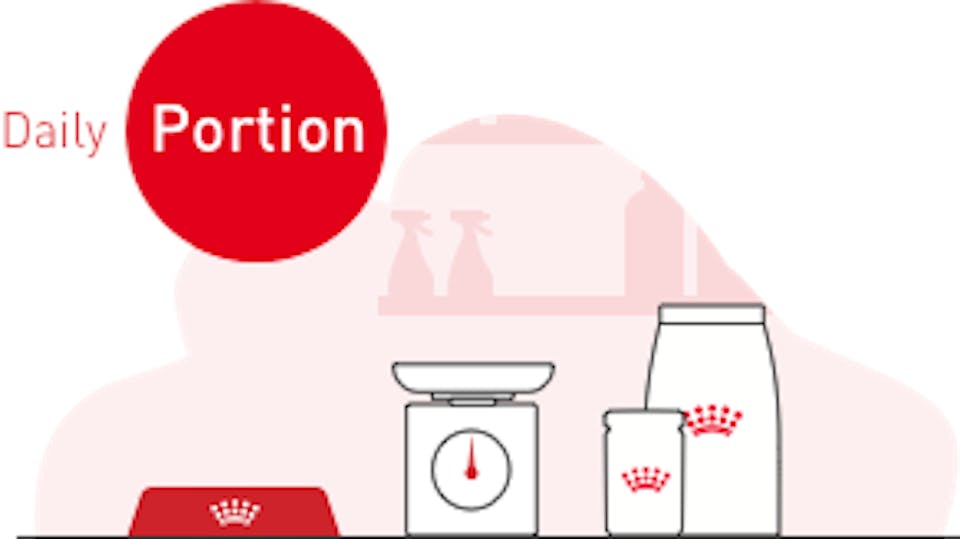 Discover now the perfect tool to calculate the ideal ration for your pet. Fill in your pet's information in the interactive feeding guide and you will get the daily feeding recommendation.
Calculate
ROYAL CANIN® GI Low Fat Liquid Dog - Complete dietetic feed for adult dogs. See table for batch number, factory registration number and best before date: see information on packaging. Follow your veterinarian's nutritional recommendations. To be stored in a cool, dry place.

COMPOSITION: Milk low lactose*, maltodextrin*, vegetable oils*, calcium casseinate*, soya protein concentrate*, minerals, fish oil*, mono & diglyceride of fatty acids, marigold extract (source of lutein). *L.I.P.: selected for its very high digestibility.

ADDITIVES (per kg): Nutritional additives: Vitamin A: 3700 IU, Vitamin D3: 224 IU, E1 (Iron): 29 mg, E2 (Iodine): 0.6 mg, E4 (Copper): 2.6 mg, E5 (Manganese): 1.7 mg, E6 (Zinc): 42 mg, E8 (Selenium): 0.1 mg.                        ** Values reflect only levels added to the formula, not those naturally occurring in components of the diet.

ANALYTICAL CONSTITUENTS: Protein: 9% - Fat content: 2% - Crude ash: 1.2% - Crude fibres: 0% - Moisture: 84.2%  - Omega 6 fatty acids: 0.4% - Omega 3 fatty acids: 0.12% - L- arginine: 0.55%

Feeding instruction: see table. Batch number, factory registration number and best before date: see information on packaging. To be stored in a cool, dry place.

ANALYTICAL CONSTITUENTS: Protein: 9% - Fat content: 2% - Crude ash: 1.2% - Crude fibres: 0% - Moisture: 84.2%  - Omega 6 fatty acids: 0.4% - Omega 3 fatty acids: 0.12% - L- arginine: 0.55%

| Dog's weight (kg) | Liquid (ml/day) | Dog's weight (kg) | Liquid (ml/day) |
| --- | --- | --- | --- |
| 2 | 115 | 18 | 590 |
| 3 | 155 | 20 | 640 |
| 4 | 190 | 25 | 755 |
| 5 | 225 | 30 | 865 |
| 6 | 260 | 35 | 975 |
| 7 | 290 | 40 | 1075 |
| 8 | 320 | 45 | 1175 |
| 9 | 350 | 50 | 1270 |
| 10 | 380 | 55 | 1365 |
| 12 | 435 | 60 | 1460 |
| 14 | 490 | 70 | 1635 |
| 16 | 540 | 80 | 1810 |