X-Small Ageing 12+
ROYAL CANIN® X-Small Puppy Ageing 12+ - Complete feed for senior, very small breed dogs (up to 4 kg) - Over 12 years old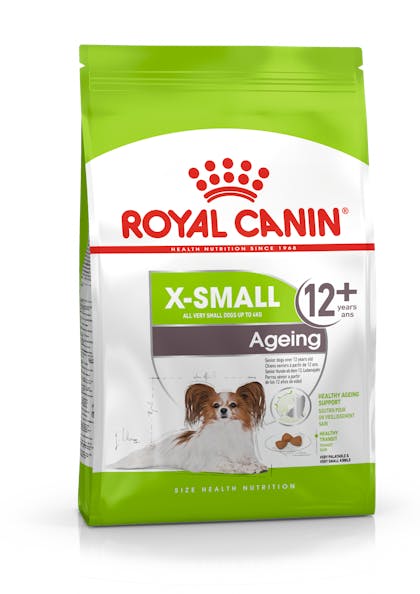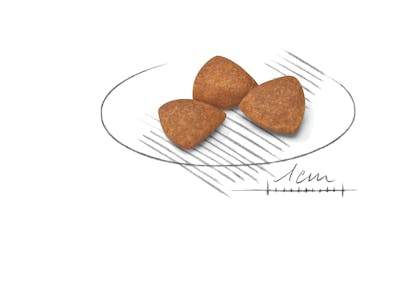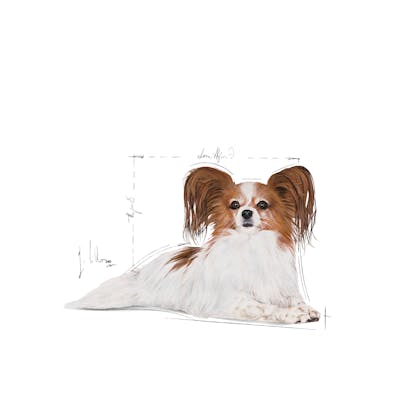 Healthy ageing support

Developed to support healthy ageing in very small breed dogs. Contains EPA & DHA and an exclusive complex of antioxidants to help neutralise free radicals.

Healthy transit

Very small breed dogs are prone to constipation. A balanced intake of fibres (including psyllium) together with highly digestible L.I.P. proteins helps facilitate intestinal transit and contributes to good stool quality.

Cardiac health

Formulated with key nutrients and antioxidants to help support good cardiac function in ageing dogs.

Very palatable & very small kibble

This small-sized kibble has been developed to be perfectly adapted to the miniature jaw of dogs under 4 kg. Its exclusive formula also helps stimulate fussy appetites in very small breed dogs.

X-Small Ageing 12+ - Complete feed for senior, very small breed dogs (up to 4 kg) - Over 12 years old.Suitable for very small dogs over 10 months old that weigh up to 4kg, ROYAL CANIN® X-Small Adult is specially formulated with all the nutritional needs of your X-Small adult dog in mind. ROYAL CANIN® X-Small Adult contains very high quality protein (L. I. P. ), specifically chosen for its easy digestibility. This protein, combined with a balanced intake of fibres like psyllium, helps to facilitate healthy intestinal transit. In addition, ROYAL CANIN® X-Small Adult helps to support a healthy urinary system in very small breeds of dogs like yours. Enriched with Omega-3 fatty acids (EPA and DHA), ROYAL CANIN® X-Small Adult helps to support good coat condition. While the variety of vitamins included helps to strengthen your dog's 'skin barrier role' – ultimately contributing to the maintenance of healthy skin. The kibble in ROYAL CANIN® X-Small Adult has been specially adapted to cater to this particular breed. Its shape, size, and texture is perfect for its miniature jaws.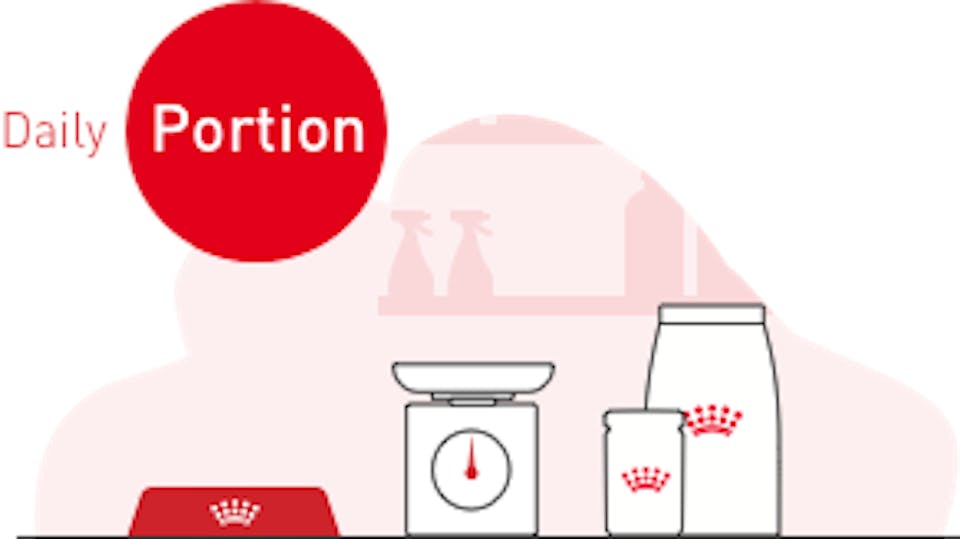 Discover now the perfect tool to calculate the ideal ration for your pet. Fill in your pet's information in the interactive feeding guide and you will get the daily feeding recommendation.
Calculate
ANALYTICAL CONSTITUENTS: Protein: 24.0% - Fat content: 16.0% - Crude ash: 4.7% - Crude fibres: 1.8% - Per kg: EPA & DHA: 4.5 g - Phosphorus: 5.5 g.

| Dog's weight | 1 kg | 1.5 kg | 2 kg | 2.5 kg | 3 kg | 3.5 kg | 4 kg |
| --- | --- | --- | --- | --- | --- | --- | --- |
| Indoor - Low activity | 24 g (2/8 cup) | 33 g (3/8 cup) | 40 g ( 4/8 cup) | 48 g ( 4/8 cup) | 55 g ( 5/8 cup) | 62 g (5/8 cup) | 68 g (6/8 cup) |
| Normal activity | 28 g (2/8 cup) | 38 g (3/8 cup) | 47 g (4/8 cup) | 55 g ( 5/8 cup) | 64 g ( 6/8 cup) | 71 g (6/8 cup) | 79 g (7/8 cup) |
| High activity | 32 g (3/8 cup) | 43 g (4/8 cup) | 53 g (5/8 cup) | 63 g (6/8 cup) | 72 g ( 6/8 cup) | 81 g (7/8 cup) | 90 g (1 cup) |