Medium Puppy Wet
ROYAL CANIN® Medium Puppy Wet - Complete feed for dogs - For medium breed puppies (adult weight from 11 to 25 kg) - Up to 12 months old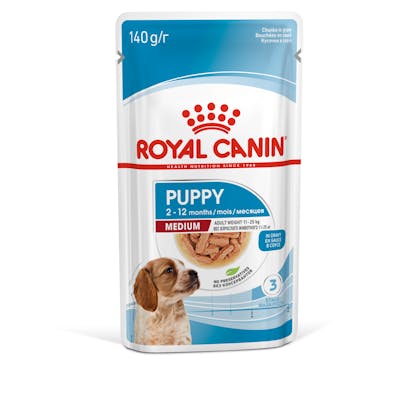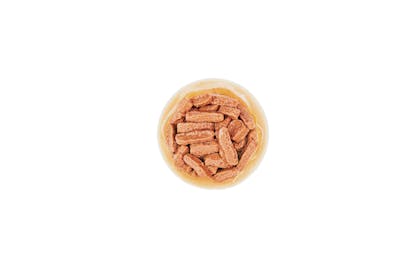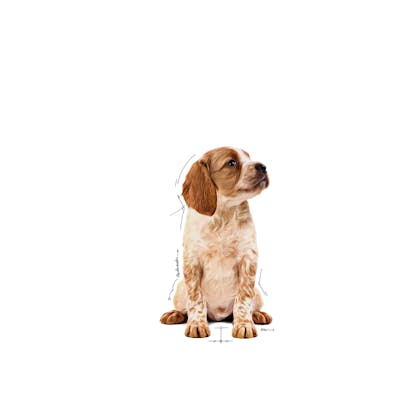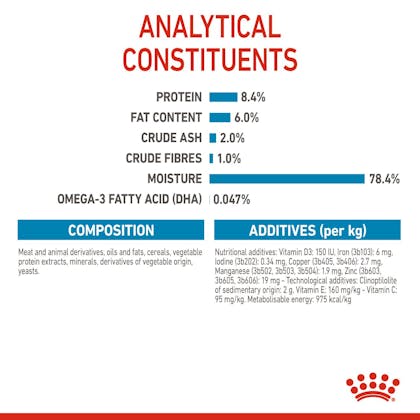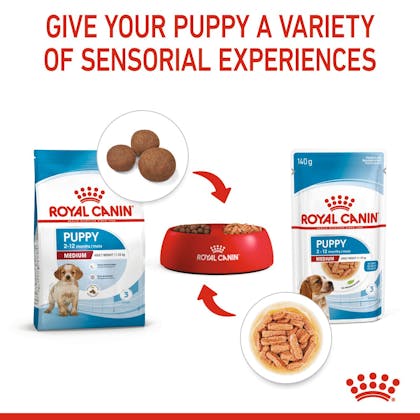 Soft texture for baby teeth

Perfect chunk size, texture & taste for growing medium breed puppies.

Strong immune system

Supports the development of the puppy's healthy immune system with the inclusion of a scientifically proven complex, including vitamins E and C.

Brain development

Enriched with an omega-3 fatty acid (DHA) which is scientifically proven to support the puppy's brain development and promote learning during early puppy training.

Microbiome support

Combination of prebiotics (MOS) & highly digestible proteins to help promote a healthy balance of intestinal microbiota for digestive health.

Complete feed for dogs - For medium breed puppies (adult weight from 11 to 25 kg) - Up to 12 months old.Suitable for puppies up to 12 months old that will have an adult weight between 11-25 kg, ROYAL CANIN® Medium Puppy in Gravy is specially formulated with all the nutritional needs of your medium sized puppy in mind. Thanks to an exclusive complex of antioxidants – including vitamin E – ROYAL CANIN® Medium Puppy in Gravy helps to support your puppy's immune system while its natural defences are developing gradually. What's more, key nutrients are included to support your puppy's digestive health, as well as to help maintain a good balance of intestinal flora. Medium breed puppies tend to have a short growth period. ROYAL CANIN® Medium Puppy in Gravy has an increased energy content in order to meet the high energy needs that medium sized puppies like yours have. To cater to each dog's individual preferences, ROYAL CANIN® Medium Puppy in Gravy is also available as dry food, with crunchy and tasty kibble. If you're considering mixed feeding, simply follow our feeding guidelines to ensure your dog gets an accurate amount of both wet and dry food for optimal benefit.
COMPOSITION : meat and animal derivatives, oils and fats, cereals, vegetable protein extracts, minerals, derivatives of vegetable origin, yeasts.

ADDITIVES (per kg): Nutritional additives: Vitamin D3: 150 IU, Iron (3b103): 6 mg, Iodine (3b202): 0.34 mg, Copper (3b405, 3b406): 2.7 mg, Manganese (3b502, 3b503, 3b504): 1.9 mg, Zinc (3b603, 3b605, 3b606): 19 mg - Technological additives: Clinoptilolite of sedimentary origin: 2 g.

ANALYTICAL CONSTITUANTS: Protein: 8.4%, Fat content: 6.0%, Crude ash: 2.0%, Crude fibres: 1.0%, Moisture: 78.4%, Omega-3 fatty acid (DHA): 0.047%, Vitamin E: 160 mg/kg, Vitamin C: 95 mg/kg.

FEEDING INSTRUCTION: see table. Batch number, factory registration number and best before date: see information on packaging. To be stored in a cool, dry place.

ANALYTICAL CONSTITUANTS: Protein: 8.4%, Fat content: 6.0%, Crude ash: 2.0%, Crude fibres: 1.0%, Moisture: 78.4%, Omega-3 fatty acid (DHA): 0.047%, Vitamin E: 160 mg/kg, Vitamin C: 95 mg/kg.

| WET ONLY (POUCH per day) | Age (month) | | | | | | | | | |
| --- | --- | --- | --- | --- | --- | --- | --- | --- | --- | --- |
| Adult target weight | 2 months | 3 | 4 | 5 | 6 | 7 | 8 | 9 | 10 | 11 |
| 12 kg | 4,5 | 5,5 | 6 | 6 | 6 | 5,5 | 5 | 4,5 | 4,5 | 4 |
| 14 kg | 5 | 6 | 6,5 | 6,5 | 6,5 | 6 | 6 | 5,5 | 5 | 5 |
| 15 kg | 5,5 | 6,5 | 7 | 7 | 7 | 6,5 | 6 | 5,5 | 5 | 5 |
| 16 kg | 5,5 | 7 | 7,5 | 7,5 | 7,5 | 7 | 6,5 | 6 | 5,5 | 5,5 |
| 18 kg | 6 | 7,5 | 8 | 8 | 8 | 7,5 | 7 | 6,5 | 6 | 6 |
| 20 kg | 6,5 | 8 | 8,5 | 9 | 9 | 8 | 7,5 | 7 | 6,5 | 6,5 |
| 22 kg | 6,5 | 8 | 9 | 9 | 9,5 | 9,5 | 8,5 | 7,5 | 7 | 6,5 |
| 24 kg | 7 | 8,5 | 9 | 9,5 | 10 | 10 | 9 | 8 | 7,5 | 7 |

| MIX: KIBBLE + WET | WET | Age (month) | | | | | | | | | |
| --- | --- | --- | --- | --- | --- | --- | --- | --- | --- | --- | --- |
| Adult target weight | Pouch 140g Puppy Medium chunks in gravy | 2 months | 3 | 4 | 5 | 6 | 7 | 8 | 9 | 10 | 11 |
| 12 kg | 1 | 128g | 157g | 170g | 174g | 173g | 154g | 134g | 116g | 114g | 113g |
| 14 kg | 1 | 148g | 180g | 196g | 200g | 200g | 183g | 167g | 150g | 133g | 132g |
| 15 kg | 1 | 157g | 191g | 208g | 213g | 213g | 195g | 179g | 161g | 143g | 141g |
| 16 kg | 1 | 165g | 202g | 220g | 225g | 225g | 206g | 190g | 170g | 152g | 150g |
| 18 kg | 1 | 181g | 223g | 242g | 249g | 249g | 229g | 211g | 190g | 169g | 167g |
| 20 kg | 1 | 197g | 244g | 265g | 273g | 273g | 252g | 232g | 209g | 186g | 184g |
| 22 kg | 1 | 201g | 252g | 274g | 288g | 295g | 293g | 262g | 232g | 203g | 201g |
| 24 kg | 1 | 205g | 260g | 284g | 303g | 318g | 316g | 283g | 250g | 220g | 218g |