Medium Puppy
ROYAL CANIN® Medium Puppy - Complete feed for dogs - For medium breed puppies (adult weight from 11 to 25 kg) - Up to 12 months old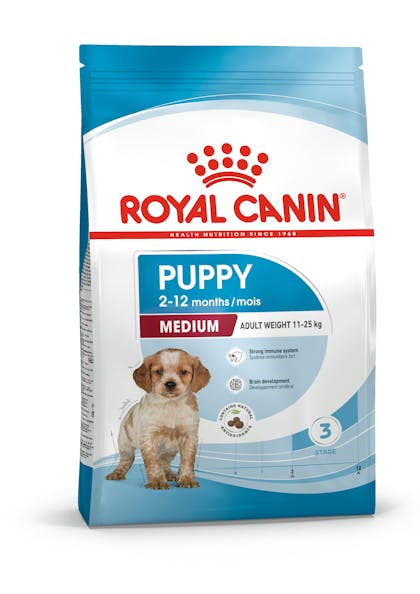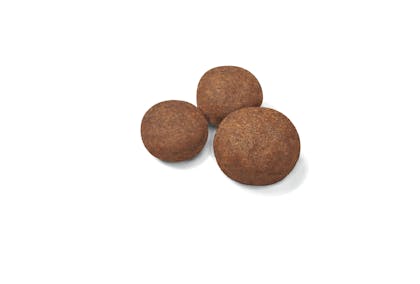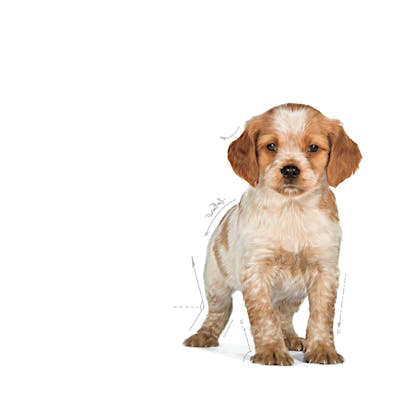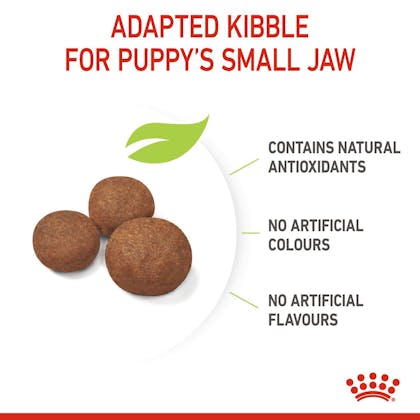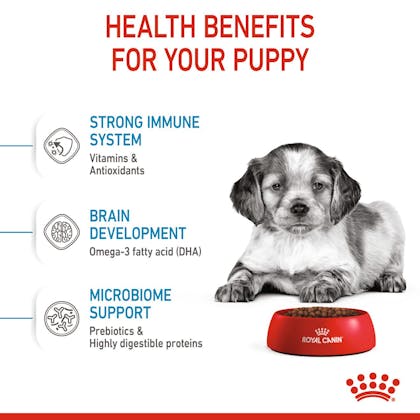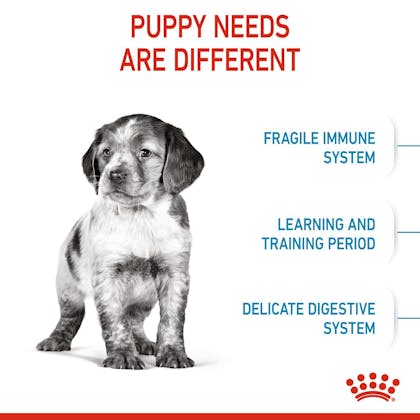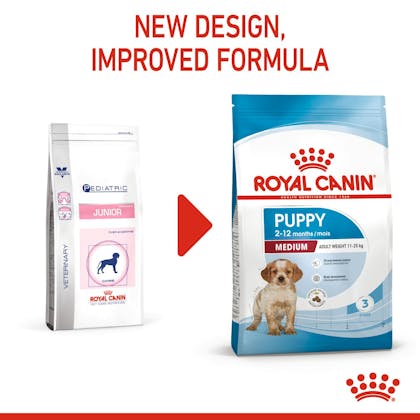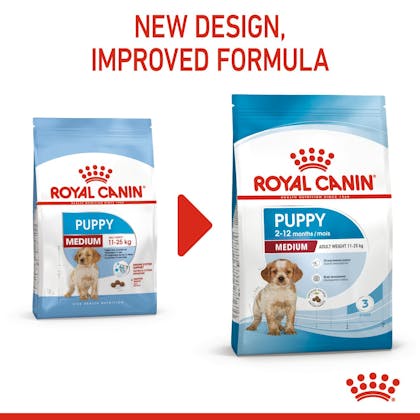 Strong immune system

Supports the development of the puppy's healthy immune system with the inclusion of a scientifically proven complex, including vitamins E and C.

Brain development

Enriched with an omega-3 fatty acid (DHA) which is scientifically proven to support the puppy's brain development and promote learning during early puppy training.

Microbiome support

Combination of prebiotics (MOS) & highly digestible proteins to help promote a healthy balance of intestinal microbiota for digestive health.

Optimal energy content

Satisfies the high energy needs of medium breed puppies over their growth period, up to 12 months old.

Complete feed for dogs - For medium breed puppies (adult weight from 11 to 25 kg) - Up to 12 months old.Growth is an essential stage in your puppy's life, it's the time of big changes and new discoveries. Because your puppy's immune system is still developing gradually, a specially tailored diet will help your puppy get all the nutrients it needs to grow healthy and strong. ROYAL CANIN® Medium Puppy food is suitable for puppies between 2 and 12 months old that will have a medium-sized adult weight between 11kg to 25kg. ROYAL CANIN® Medium Puppy food contains an increased protein content to help support healthy, muscular, and skeletal growth during the relatively short growth period. Antioxidants are included to support your puppy's natural defences which can be a particular challenge during this life stage. The combination of nutrients containing high quality prebiotics and protein in ROYAL CANIN® Medium Puppy food helps to support and maintain your puppy's general digestive health. A group of proteins (L. I. P. ) known for their high digestibility have also been included for optimal digestive support.
COMPOSITION : Dehydrated poultry protein, animal fats, maize, wheat gluten*, beet pulp, dehydrated pork protein*, maize gluten, rice, wheat flour, hydrolysed animal proteins, wheat, maize flour, minerals, soya oil, yeasts products, fish oil, fructo-oligo-saccharides, hydrolysed yeast (source of manno-oligo-saccharides and betaglucans) (0.30%), algal oil Schizochytrium sp. (source of DHA), Yucca Schidigera juice, marigold meal.

ADDITIVES (per kg): Nutritional additives: Vitamin A: 15500 IU, Vitamin D3: 1000 IU, Iron (3b103): 38 mg, Iodine (3b201, 3b202): 3.8 mg, Copper (3b405, 3b406): 12 mg, Manganese (3b502, 3b504): 50 mg, Zinc (3b603, 3b605, 3b606): 132 mg, Selenium (3b801, 3b811, 3b812): 0.06 mg - Technological additives: Clinoptilolite of sedimentary origin: 10 g - Preservatives - Antioxidants.

ANALYTICAL CONSTITUANTS: Protein: 32.0%, Fat content: 20.0%, Crude ash: 8.6%, Crude fibres: 1.6%, Omega-3 fatty acid (DHA): 0.17%, Vitamin E: 520 mg/kg, Vitamin C: 400 mg/kg. Metabolisable energy: 4095 kcal/kg.

* L.I.P.: protein selected for its very high digestibility.

FEEDING INSTRUCTION: see table. Batch number, factory registration number and best before date: see information on packaging. To be stored in a cool, dry place.

ANALYTICAL CONSTITUANTS: Protein: 32.0%, Fat content: 20.0%, Crude ash: 8.6%, Crude fibres: 1.6%, Omega-3 fatty acid (DHA): 0.17%, Vitamin E: 520 mg/kg, Vitamin C: 400 mg/kg. Metabolisable energy: 4095 kcal/kg.

| KIBBLE ONLY | Age (month) | | | | | | | | | | | | |
| --- | --- | --- | --- | --- | --- | --- | --- | --- | --- | --- | --- | --- | --- |
| Adult target weight | 2 months | 3 | 4 | 5 | 6 | 7 | 8 | 9 | 10 | 11 | 12 | 13 | 14 |
| 11 kg | 155g | 183g | 194g | 198g | 197g | 178g | 160g | 143g | 141g | 140g | Medium Adult | Medium Adult | Medium Adult |
| 12 kg | 165g | 194g | 207g | 211g | 210g | 190g | 171g | 152g | 151g | 149g | Medium Adult | Medium Adult | Medium Adult |
| 14 kg | 184g | 217g | 233g | 237g | 237g | 220g | 204g | 187g | 170g | 168g | Medium Adult | Medium Adult | Medium Adult |
| 15 kg | 194g | 229g | 246g | 250g | 250g | 232g | 216g | 198g | 180g | 178g | 177g | Medium Adult | Medium Adult |
| 16 kg | 202g | 239g | 257g | 262g | 262g | 243g | 227g | 207g | 188g | 186g | 185g | Medium Adult | Medium Adult |
| 18 kg | 218g | 260g | 280g | 286g | 286g | 266g | 248g | 227g | 206g | 204g | 202g | Medium Adult | Medium Adult |
| 20 kg | 234g | 281g | 303g | 310g | 311g | 289g | 269g | 246g | 224g | 221g | 219g | Medium Adult | Medium Adult |
| 22 kg | 238g | 289g | 312g | 325g | 333g | 331g | 300g | 269g | 240g | 238g | 236g | Medium Adult | Medium Adult |
| 24 kg | 243g | 297g | 322g | 341g | 356g | 354g | 321g | 288g | 257g | 255g | 253g | Medium Adult | Medium Adult |
| 25 kg | 245g | 301g | 326g | 348g | 368g | 365g | 331g | 297g | 265g | 263g | 261g | 259g | 259g |

| MIX: KIBBLE + WET | Wet | Age  (month) | | | | | | | | | | | | |
| --- | --- | --- | --- | --- | --- | --- | --- | --- | --- | --- | --- | --- | --- | --- |
| Adult target weight | Pouch 140g Puppy Medium chunks in gravy | 2 months | 3 | 4 | 5 | 6 | 7 | 8 | 9 | 10 | 11 | 12 | 13 | 14 |
| 11 kg | 1 | 120g | 147g | 159g | 162g | 161g | 143g | 124g | 107g | 106g | 104g | Medium Adult | Medium Adult | Medium Adult |
| 12 kg | 1 | 129g | 158g | 172g | 175g | 175g | 155g | 135g | 117g | 115g | 114g | Medium Adult | Medium Adult | Medium Adult |
| 14 kg | 1 | 149g | 181g | 197g | 202g | 201g | 184g | 169g | 151g | 134g | 132g | Medium Adult | Medium Adult | Medium Adult |
| 15 kg | 1 | 158g | 193g | 210g | 215g | 214g | 196g | 180g | 162g | 144g | 142g | 141g | Medium Adult | Medium Adult |
| 16 kg | 1 | 166g | 203g | 221g | 227g | 226g | 208g | 191g | 172g | 153g | 151g | 150g | Medium Adult | Medium Adult |
| 18 kg | 1 | 182g | 225g | 244g | 251g | 251g | 231g | 212g | 191g | 170g | 168g | 167g | Medium Adult | Medium Adult |
| 20 kg | 1 | 198g | 246g | 267g | 275g | 275g | 253g | 234g | 210g | 188g | 185g | 184g | Medium Adult | Medium Adult |
| 22 kg | 1 | 203g | 254g | 276g | 290g | 298g | 295g | 264g | 234g | 204g | 202g | 201g | Medium Adult | Medium Adult |
| 24 kg | 1 | 207g | 262g | 286g | 305g | 320g | 318g | 285g | 252g | 221g | 219g | 217g | Medium Adult | Medium Adult |
| 25 kg | 1 | 209g | 266g | 291g | 313g | 332g | 330g | 295g | 262g | 229g | 228g | 226g | 224g | Medium Adult |