Early Renal (Wet)
ROYAL CANIN® Early Renal (Wet) - Complete dietetic feed for adult cats. Formulated to support renal function in cases of chronic renal insufficiency, through its restricted levels of phosphorus and high - quality proteins. EARLY RENAL is formulated for the earlier sta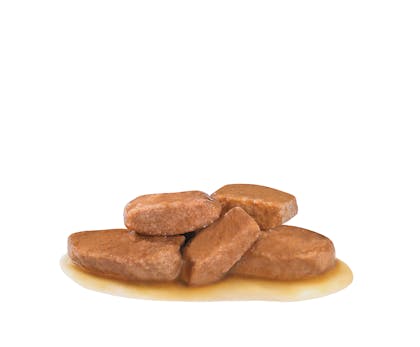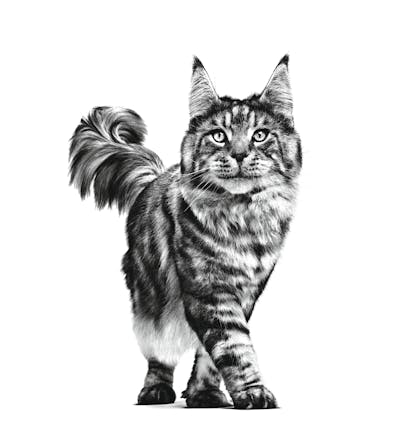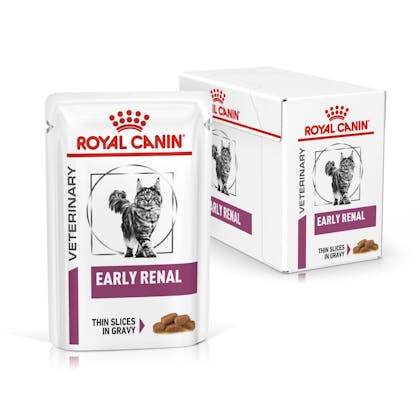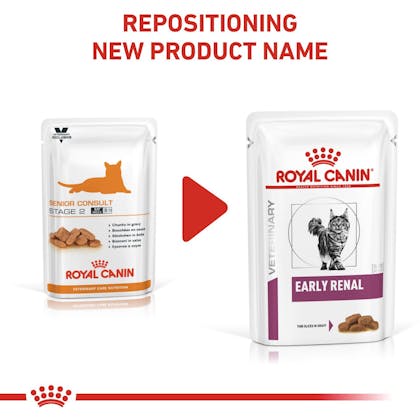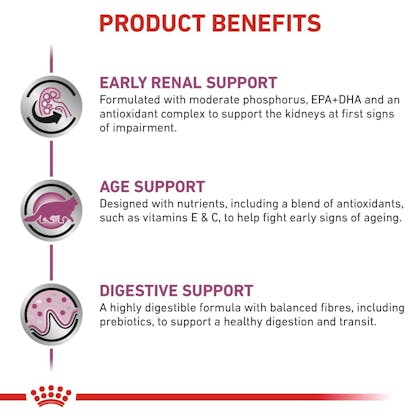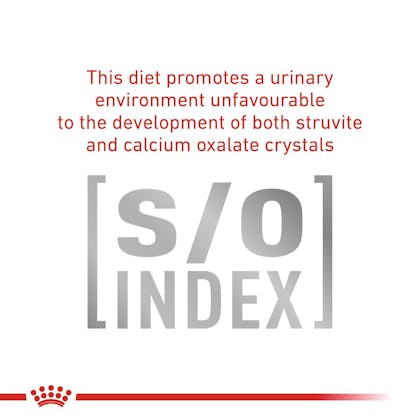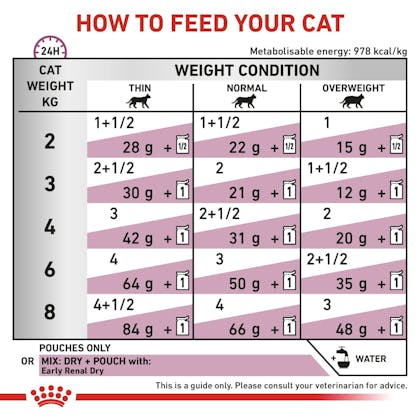 S/O index

This product creates a urinary environment unfavourable to the formation of struvite and calcium oxalate stones.

Early renal support

Formulated with moderate phosphorus, EPA+DHA and an antioxidant complex to support the kidneys at first signs of impairment.

Digestive support

A highly digestible formula with balanced fibres, including prebiotics, to support a healthy digestion and transit.

Age support

Designed with nutrients, including a blend of antioxidants, such as Vitamins E & C, to help fight early signs of ageing.

Complete dietetic feed for adult cats. Formulated to support renal function in cases of chronic renal insufficiency, through its restricted levels of phosphorus and high - quality proteins. EARLY RENAL is formulated for the earlier stages of chronic renal insufficiency.ROYAL CANIN® Early Renal is specially formulated for cats showing early signs of Chronic Renal Insufficiency and helps to support kidney function. ROYAL CANIN® Early Renal is specially formulated with a moderate phosphorus content to support cats whose kidneys may not be able to effectively filter phosphorus from the blood stream. ROYAL CANIN® Early Renal also contains a supportive antioxidant complex, as well as EPA and DHA fatty acids to further support kidney function. This formula is highly   digestible and contains well balanced fibres and prebiotics to support your cat's digestive health. Some cats with kidney disorders may have a reduced appetite or food aversion, but texture variety can help to support your cat's appetite. To cater to each cat's individual preferences, ROYAL CANIN® Early Renal is also available as dry food with tailor-made kibble.  If you feed your cat a mixed diet of wet and dry food, make sure you follow the on-pack feeding guides to ensure a healthy daily food intake for your cat.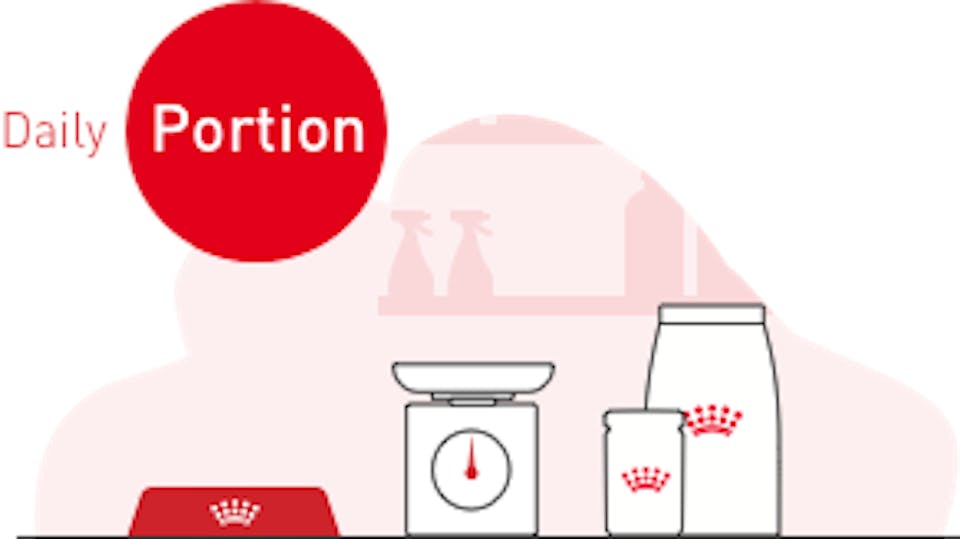 Discover now the perfect tool to calculate the ideal ration for your pet. Fill in your pet's information in the interactive feeding guide and you will get the daily feeding recommendation.
Calculate
ROYAL CANIN® Early Renal (Wet) - Complete dietetic feed for adult cats. Formulated to support renal function in cases of chronic renal insufficiency, through its restricted levels of phosphorus and high - quality proteins. EARLY RENAL is formulated for the earlier stages of chronic renal insufficiency. See table for batch number, factory registration number and best before date: see information on packaging. Follow your veterinarian's nutritional recommendations. To be stored in a cool, dry place.

COMPOSITION: Meat and animal derivatives, cereals, derivatives of vegetable origin, oils and fats, vegetable protein extracts, minerals, vegetables, yeasts. Protein sources: chicken, pork.

ADDITIVES (per kg): Nutritional additives: Vitamin D3: 340IU, Iron (3b103): 4mg, Iodine (3b202): 0.35mg, Copper (3b405, 3b406): 2.9mg, Manganese (3b502, 3b503, 3b504): 1.3mg, Zinc (3b603, 3b605, 3b606): 13mg -Technological additives: Clinoptilolite of sedimentary origin: 0.2mg.

ANALYTICAL CONSTITUENTS: Protein: 8.5% - Fat content: 5.0% - Crude ash: 1.3% - Crude fibres: 1.1% - Moisture: 78.0% - Calcium: 0.18% - Phosphorus: 0.15% - Potassium: 0.16% - Sodium: 0.09% - Essential fatty acids (linoleic acid, arachidonic acid): 1.25% - Vitamin E: 120mg/kg- Vitamin C: 50mg/kg- EPA & DHA: 0.155% .

FEEDING INSTRUCTION: see table. Batch number, factory registration number and best before date: see information on packaging. To be stored in a cool, dry place.

ANALYTICAL CONSTITUENTS: Protein: 8.5% - Fat content: 5.0% - Crude ash: 1.3% - Crude fibres: 1.1% - Moisture: 78.0% - Calcium: 0.18% - Phosphorus: 0.15% - Potassium: 0.16% - Sodium: 0.09% - Essential fatty acids (linoleic acid, arachidonic acid): 1.25% - Vitamin E: 120mg/kg- Vitamin C: 50mg/kg- EPA & DHA: 0.155% .

| - | - | Adult's weight | - | - | - | - |
| --- | --- | --- | --- | --- | --- | --- |
| - | Thin | - | Normal | - | Overweight | - |
| Cat's weight (kg) | grams | cup(s) | grams | cup(s) | grams | cup(s) |
| 2 | 145 | 1+1/2 | 120 | 1+1/2 | 100 | 1 |
| 2.5 | 170 | 2 | 145 | 1+1/2 | 115 | 1+1/2 |
| 3 | 195 | 2+1/2 | 165 | 2 | 130 | 1+1/2 |
| 3.5 | 220 | 2+1/2 | 180 | 2 | 145 | 1+1/2 |
| 4 | 240 | 3 | 200 | 2+1/2 | 160 | 2 |
| 4.5 | 260 | 3 | 220 | 2+1/2 | 175 | 2 |
| 5 | 280 | 3+1/2 | 235 | 3 | 190 | 2 |
| 5.5 | 300 | 3+1/2 | 250 | 3 | 200 | 2+1/2 |
| 6 | 320 | 4 | 265 | 3 | 215 | 2+1/2 |
| 6.5 | 340 | 4 | 285 | 3+1/2 | 225 | 2+1/2 |
| 7 | 355 | 4 | 300 | 3+1/2 | 240 | 3 |
| 7.5 | 375 | 4+1/2 | 315 | 3+1/2 | 250 | 3 |
| 8 | 395 | 4+1/2 | 330 | 4 | 260 | 3 |
| 8.5 | 410 | 5 | 340 | 4 | 275 | 3 |
| 9 | 425 | 5 | 355 | 4 | 285 | 3+1/2 |
| 9.5 | 445 | 5 | 370 | 4+1/2 | 295 | 3+1/2 |
| 10 | 460 | 5+1/2 | 385 | 4+1/2 | 305 | 3+1/2 |