KITTEN Loaf in sauce
Complete feed for cats - Specially for 2nd age kittens up to 12 months old (loaf)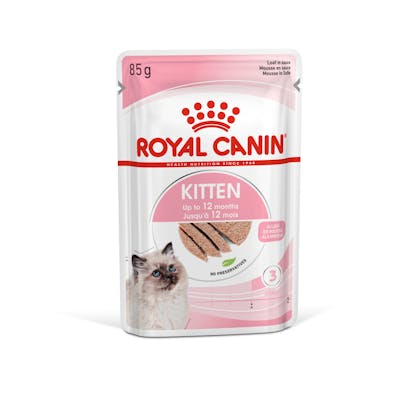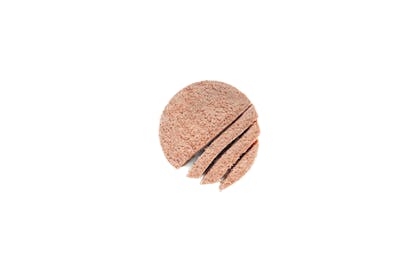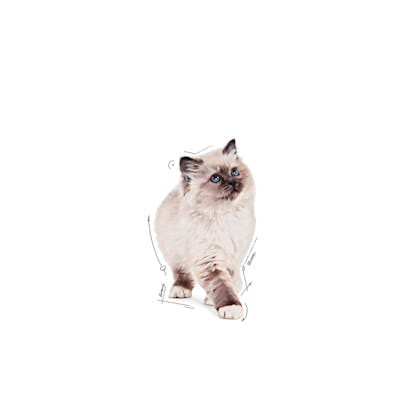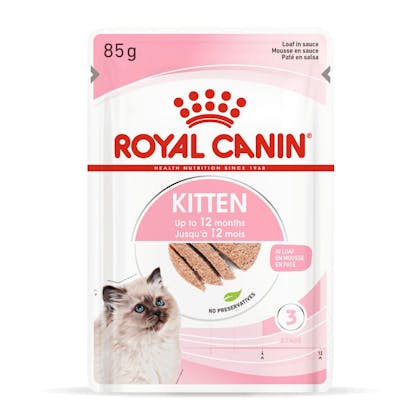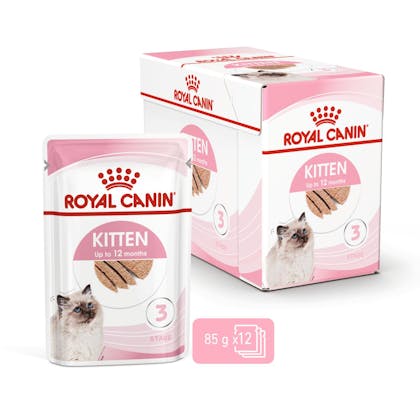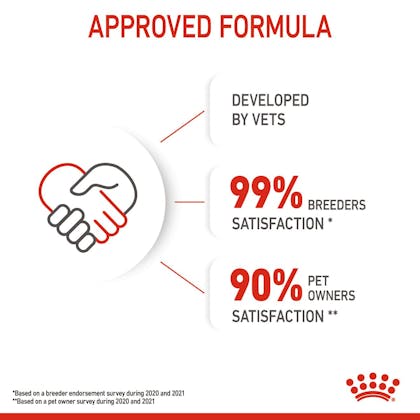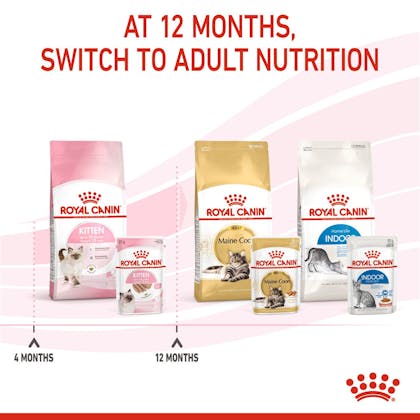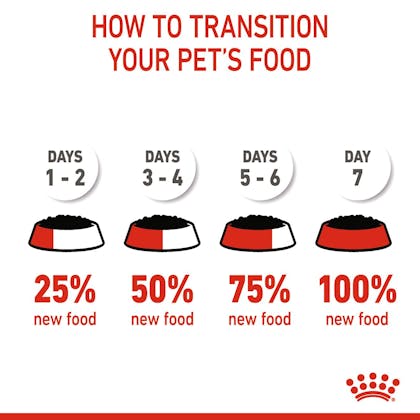 Soft texture for baby teeth

Optimal texture & taste for growing kittens.

Strong immune system

Supports the development of the kitten's healthy immune system with the inclusion of a scientifically proven complex, including vitamins E and C.

Brain development

Enriched with an omega-3 fatty acid (DHA) to support the kitten's brain development and promote healthy vision

Microbiome support

Combination of prebiotics (MOS) & highly digestible proteins to help promote a healthy balance of intestinal microbiota for digestive health.

ROYAL CANIN® Kitten in Loaf is specially formulated to support the nutritional needs of kittens in the "consolidation phase" of their growth. This formula is suitable for 4 to 12-month-old kittens as they undergo a period of significant physical and behavioural changes.
COMPOSITION : Meat and animal derivatives, vegetable protein extracts, derivatives of vegetable origin, cereals, minerals, vegetables, oils and fats, yeasts.

ADDITIVES (per kg): Nutritional additives: Vitamin D3: 120 IU, Iron (3b103): 3 mg, Iodine (3b202): 0.42 mg, Copper (3b405, 3b406): 3.3 mg, Manganese (3b502, 3b503, 3b504): 0.8 mg, Zinc (3b603, 3b605, 3b606): 8 mg.

ANALYTICAL CONSTITUANTS: Protein: 12.0%, Fat content: 4.0%, Crude ash: 1.8%, Crude fibres: 0.8%, Moisture: 78.4%, Vitamin E: 110 mg/kg, Vitamin C: 45 mg/kg, Omega-3 fatty acids (DHA): 0.03%.

FEEDING INSTRUCTION: see table. Batch number, factory registration number and best before date: see information on packaging. To be stored in a cool, dry place.

ANALYTICAL CONSTITUANTS: Protein: 12.0%, Fat content: 4.0%, Crude ash: 1.8%, Crude fibres: 0.8%, Moisture: 78.4%, Vitamin E: 110 mg/kg, Vitamin C: 45 mg/kg, Omega-3 fatty acids (DHA): 0.03%.

| Kitten's age (months) | <1,5 | 1,5 | 2 | 3 | 4 | 5 | 6 | 7 | 8 | 9 | 10 | 11 | 12 |
| --- | --- | --- | --- | --- | --- | --- | --- | --- | --- | --- | --- | --- | --- |
| Kitten's weight (kg) | Use BABY CAT MOUSSE until 1.5 month | 0.6 - 0.9 | 0.8 - 1.2 | 1.4 - 2.1 | 1.8 - 2.75 | 2.1 - 3 | 2.4 - 3.9 | 2.4 - 3.9 | 2.7 - 4 | 2.9 - 5 | 2.9 - 5 | 2.9 - 5 | 2.9 - 5 |
| Rationing (pouch/day) | Use BABY CAT MOUSSE until 1.5 month | 2 | 2.5 | 3 | 3 | 3.5 | 3 | 3 | 3 | 3 | 2.5 | 2.5 | 2.5 |

| Kitten's age (months) | <1,5 | 1,5 | 2 | 3 | 4 | 5 | 6 | 7 | 8 | 9 | 10 | 11 | 12 |
| --- | --- | --- | --- | --- | --- | --- | --- | --- | --- | --- | --- | --- | --- |
| Kitten's weight (kg) | Use BABY CAT MOUSSE until 1.5 month | 0.6 - 0.9 | 0.8 - 1.2 | 1.4 - 2.1 | 1.8 - 2.75 | 2.1 - 3 | 2.4 - 3.9 | 2.4 - 3.9 | 2.7 - 4 | 2.9 - 5 | 2.9 - 5 | 2.9 - 5 | 2.9 - 5 |
| Rationing (grams/day) | Use BABY CAT MOUSSE until 1.5 month | 1 pouch + 18g | 1 pouch + 28g | 1 pouch + 40g | 1 pouch + 46g | 1 pouch + 48g | 1 pouch + 46g | 1 pouch + 44g | 1 pouch + 41g | 1 pouch + 37g | 1 pouch + 34g | 1 pouch + 32g | 1 pouch + 30g |