Starter Mother & Babydog – Ultra soft mousse
Complete feed for dogs -For bitches from the end of gestation and during lactation - Weaning puppies up to 2 months old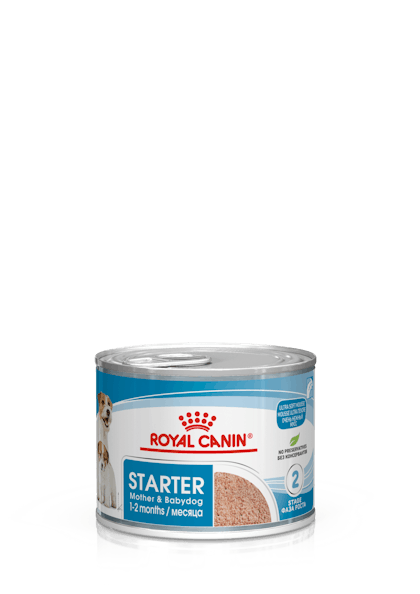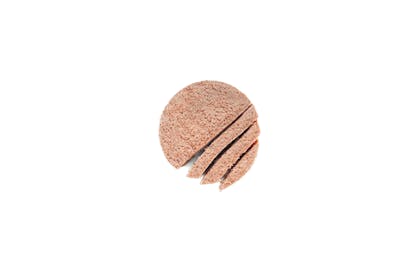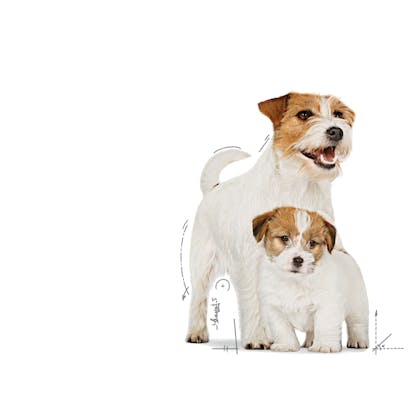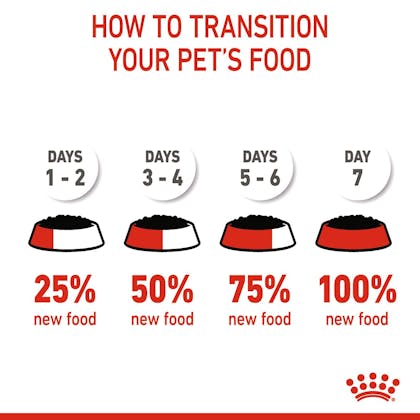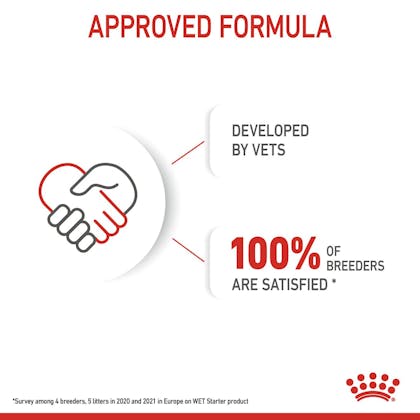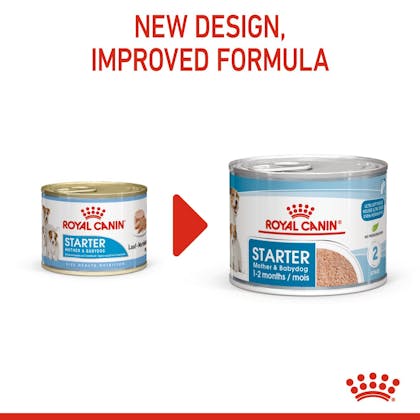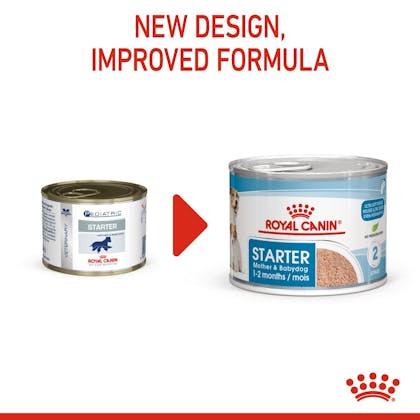 TAILORED AROMA AND TEXTURE FOR BABYDOGS

Ultra soft mousse texture to facilitate the transition to solid food.

STRONG IMMUNE SYSTEM

Helps support the development of the puppy's healthy immune system with the inclusion of nutrients such as vitamins E and C.

MICROBIOME SUPPORT

Combination of prebiotics (MOS)and highly digestible proteins to help promote a balance of intestinal microbiota for digestive health.

ROYAL CANIN® Starter Mousse Mother & Babydog is specially formulated to support the nutritional needs of pregnant or lactating mothers and weaning puppies up to the age of 2 months.
COMPOSITION : Meat and animal derivatives, cereals, derivatives of vegetable origin, minerals, oils and fats, milk and milk derivatives, yeasts.

ADDITIVES (per kg): Nutritional additives: Vitamin D3: 170 IU, Iron: 6 mg, Iodine: 0.3 mg, Copper: 2.5 mg, Manganese: 1.7 mg, Zinc: 17 mg - Technological additives: Clinoptilolite of sedimentary origin: 2 g.

ANALYTICAL CONSTITUANTS: Protein: 10.0%, Fat content: 6.0%, Crude ash: 2.0%, Crude fibres: 0.7%, Moisture: 78.5%.

FEEDING INSTRUCTION: see table. Batch number, factory registration number and best before date: see information on packaging. To be stored in a cool, dry place.

ANALYTICAL CONSTITUANTS: Protein: 10.0%, Fat content: 6.0%, Crude ash: 2.0%, Crude fibres: 0.7%, Moisture: 78.5%.

| WET ONLY (CAN per day) | Age (weeks) | | | | | |
| --- | --- | --- | --- | --- | --- | --- |
| Adult target weight | 2 - 3 | 3 - 4 | 4 - 5 | 5 - 6 | 6 - 7 | 7 - 8 |
| 4 | USE BABYDOG MILK | 0.25 | 0.5 | 1.25 | 1.5 | 2 |
| 5 | USE BABYDOG MILK | 0.25 | 0.5 | 1.25 | 1.5 | 2 |
| 7 | USE BABYDOG MILK | 0.25 | 0.5 | 1.75 | 2.5 | 3 |
| 10 | USE BABYDOG MILK | 0.25 | 0.5 | 1.75 | 2.5 | 3 |
| 20 | USE BABYDOG MILK | 0.5 | 2 | 2.75 | 3.75 | 4.75 |
| 40 | 0.5 | 2.5 | 3.5 | 3.75 | 5 | 6.5 |

| WET ONLY (CAN per day) | Gestation time (weeks) | | | | |
| --- | --- | --- | --- | --- | --- |
| Dog adult weight | 6 | 7 | 8 | 9 | LACTATING |
| 4 | 1.5 | 2 | 2 | 2 | AD LIBITUM |
| 5 | 2 | 2 | 2.5 | 2.5 | AD LIBITUM |
| 7 | 2.5 | 2.5 | 3 | 3 | AD LIBITUM |
| 10 | 3 | 3.5 | 4 | 4 | AD LIBITUM |
| 20 | 5.5 | 6 | 6.5 | 7 | AD LIBITUM |
| 40 | 9 | 10 | 11 | 11.5 | AD LIBITUM |