Puppy Maxi Chunks in gravy
Complete feed for dogs - For large breed puppies (adult weight from 26 to 44 kg) - Up to 15 months old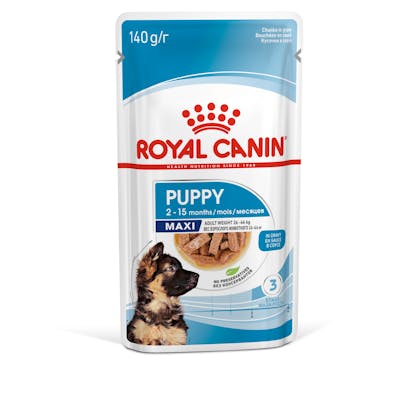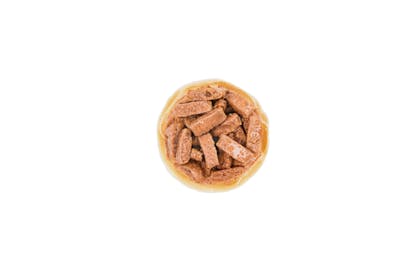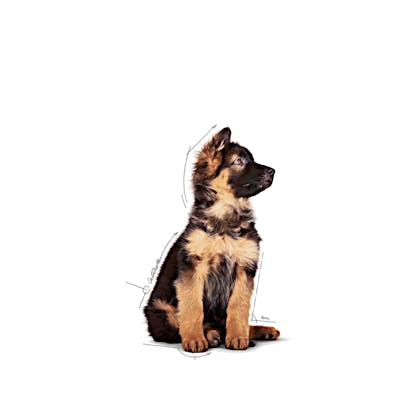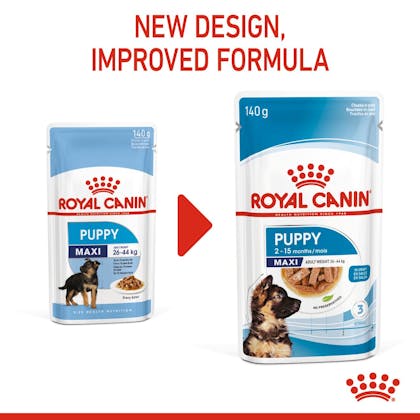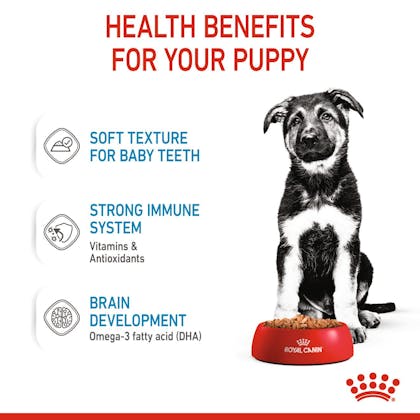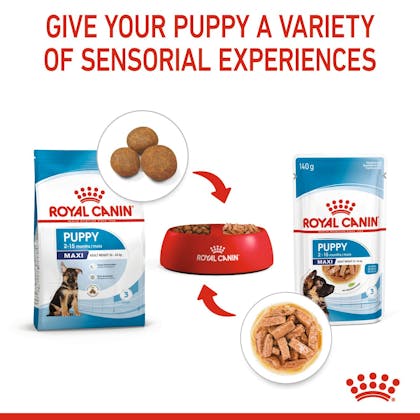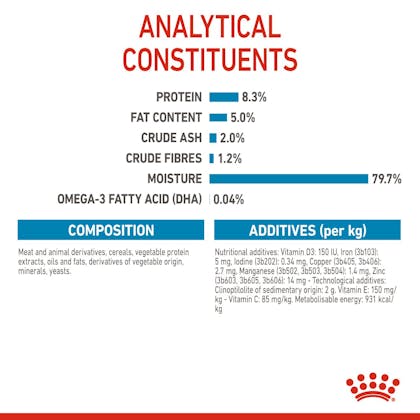 Endorsement claim

Royal Canin partners with shelters to help give puppies a healthy start in life.

Commitment claim

NO PRESERVATIVES NO ARTIFICIAL COLOURS

Soft texture for baby teeth

Adapted size, texture & taste for growing large breed puppies.

Strong immune system

Helps support the development of the puppy's healthy immune system with the inclusion of specific nutrients such as vitamins E and C.

Brain development

Enriched with an omega-3 fatty acid (DHA) to help support the puppy's brain development and promote learning during early puppy training.

ROYAL CANIN® Maxi Puppy in Gravy is specially formulated to support the nutritional needs of large-breed puppies. This formula is suitable for 2 to 15-month-old puppies that should reach an adult weight of 26-44 kg. This tailored diet contains appetising chunks in gravy, designed with a size, texture and taste that's perfect for large breed, growing puppies. This formula contains nutrients such as Vitamin C and E to help support the puppies' natural defences while their immune systems are still developing. The formula is also enriched with Omega-3 fatty acids (such as DHA) which have been scientifically proven to help support healthy brain development in puppies. Thanks to a combination of beneficial prebiotics and highly digestible proteins, ROYAL CANIN® Maxi Puppy in Gravy also helps to support a healthy balance of intestinal microbiota (gut flora) for good digestion. ROYAL CANIN® Maxi Puppy in Gravy offers your puppy a positive sensory experience, supports healthy hydration and is perfect for mixed feeding with the ROYAL CANIN® Maxi Puppy dry kibble diet. By the time your puppy reaches 15 months old, they will need a diet that's specially adapted to meet their nutritional needs as a grown dog. At this stage, you can transition them onto ROYAL CANIN® Maxi Adult, available either as a dry kibble diet or with wet chunks in gravy.
COMPOSITION : meat and animal derivatives, cereals, vegetable protein extracts, oils and fats, derivatives of vegetable origin, minerals, yeasts.

ADDITIVES (per kg): Nutritional additives: Vitamin D3: 150 IU, Iron 5 mg, Iodine 0.34 mg, Copper 2.7 mg, Manganese 1.4 mg, Zinc 14 mg - Technological additives: Clinoptilolite of sedimentary origin: 2 g.

ANALYTICAL CONSTITUANTS: Protein: 8.3%, Fat content: 5.0%, Crude ash: 2.0%, Crude fibres: 1.2%, Moisture: 79.7%, Omega-3 fatty acid (DHA): 0.04%, Vitamin E: 150 mg/kg, Vitamin C: 85 mg/kg.

FEEDING INSTRUCTION: see table. Batch number, factory registration number and best before date: see information on packaging. To be stored in a cool, dry place.

ANALYTICAL CONSTITUANTS: Protein: 8.3%, Fat content: 5.0%, Crude ash: 2.0%, Crude fibres: 1.2%, Moisture: 79.7%, Omega-3 fatty acid (DHA): 0.04%, Vitamin E: 150 mg/kg, Vitamin C: 85 mg/kg.

| WET ONLY (POUCH per day) | Age (month) | | | | | | | | | | | | |
| --- | --- | --- | --- | --- | --- | --- | --- | --- | --- | --- | --- | --- | --- |
| Adult target weight | 2 months | 3 | 4 | 5 | 6 | 7 | 8 | 9 | 10 | 11 | 12 | 13 | 14 |
| 30 kg | 8 | 10 | 11 | 12 | 13,5 | 13,5 | 12,5 | 11,5 | 10,5 | 9,5 | 9,5 | 9,5 | 9,5 |
| 32 kg | 8 | 10,5 | 11,5 | 12,5 | 14 | 14 | 13 | 12 | 11 | 10 | 10 | 10 | 10 |
| 34 kg | 8,5 | 10,5 | 11,5 | 13 | 14,5 | 14,5 | 13,5 | 12,5 | 11,5 | 10,5 | 10,5 | 10,5 | 10,5 |
| 35 kg | 8,5 | 11 | 12 | 13,5 | 15 | 15 | 14 | 13 | 12 | 11 | 10,5 | 10,5 | 10,5 |
| 36 kg | 8,5 | 11 | 12 | 13,5 | 15 | 15 | 14,5 | 13,5 | 12,5 | 11,5 | 11 | 11 | 11 |
| 38 kg | 8,5 | 11 | 12 | 14 | 16 | 16 | 15 | 14 | 13 | 12 | 11,5 | 11,5 | 11 |
| 40 kg | 9 | 11,5 | 12,5 | 14,5 | 16,5 | 16,5 | 15,5 | 14,5 | 13,5 | 12,5 | 12 | 12 | 11,5 |

| MIX: KIBBLE + WET | Wet | Age (month) | | | | | | | | | | | | |
| --- | --- | --- | --- | --- | --- | --- | --- | --- | --- | --- | --- | --- | --- | --- |
| Adult target weight | Pouch 140g Puppy Maxi chunks in gravy | 2 months | 3 | 4 | 5 | 6 | 7 | 8 | 9 | 10 | 11 | 12 | 13 | 14 |
| 30 kg | 1 | 241g | 311g | 342g | 381g | 417g | 418g | 387g | 358g | 323g | 290g | 288g | 287g | 285g |
| 32 kg | 1 | 246g | 319g | 352g | 397g | 439g | 440g | 407g | 378g | 341g | 307g | 305g | 303g | 301g |
| 34 kg | 1 | 250g | 328g | 362g | 413g | 462g | 462g | 428g | 397g | 360g | 324g | 321g | 319g | 317g |
| 35 kg | 1 | 253g | 332g | 367g | 422g | 473g | 473g | 438g | 407g | 369g | 332g | 330g | 327g | 325g |
| 36 kg | 1 | 255g | 336g | 372g | 430g | 483g | 484g | 452g | 420g | 389g | 363g | 338g | 335g | 332g |
| 38 kg | 1 | 260g | 345g | 382g | 446g | 504g | 505g | 472g | 440g | 407g | 380g | 354g | 351g | 347g |
| 40 kg | 1 | 265g | 354g | 392g | 462g | 525g | 527g | 492g | 459g | 425g | 397g | 370g | 367g | 362g |